"Everybody knows somebody who struggles with it," explained Jessica Edwards Skinner. "They just don't talk about it. I did things I thought no one else did, and I became a master at hiding. At first I thought I had discovered the best diet ever, and I was getting attention. But I couldn't stop. I thought I was crazy."
"I just wanted to fit in. I just wanted to be loved and accepted," Jessica continued. "I grew up in a loving Christian family in Newport. I went to Corona del Mar High School, where body image was really important. But nobody talked about eating disorders."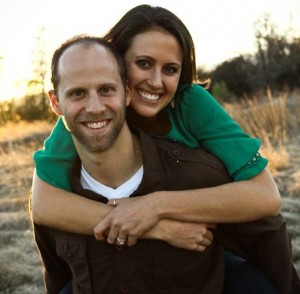 Jessica and her husband, Jesse, spoke recently at Teri and Stuart Leigh's home in Newport about Jessica's journey battling and beating anorexia and bulimia. Jessica shared her struggles honestly as she recalled the challenging journey of recovery from bondage to freedom. She is passionate about helping others break free from the prison of eating disorders and poor body image and wrote about her experiences in her book, "HUNGRY: One Woman's Battle With and Victory Over Anorexia and Bulimia."
"I didn't just wake up one day and decide to be in this battle – to be fighting anorexia or bulimia, fighting thoughts, fighting for my identity," Jessica said. "I'd started believing lies in my head. I got compliments. I got acceptance. I became so engrossed with myself and my weight and my food and my numbers, numbers, numbers and how I looked compared to everyone else."
Jessica said that the she became trapped in a prison of anorexia, bulimia, and secrets.
"I got fed up with being fake, I got tired of being depressed, and tired of hiding, and tired of all the energy it took to stay in that bondage," she said. "My eating disorder was killing that person inside who God created for a purpose. I didn't really know who I was. I thought I could solve it on my own. But I learned I couldn't."
Just as the path to Jessica's disorder took time, so did her recovery. She said that her healing included the help of a college missionary, a trained counselor, a wise mentor, prayer, journaling, reading, honesty with others, confession, forgiveness, successes and failures, and a lot of hard work.
"It was a slow change, definitely a process," she said. "I renewed my relationship with God. I shared my struggle with others. There was a lot of healing. I learned to share my feelings, to communicate better, to be vulnerable. I had to retrain my brain, to change the nonstop negative barrage going on inside. I recited Bible verses that reminded me that I am fearfully and wonderfully made. I am NOT an eating disorder. I am a new creation; I don't have to do this. Even if I didn't believe it at first, I said it enough and then I started believing it. It was an arsenal of God's truth that helped me."
Jessica said the thoughts to binge are rare now, and if the feeling comes, she shares it honestly with Jesse. He assures her of his love, as well as God's.
"I want to encourage her, to speak life to her, to let her know it's not shameful and we are partnering in this," Jesse said. "People need to know they have someone on their side. We need to know who we are and Whose we are. We need to say to ourselves 'God loves me and I'm worth recovering.' If you know how much you are emphatically and radically loved, you will have all the strength you'll need to get through an eating disorder, or pornography or any other prison you are in. It's a battle for your mind."
In her book, Jessica openly details her journey to recovery and includes ways to get help as well as specific suggestions to help others who struggle. Jessica believes those in the battle need not, and can not, battle eating disorders alone; and her book could clearly be a travel companion offering help and hope in the journey to freedom.
"The worst thing we can do is to ignore the problem or hope someone else is addressing it," Jessica said. "There's a lot about the disorder that is confusing. You don't have to be super skinny to be suffering from it. You many look healthy. It's more about what's happening on the inside than how somebody looks. I recently spoke to a sorority, and the whole house threw up together. If you don't know you're worth fighting for, you won't fight. You're worth fighting for. My victory paves the way for others. So does yours."
For more information, go to www.burningonebooks.com. Cindy can be reached at [email protected]