Do you have any Bibles in your house? According to a Gallup survey, the average household has four Bibles.
How often do you read the Bible, if at all? Research by Pew Forum on Religion and Public Life found that only 16 percent of Americans read the Bible every day.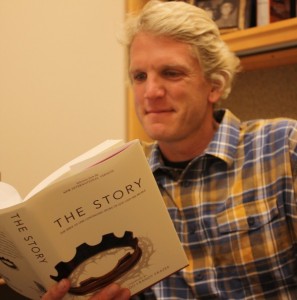 The Bible is the best-selling book in history, with approximate sales estimates ranging from 2.5 billion to 6 billion. Many Christians consider the Bible to be divinely inspired, to be the Word of God, filled with God's principles for living life.
Why don't more people read the No. 1 best-selling book that offers divinely inspired help with life?
"The Bible is central to our faith, but many people are intimidated by its scope and size," said Richard Kaanwischer, lead pastor of St. Andrew's Presbyterian Church.
Richard explained that St. Andrew's plans to change the statistics by starting an exciting adventure together by reading "The Story," an engaging condensed version of the Bible, put together in chronological order by Zondervan, an international Christian media and publishing company.
"'The Story' gives us a way to journey from Genesis to Revelation together in 22 weeks so everyone understands God's story and how their story intersects with it," Richard added. "The vision for this church is 'A Bible in Every Hand. God's Story in Every Heart.' I want the people in our congregation, as well as Orange County, to realize the incredible love God has for them and how their story in found in His story."
Zondervan, which originally began 'The Story' movement in 2005, recently re-launched the reading campaign after adding relatable and understandable curriculum for each age group, helping even young children experience God's love for them. Authors of 'The Story,' who include Max Lucado and Randy Frazee, Lucado's co-pastor in Texas, have explained it by saying: "'The Story' sweeps you into the unfolding progression of Bible characters and events. God goes to great lengths to rescue lost and hurting people. That is what 'The Story' is all about: the story of the Bible, God's great love affair with humanity. Like any good story, 'The Story' is filled with intrigue, drama, conflict, romance, and redemption; and this story's true!"
More than 175,000 copies of 'The Story' have been sold, and the novel-like book has been read and enjoyed by both churches and individuals. Reading through the Bible is on many people's bucket list, and they are finding 'The Story' to be the ideal tool to accomplish that. One reviewer wrote, "I was hoping this would be easy to read and understandable and that it would give my adult daughter an understanding of the Bible story and God's plan of redemption. It meets all these expectations and she is enjoying the story and asking questions, praise God! She is now marveling at how our Lord has worked it all out from the very beginning. I recommend this as a very good teaching aid that will stir that desire to learn more."
Many churches have found that "The Story" unites congregations and connects families; everybody appreciates the rare opportunity of literally being on the same page with one another. They have also found that it is understandable to people in different places on their spiritual journey.
"This is a proven and effective tool," said Jon Batarse, Minister of Communications at St. Andrew's. "Thousands nationwide have done this. It's very easy to do with busy schedules because it puts the Bible in an easy to read format. It's intriguing to know there's an easier way to read the Bible, a less intimidating way to learn about God's story and how our stories fit."
"My wife and I are very excited to do this. " Jon continued. "I grew up in a Christian family; my father is a minister. I can tell you the Bible is not easy to read through. It's intimidating. But this is arranged in a way so it's understandable. It's definitely doable, for all ages. There is even a different version for children, youth, and adults. This is a great opportunity, and we're all excited."
Nine-year-old Sabrina, who attends St. Andrew's, expresses how she feels about the upcoming opportunity: "I am excited about reading through the Bible because I want to learn about God's Word and learn more about Jesus in Bible stories. I can also then spread the Word of God to other people."
"The Story" experience will begin the weekend of Jan. 14 and 15. For more information, visit www.sapres.org.
Cindy can be reached at [email protected]