By Justin Swanson | NB Indy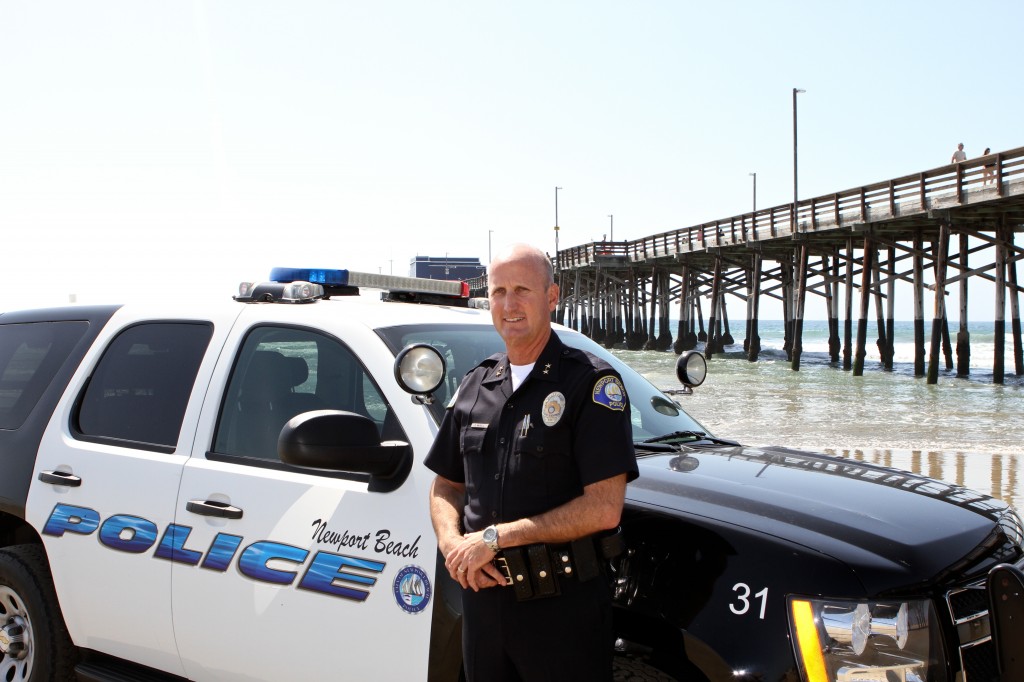 "I have more plates spinning now," Deputy Chief Dave McGill recognized as he considered how he came to be in the position he holds today.
McGill, 50, is coming to the end of his first year working in the Newport Beach Police Department after having served 25 years in the Los Angeles Police Department, where he worked his way up to detective commanding officer.
Coming to work for the NBPD in April 2012 was something of a homecoming for McGill, who grew up in Newport Beach and attended Corona del Mar High School (class of 1980).
Studying biology and pre-med at University of Southern California and then University of California, Irvine, McGill intended to be a doctor. He even worked at Hoag Hospital for a time before joining the ranks of the LAPD. He was following the footsteps of his parents who both served in the LAPD.
"I thought I would be different, but this is my calling," conceded McGill. "I'm from a family of public service."
His father David was involved in the formation of the first SWAT team in Los Angeles, while mother Cheryl served as a policewoman in the 1960s before completing the academy in 1973, as women were fully integrated in police forces across the country.
"She broke barriers," McGill said proudly. "They're both heroes of mine."
McGill's brother John works for the San Diego Police Department, and his sister Kathline is a nurse.
Now that he has returned to his roots and found himself at a new occupational plateau, McGill couldn't be happier.
"I love everything there is to love about it," he stated.
His position as deputy chief requires the responsibilities of a patrol and traffic division commander, meaning he is in charge of uniformed assets: Police in the street, SWAT, traffic, the jail, and support services.
McGill admits that he is still getting used to the size of his new department.
"These officers do more with less than I'm used to, but they do it very well," he explained. "It's a challenge for me."
"He brings a fresh, new way of looking at things," observed Jeff Munsell, police officer of 13 years and president of the Newport Beach Police Association. "But he still respects our tradition and culture here."
The particulars of McGill's challenges in the last year have to do with a culture change he hopes to enact and, conversely, an indirectly instituted change in culture with which he must contend.
The biggest event of the year McGill must plan for is the Fourth of July, from the parade to the revelry.
"We made strides last year, opening streets and changing patrols. This year we have to work with city leaders to make it more family oriented. The parade is a family event," McGill explained. "We can't tolerate the over-partying."
He added, regarding his staffing, "No one gets that day off. I want to change that one day."
Meanwhile, in his day-to-day work, McGill is already aware of a growing trend.
"Property crimes are starting to creep up," he noted. "We've been struggling to keep a lid on it early this year."
McGill has noticed that most of the arrests being made are nonresidents. He attributes some of the problem with the signing of Assembly Bill 109 and the passing of Proposition 36.
AB109, signed in 2011, realigns responsibility for criminals from state to local prisons to curb swift stays in state prisons.
Prop 36, which passed last year, was the modification of the Three-Strikes Law, requiring the third strike to be a serious or violent felony. McGill sees that there are more criminals on the streets, particularly those who travel to Newport to commit crimes.
"I am concerned about that and it is a challenge looking forward," he said.
Still, in 2012 Newport Beach had the lowest crime rate the city has ever recorded. However, as he sees it, the city should be so fortunate to see similar numbers in the coming years.
"I think we've seen the last of crime reduction," he remarked broadly, referring again to AB109 and Prop 36.
McGill also considers Newport to be a border town, due to the placement of its shores and their ocean-way access. He determines that the department's focus is not where it needs to be in that regard, and so intends to ramp up its participation with Border Patrol and the Orange County Sheriff's Department.
Overall, McGill is finding his new work both fulfilling and a pleasure. As he sits on the board of the California Peace Officers Association as treasurer, McGill has had the opportunity to visit departments throughout the state.
"For a medium-sized department, there is no department finer than that in Newport," he declared. "I am thoroughly convinced. I wouldn't leave the LAPD for any other place that isn't better."
Munsell added, "Having come from a large organization like the LAPD, he has been very understanding of our person-to-person relationships that are a large part of what we are."
"I am very thankful for the job and I have high expectations," McGill said. "I'm very excited to be a part of a great team."