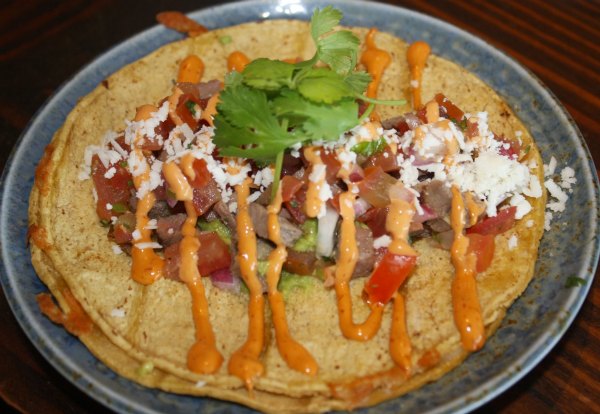 "Lobster Ravioli at Sapori, Crab Sliders at Tommy Bahama. Nouveau wine with Pascal, Seared Salmon at Zov's. AnQi's Crab Tuesday was such a big deal, those were a few of my favorite meals…"
"Chris, what in God's name are you singing?" moaned Stasha. "The entire office is cringing at their desks."
"It's a foodie rendition of 'My Favorite Things,'" I replied.
"Well, its not very lyrical and you're way off key," she winced.
"Maybe, but those culinary concoctions are perfectly in tune with my palate," I explained.
"Oh, brother," Stasha said, rolling her eyes.
"No, seriously, we were lucky to sample some delicious dishes over the past 12 months."
"We certainly were," agreed Stasha.
"We're lucky Newport Beach is home to some of the best restaurants in OC."
"It's also home to some of the best chefs," Stasha reminded me. "With a creative genius in the kitchen, the entire experience is elevated."
"You're right—we met a slew of sensational chefs, and learning about their background and their cuisine concepts added immensely to my appreciation for every forkful of food that made its way into my mouth."
I paused, then added, "I was going to suggest we create a list of our favorite dishes from 2011, but maybe we should just do a 2011 recap of the many marvelous meals we had, and the fine chefs that created them."
"Didn't we start the year off at Season's 52?" asked Stasha.
"We did, and in hindsight that was a lucky number for us: 52 weeks in a year, and 52 Table for Two columns," I noted.
"That was a memorable meal, thanks to Chef Tim Kast. I still cannot believe that every dish on the menu is less than 475 calories. Those Venison Chops were fantastic, and the desserts…"
"…were only 275 calories each, although as I recall you had more than one."
"I did not," she said emphatically, "and even if I did, I would never admit it."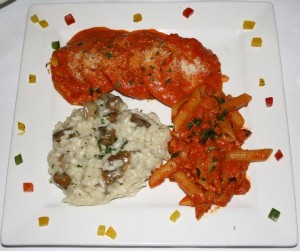 "We also dined at Sapori in January, and got to spend time with owner Sal Maniaci, who developed his recipes from family favorites."
"As I recall, I loved the Lobster Ravioli, but the Penne Ottero was outstanding."
"So was their Tiramisu," I said. "And don't forget we also had an amazing dinner when Tommy Bahama launched the Dungeness Crab menu."
"Can you believe that Chef Jacquelyn Nabong is allergic to shellfish, yet was able to create those stellar dishes by having her staff sample them?" said Stasha incredulously.
"I just know that I loved the Pina Colada Cake," I said. "Hey, remember when we got to have lunch with Zov Karamardian at her Neighborhood Café in Newport Coast? That was fun!"
"Yes it was," agreed Stasha. "I know Zov celebrates her 25th anniversary in the restaurant business in 2012, and she deserves every accolade she gets."
"Chef Pascal is right behind her," I noted. "He opened his Tradition restaurant in 1988, and now he has Brasserie Pascal, Café Jardine, Epicerie…":
"Everything he touches turns to gold," interrupted Stasha. "Same with Chef Jean-Pierre Dubray of Pelican Hill's Andrea Restaurant.  Not only did we get to sample dishes at their Festa Dell'Autunno, but we watched Dubray prepare an entire meal in the kitchen of a Pelican Hill villa. What an honor."
"We also got to go in the kitchen with Mastro's Ocean Club Executive Chef Matt Briggs and watch him prepare the restaurant's signature dishes."
"Those lobster mashed potatoes were unbelievable," sighed Stasha. "And the ribeye—a masterpiece."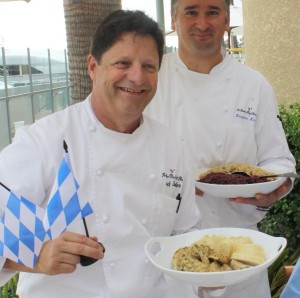 "Speaking of masterpieces, we enjoyed Chef Josef Lageder's cuisine at Balboa Bay Club twice this year—once at the Newport Beach Wine Festival, and again for Oktoberfest," I reminded her.
"I can't remember ever eating that much decadent and delicious food," said Stasha.
"We also got to discover the soul behind SOL when we had lunch with Chef Deborah Schneider and sampled her marvelous Mexican cuisine—like her signature vampiros tacos."
"Those were devilishly good," Stasha grinned.
"This was also the year that legendary restaurant The Arches closed its doors, and Rustica became Great Maple. Five Crowns closed to revamp its interior and menu minus longtime chef Dennis Brask, who retired."
"New Chef Ryan O'Melveny Wilson is putting his own stamp on the menu," said Stasha. "I dined there with friends and was thrilled by Wilson's innovative dishes and the interior facelift. Of course, the fact that our  favorite sommelier, Tommy Roadrunner, is still there made it extra special."
"I wish we had time, and room, to list all of our memorable meals," I lamented. "We were fortunate to have had enjoyable experiences everywhere we dined during the past year."
"I suggest we offer a toast to everyone in the restaurant industry – chefs, service staff, bartenders, and management – who understand they are the key ingredients to an exceptional dining experience. There are not enough words to express our gratitude for their efforts," Stasha said sincerely.
"Agreed."
"Then I'll continue," Stasha smiled. "May your kitchens be bountiful, your patrons plentiful, your staff full of cheer, and may you constantly find joy in your craft to inspire, delight and please the palates of culinary critics everywhere."