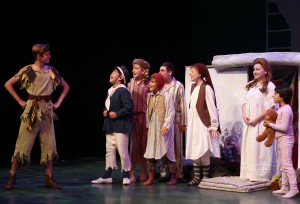 By Elizabeth Greenberg | NB Indy
Prepare to join the Lost Boys and fly away to Neverland with South Coast Repertory's Summer Players production of "Peter Pan" August 9-10 and 15-17.
Directed by SCR's Theatre Conservatory Director Hisa Takakuwa with musical direction by Erin McNally, this timeless classic is accessible and playable for all ages.
With a cast of 37, ranging from 9 to 19 years old, chaos during rehearsals seems inevitable. However, time is of the essence during the five short weeks of rehearsals, and the responsible juveniles often take it upon themselves to practice privately and in small groups.
What looks like unmanned masses of chattering youngsters on stage are actually hard workers, doing whatever it takes to create a flawless final performance.
This year celebrates the 110th anniversary of J. M. Barrie's original play, as well as the 60th anniversary of the Broadway musical production. Takakuwa "thought those two milestones were worth celebrating."
All 37 young actors, chosen by audition, have been in the South Coast Repertory's Kids and Teen Acting Program for at least one year, and some are even graduates of the program.
Five actors play dual roles to fill all 42 characters in the classic musical.
Christopher Huntley, 16, plays the lead role of Peter Pan in his 10th Summer Players production. A Newport Beach resident, Huntley attends Orange County Educational Arts Academy, and will be a junior this fall.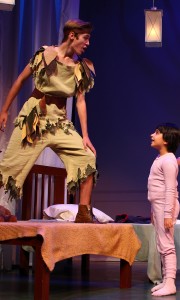 Playing a well-known character traditionally portrayed by a female gymnast is a welcome challenge, said Huntley.
"I think it's funny that I'm probably the complete opposite of a gymnastic woman," Huntley mused, "But I am closer to the age of Peter Pan, and I can tap into that child like fantasy more, so I have an advantage there."
Imagination is a key element in SCR's production of "Peter Pan" because trampolines and ingenuity replace flying with wires and dangerous stunts. The imagination of the young actors aids the production in bringing simple stunts alive on stage.
Nika Aydin, one of the youngest actors at age 9, portrays the Teddy bear-wielding Michael, and enjoys the freedom of expression "Peter Pan"provides.
"I can actually pretend, and be a kid, unlike in school," Nika explained. "I'm normally a girl, and now I get to try being a boy."
Though played by children, the journey to Neverland is loved by everyone.
"The special thing about 'Peter Pan' is that it really is for all ages," Huntley said. "Everyone can connect to the story, and it reaches that special place in your inner child."
For more information or to purchase tickets, visit SCR.org.