The public reacted strongly this week to the allegations of a hostile work environment as described in a recent lawsuit against the Newport-Mesa Unified School District and Superintendent Fred Navarro.
On social media, community members are calling the district troubled and dysfunctional. Most comments have been in support of the two former employees making the claims.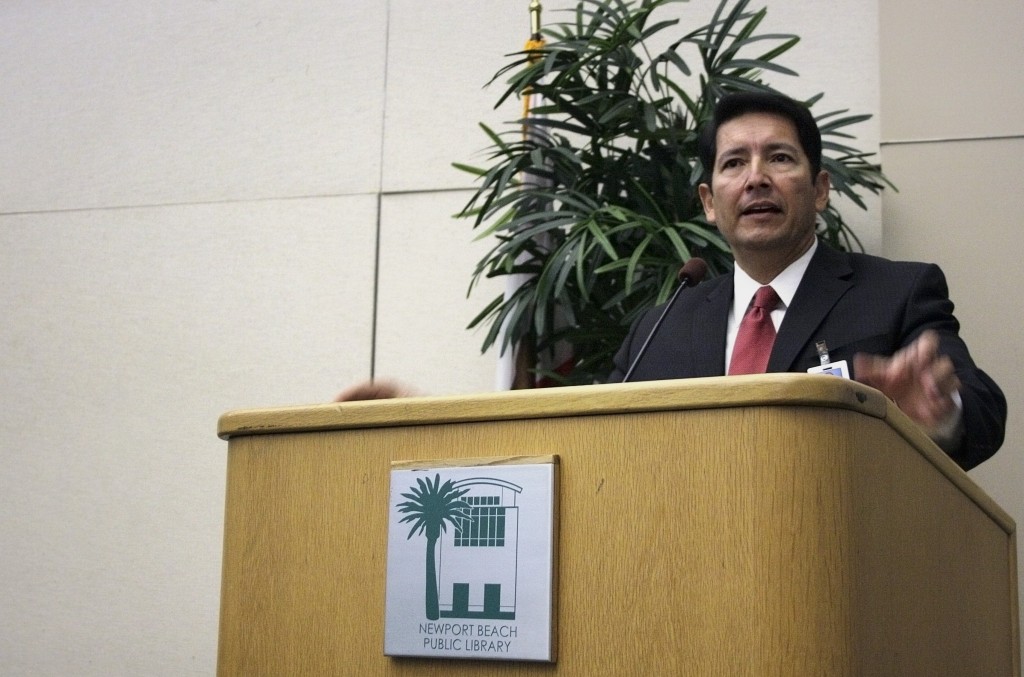 The lawsuit causing the turmoil was filed Jan. 28 with Orange County Superior Court by former director of district communications Laura Boss and former assistant superintendent Ann Huntington. The two claim Navarro created a "culture of fear, intimidation, and retaliation" against them and other employees and a "toxic" and "intolerable" work environment.
Boss and Huntington appreciate the public support but declined to comment, said William Crosby, the lawyer representing them in the case.
The district denied the claims in a prepared statement.
"We are aware of the pending litigation, which has been referred to legal counsel to represent the district and Dr. Navarro. As this pending litigation, from two former employees, proceeds through the judicial system the District believes that the evidence and facts will show that these allegations are unfounded," wrote NMUSD spokeswoman Annette Franco in an email.
Franco declined to comment further.
Boss began working for NMUSD in 1999 as coordinator of administrative services. She was promoted to director of district communications in 2007.
Huntington was a teacher and administrator for 34 years, starting with NMUSD in 2008 as the executive director of special education and moving up to assistant superintendent in 2013.
Boss resigned in June and Huntington retired in July. Both state in the lawsuit that they felt they were forced to do so because of the hostile work environment created by Navarro. He allegedly pressured Huntington to retire and another staff member reportedly told her that Navarro "needs" her to retire and that no one would remember her anyway.
The lawsuit also alleges that the NMUSD Board of Education failed to properly supervise and control Navarro, who was hired as  superintendent in 2012.
The executive staff was apparently "put on notice of his dictatorial management style when he stated how he wished he could fire people because it would be 'so much easier than working them out of the system,'" court documents read.  
Both claim they experienced extreme stress, nervousness, anxiety, depression, worry, and insomnia as a result of Navarro's "outrageous" and "malicious" conduct and the board's failure to investigate or take action.
Some of the behavior described in the lawsuit include going on "tirade" during a meeting, "waving his hands and shouting" at Boss, "demeaning and humiliating" her. They were put on the spot and embarrassed in front of colleagues during meetings, they claim in the lawsuit.
He excluded them from executive cabinet discussions, ignored their advice and denied them important information, according to Boss and Huntington. He also failed to follow normal protocol in the assignment of projects and undermined the authority of staff members, the lawsuit explains.
He also allegedly encouraged conflict between executive cabinet members.
Both filed a formal complaint against Navarro in October 2014, along with executive director of human resources John Caldecott, who was later fired in January 2015. Prior to his termination, Caldecott had  filed a writ of mandate with the OC Superior Court requesting that the court require the district to produce documents related to the complaint. The writ was eventually denied.
After filing the complaint against Navarro, Boss and Huntington state that things got worse. They claim that despite being assured of a full investigation, the board failed to look into the matter and denied their complaint.
After their departure in the summer of 2015, both Boss and Huntington wrote letters to the board members in August outlining their previously stated complaints and their reasons for leaving.
They conclude, in both the letters and the lawsuit, that they felt compelled to leave their jobs because Navarro and the board's actions caused them to experience "humiliation, anxiety, worry, and severe mental and emotional distress."