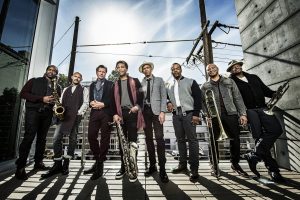 Jazz lovers, take note: October 7 through 9 will be pure musical heaven as Segerstrom Center offers three days of jazz concerts that range from musical salutes to Miles Davis to the centennial celebrations of four musicians born in 1917: Dizzy Gillespie, Ella Fitzgerald, Mongo Santamaria and Thelonious Monk.
October 7 offers a double bill of the SFJAZZ Collective performing new arrangements of music by famed jazz trumpeter Miles Davis, followed by JAZZ 100 marking the 2017 centennial celebration for four visionary jazz talents.
Marshall Lamm with SFJAZZ shared the history of this unique collective.
"This nonprofit was founded in 1982, and in 2013 we opened the SFJAZZ Center at the Performing Arts Center in San Francisco," said Lamm. "We do over 300 shows per year and now have a showcase in our new $64 million venue."
"We have no band leader," Lamm continued. "The eight members are all equal. Each year we pick a theme and put them on the road. This year we'll be profiling the music of Miles Davis. Each performer does their own arranging of the music of Miles, in addition to something original on their own, and brings it to the group."
The following day, Saturday, Oct. 8, Los Angeles tenor saxophonist Kamasi Washington will make his Segerstrom Center debut, playing music from his latest album, a triple-disc masterpiece called "The Epic."
Concluding the jazz weekend on Oct. 9 is the Jazz at Lincoln Center Orchestra featuring legendary trumpeter Wynton Marsalis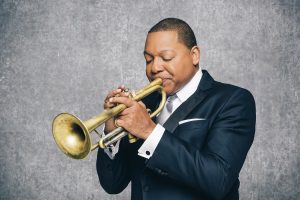 and special guest drummer and vocalist Jamison Ross.
"I've been a drummer since I was a kid in Jacksonville, Florida and couldn't escape it since my mother and my father were both ministers of music," laughed Ross during a recent phone interview. "It's just something we did every day. I started as a drummer and now, at age 28, I've also added vocals into the mix."
"I have a close relationship with Wynton Marsalis and he's helped me and watched me grow into my career," Ross confessed. "The jazz community really is small and we all know each other and it's always been that way. People in jazz usually treat each other like family."
So what is it about jazz that engages people? I wondered.
"Jazz lovers get a chance to witness the honest communication of music through notes and tones," replied Ross. "It's a level of communication that doesn't always have words. That's pretty unique. Plus, everyone interprets things in a different way which allows you to improvise."
Aaron Egigian, musical director at Segerstrom Center, loves the chance to bring something different to the center.
"We're getting ready to celebrate the 30th anniversary of our opening in 1986," Egigian said. "In that first year it was important to have Wynton Marsalis as part of our opening season. We saw him as a very significant part of jazz education and popularity, so it's appropriate for him to be back 30 years later."
"If we look to where jazz may be heading next, Kamasi Washington becomes a significant name. We love the idea of having him and Marsalis sharing a stage so we can review where we've been in addition to where we may be going."
"Jazz may be transforming into something that goes outside the typical jazz lover's arena. Between Washington and Jamison Ross, the walls between genres may be smaller than ever before."
For tickets or more information, visit SCFTA.org.