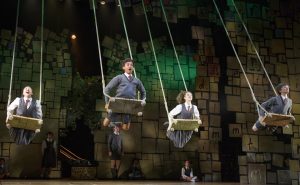 Is it a children's musical for grownups, or a grownup musical for children?
Whatever the case, it's clear that "Matilda" is popular with audiences of all ages. The show received its West End premiere in November of 2011 and was immediately acclaimed by British critics and audiences.
The musical premiered on Broadway in April of 2013 at the Shubert Theatre, where it ran for more than 1,500 performances before closing on January 1 of this year.
Fortunately, local audiences can enjoy the touring production of "Matilda" that comes to Segerstrom Center for the Arts January 17 through 29.
Based on the wildly popular 1988 book by equally popular English writer Roald Dahl, "Matilda" is about a precocious young girl with the gift of telekinesis who loves reading, has a sharp mind and a vivid imagination. Her dad is a car salesman with a few scruples loose, her mother is an amateur ballroom dancer who values looks over books. Her parents send Matilda to a boarding school with a tyrannical head mistress and a kind-hearted teacher. While there, Matilda overcomes obstacles and dares to take a stand and change her destiny.
Time Magazine declared that "Matilda is the best musical since 'The Lion King,'" while The Wall Street Journal called the show "smart, sweet, zany and stupendous fun."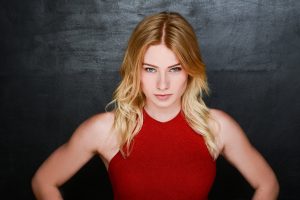 Actress Darcy Stewart has been having stupendous fun playing the role of Matilda's mother, Mrs. Wormwood. She was on tour for three years before returning to her home town of Toronto for a six month run of "Matilda." Now that the Toronto production has closed, she's back on tour and is looking forward to coming to Costa Mesa and warmer weather.
"It's cold here—today it's raining, tomorrow could be snowing, it will be nice to be in California," said Stewart during a recent phone interview from Toronto.
In a twist of fate straight out of Broadway, Stewart did not audition for the role of Mrs. Wormwood. She was in an open dance call hoping to make it on stage as a dancer, and was hand selected to play Mrs. Wormwood. Now, said Stewart, "it's exciting to see the world and get paid!"
Going back on tour after six months in one city means a big adjustment, said Stewart.
"Being on tour has taught me a lot. I bought a hot plate because tour food is usually garbage. We're always eating in restaurants. Not having a home base is hard, because after a while you miss the feeling of routine."
Fortunately, said Stewart, the cast usually stays in nice hotels that are near the theater, but it can still feel a lot like being in college.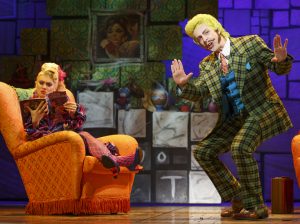 Stewart has always loved to dance. She started when she was three and continued into high school and college, when she started to do musical theater.
"I always wanted to be on stage, but did not know it was a career choice," recalled Stewart. "I remember in grade 11 having to choose between bio, physics and chemistry, and my mother said 'you're not taking science, you hate it, don't worry about it because you do not need it on Broadway."
Stewart said that she has seen differences in how American audiences react to "Matilda" versus Canadian audiences.
"Canadians are so polite—they're quiet, happy to be there," explained Stewart. "American audiences are rowdy and loud—I like the energy of loud audiences, particularly in this show, which is a dark comedy. We want people to know it's funny."
For tickets to "Matilda," call (714) 556-2787 or visit SCFTA.org.