By Christopher Trela and Catherine Del Casale | NB Indy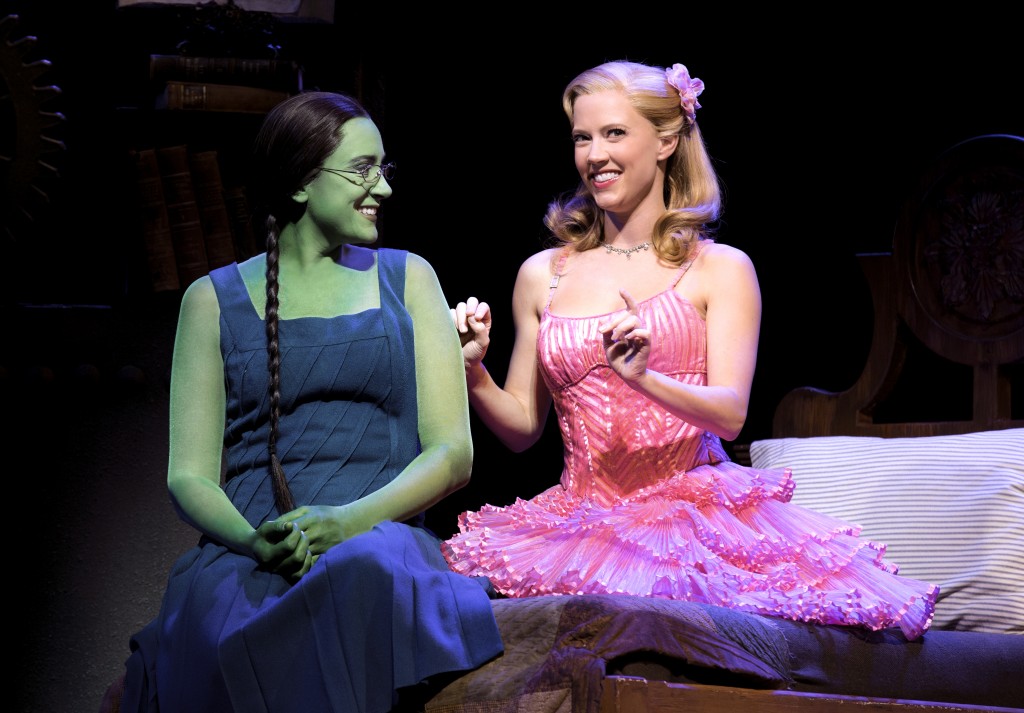 I'm a "Wizard of Oz" fan. I've watched the classic 1939 movie at least 40 times and know most of the lines by heart.
Maybe that's why I've fallen in love with "Wicked," the Broadway musical that's a prequel of sorts to the movie. It's billed as "the untold story of the witches of Oz," and does indeed offer myriad storylines that parallel those in the beloved Judy Garland movie.
But "Wicked" is a phenomenon all its own: dozen of awards including three Tony Awards and a Grammy, nearly $3 billion in tickets sales, and a worldwide audience of 36 million people since the show first opened nine years ago.
For those unfamiliar with "Wicked," it tells the story of two girls who meet in the land of Oz: Elphaba, a precocious spitfire with emerald-green skin, and Glinda, a beautiful and popular blonde. Polar opposites, they become friends, and evolve into the Wicked Witch of the West and Glinda the Good.
The touring production of "Wicked" has landed in Costa Mesa at Segerstrom Center for the Arts through March 17. I've seen the show five times; Catherine once, in London. But, like "The Wizard of Oz," "Wicked" has taken on a timeless quality that begs repeat viewings, so Catherine and I were excited to see the show on opening night.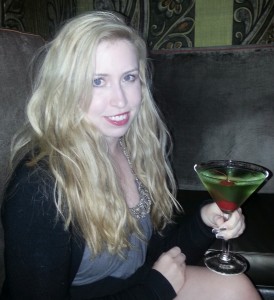 But before "Wicked," we needed a wicked dining experience, and one near Segerstrom Center. Fortunately, were invited to the newly renovated Center Club (adjacent to Segerstrom Center) to sample new menu items and enjoy the new lounge.
The first thing we did was peruse the cocktail menu for wicked drinks, and we found two that fit the bill: green apple Manhattan (the color of witch Elphaba's skin), and Wild Horse pinot noir (as in "horse of a different color" from the "Wizard of Oz" movie).
Next, we went the wicked culinary route and went with truffle fries, truffle mac and cheese, and truffle chips, with pork belly sliders thrown in for good measure. The verdict: all delicious treats expertly prepared and loaded with flavor.
The advantage of dining at The Center Club is being able to stroll next door to Segerstrom Center five minutes before curtain.
Once the curtain went up, we found ourselves mesmerized by the splendid spectacle on stage.
"This is better than the London production," Catherine confided to me at intermission as we stood in line at the bar to order signature Wicked cocktails (although long lines and slow bartenders prevented us from making it to the front of the line before intermission was over).
After Wicked ended, we compared notes.
"It was really good–Glinda (played at this performance by Cassie Okenka) was perfect, she was funny and bubbly, but not so much that you didn't feel sympathy for her,"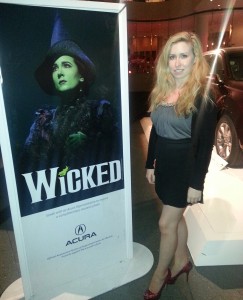 said Catherine. "And the sets were great, the show went seamlessly from one set to another."
"I've seen the show several times, but it tells such a great story really well that you go on the journey with the characters and feel what they're feeling despite being in a fantastical world," I gushed. "Elphaba's green skin could represent anyone who is different and what they go through in life. There are lots of parables in this show."
"I was invested in all of the characters," noted Catherine. "The costumes were great, the special effects, and it hit all the right notes with the emotions and the music."
"It's also loaded with 'Wizard of Oz' references, which I love," I said.
"You need to be familiar with 'The Wizard of Oz' before you see 'Wicked,' because you fill in the blanks of their journey like pieces of a puzzle," reasoned Catherine.
"So overall, what's the final opinion?"
"I'd say we just had a wonderfully 'Wicked' evening!"
"Wicked," runs through March 17. For tickets, visit SCFTA.org, or call (714) 556-2787.