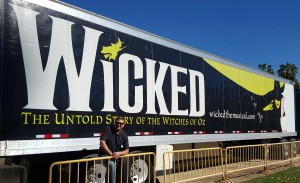 It's not every day you're invited to stand on the Segerstrom Hall stage and watch a Broadway musical being installed, but it's not every day that the phenomenon known as "Wicked" comes to town.
The story about what happened before Dorothy dropped into the Land of Oz, "Wicked" opened at Segerstrom Center this week and runs through March 6.
The show has been on tour for several years (this is the fourth time "Wicked" has landed to Costa Mesa), and takes a village of stage hands, carpenters and electricians to install the show at each theater on the tour.
A few select media outlets (including the Indy) were invited to watch the "Wicked" load-in and talk to the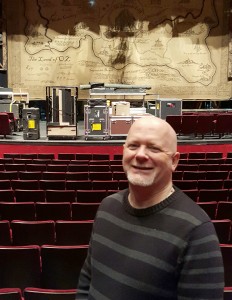 people behind the scenes to learn more about what it takes to put on this Tony Award-winning show.
Production Stage Manager David O'Brien has been touring with "Wicked" for four years, and is responsible for the artistic side of the musical.
"I am in charge of maintaining the show, making sure the actors are doing their job, giving notes, making sure the show looks the way it's supposed to look, make sure that what the creative team and the producers have put together remains the same throughout our 52 weeks a year of traveling," explained O'Brien.
And because actors may leave the show and new actors join the tour, O'Brien makes sure the new faces learn their paces.
"If an understudy leaves, you have to teach them their ensemble role plus the principle roles," he noted. "It keeps us busy."
Once "Wicked" gets to town, O'Brien spends the first three days of performances back stage while his assistants train local stage hands on the intricacies of the show. Then, he sits in the audience and takes notes.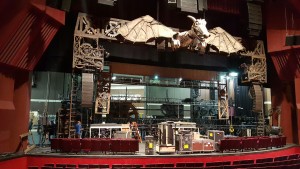 "I give notes to actors to keep it tight and consistent, yet at the same time not make it look like a machine," he said. "It has to look organic every night."
"Wicked" is a large show—it takes 13 huge 18-wheel trucks to haul the sets, costumes, props and other gear from one city to another. And because each city's theater is different, each venue presents its own challenges.
"That's why we are so happy to be in Costa Mesa," laughed O'Brien. "Sometimes we are setting up in theaters, and I think 'I can't wait to get to Costa Mesa.' There is plenty of room here, so no difficult challenges. Sometimes we barely have enough room on stage. We don't want to cut the show, so we make sure every theater we play can hold the whole show. That's one of the things I'm proudest of with "Wicked" – it's one of the closest to the original Broadway show, as far as touring productions, that there is out there. We actually have things that are not in the Broadway show."
Another reason O'Brien is glad to be on the West Coast is the weather. The show has been back east for several months, most recently in Springfield,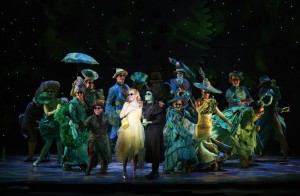 Missouri.
"On our last day in Springfield, I had to de-ice the car," recalled O'Brien. "It was covered in ice. The most challenging thing is weather. We've had ice storms, and a deluge of rain. We'll be in Dallas during tornado season, and New Orleans and Houston during hurricane season. You never know what the universe is going to bring you, so we plan to enjoy our time here. In fact, some of the cast members are staying in Newport Beach."
"I like touring," added O'Brien. "I committed to the show for a year, now I'm in my fourth year. If you do the same show eight times a week for 52 weeks, it can get monotonous. Being able to travel from city to city, and getting to see the cities, somehow energies everyone. People come to the theater and talk about the things they did that day. It's not come to work and go home. It's a great way to see the country. It's exciting."
For tickets to "Wicked," visit SCFTA.org.