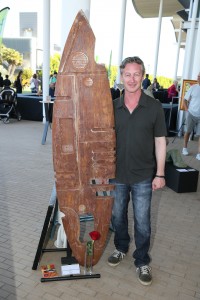 The Newport Beach City Arts Commission celebrated the 50th Anniversary of the Newport Beach Art Exhibition on June 14 with a juried event showcasing 260 works of art by 135 artists from throughout Southern California.
The exhibition included an awards reception sponsored by 24 Carrots Catering.
Dan Cameron, Chief Curator at the Orange County Museum of Art, served as juror for the exhibition, and selected first, second and third place winners in the categories of painting/mixed media, photography and sculpture, as well as his personal favorite for "Juror's Choice."
Attendees at the exhibition were also given the opportunity to vote for the "People's Choice" award, presented by Mayor Pro Tem Ed Selich.
Entries and attendance at the exhibition surpassed expectations according to City Arts Commissioner and Exhibition Chair, Arlene Greer.
"We had a beautiful day, a super turnout and lots of high quality art on display," she said.
With the Civic Center as the new home for the exhibition, Greer expects the show to be even larger next year.
"The diversity of the art, music by the Pacific Symphony Youth Ensembles, and the open air environment of the Civic Center contributed to an atmosphere enjoyed by both artists and guests," she noted.
The Newport Beach Art Exhibition is an annual event presented by the Newport Beach City Arts Commission. Dates for next year's event and the Call for Artists will be announced on the City's Cultural Arts webpage at newportbeachca.gov/culturalarts.
For more information, email [email protected].
2014 Newport Beach Art Exhibition Award Winners:
Painting/Mixed Media
First Place: Michael Spitaletto, "What Do You Call That?"
Second Place: Karen Lopez, "Controlled Chaos"
Third Place: Caroline Miller, "Mountain of Inspiration"
 Photography
First Place: Teresa Hernandez, "Soul Searching"
Second Place: Javier Reyna, "Road to Heaven"
Third Place: Lechi Bui, "Sunset at the Salton Sea"
Sculpture
First Place: Douglas Cross, "Relic"
Second Place: Sharon Jackman, "Fire Bowl"
Third Place: Bob Vale, "Spindrift"
Juror's Award
Iriet Peshkess, "Contemplation"
 People's Choice Award
Honey Hostetler, "Calm Waters"