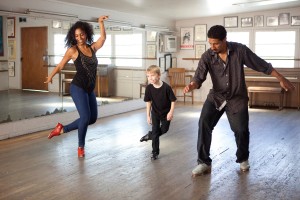 Vibrating with a joy both energized and hopeful, tap transcends our workaday world to embody the very pulse of life.
From traditional time-steps on Broadway stages to the improvisational, hip-hop style riffs of the streets, this American dance form plays well with others. It's contagious and courageous spirit has now spread globally, crossing cultural boundaries in a phenomenon showcased by an inspiring new documentary, "Tap World."
The 72-minute film zings with an intriguing blend of superb technicality and gritty determination. Featured dancers, companies, and choreographers represent an astonishing diversity, culled from cities as far afield as Sao Paulo, Melbourne, and Moscow and close to home as Los Angeles and New York City.
But layered underneath the percussive rhythms and passionate performances are back stories that beat with a life of their own.
Those stories, says "Tap World" director and executive producer Dean Hargrove, are what ultimately give the documentary its heart.
"We've gotten a very good response because of the dancing, but you can't just do it with only dance," said Hargrove, speaking by phone earlier this week. "We had to find stories that were both compelling and varied, both moving and fascinating."
"People don't expect to find so much emotion," he continued, giving vivid examples of the art's transformative nature. Among them, the documentary spotlights tap dance being used to teach math skills to at-risk youths in a drug-infested area of Brazil and self-esteem to battered women in Pennsylvania.
"One very dedicated and worthwhile young man in New York began tap dancing on subway trains to raise money for college," shared Hargrave. "When we first meet him in the film, he lives out of a storage locker; then his story was picked up by the New York Times and he made it onto the Ellen Degeneres Show. He overcame severe adversity in his life literally by his bootstraps, graduating from Penn State this past December as the first in his family to go to college."
An Emmy Award winning producer best known for his work on television mystery series such as "Perry Mason," "Matlock" and "Diagnosis Murder," for the past decade Hargrove has been busy carving out an unexpected yet welcome niche for himself in the tap community. It began with the idea for his 2004 short film "Tap Heat," and continues with "Tap World," a visionary collaboration with producers Chloe and Maud Arnold that was nominated for The Circle Award at this year's Film Fest D.C.
"I never dreamed that I would be doing something like 'Tap World,'" admits Hargrove, who is "delighted" to be a part of the Newport Beach Film Festival. "But now that I've done it, I don't know that I would do anything else."
"These people, they don't make a lot of money; they do it for the art, for the love, and there's a purity to that," he explained. "Tap dancers support each other like a family. The more they go out, the more they do, the more connected they become."
For more information go to tapworld1.com.
"Tap World" screens on Wednesday, April 29 at 5:15 p.m. at Edwards Big Newport. Visit NewportBeachFilmFest.com for tickets.
Dance in Your Shorts
Infused with an eerie Gothic edginess, Gabrielle Lansner's "the birch grove" paints a somber yet lovely picture of loss, love, and redemption. There's a clean, sensitive elegance to both its evocative, emotional movements and beautifully framed scenes.
Inspired by Polish author Jaroslaw Iwaszkiewicz's novella of the same name, "the birch grove" makes its U.S. premiere as one of six dance-infused short films screening in the Newport Beach Film Festival's "Dance in Your Shorts" program.
Also featured: "On a Grass Field," by American Ballet Theater dancers; "Bookin," set in a Memphis bar; "Early Sunday Morning;" a conceptual hip-hop film "Vanishing Points;" "Gloria;" and Australia's "I Am Emmanuel."
"Dance in Your Shorts" screens on Thursday, April 30 at 5:15 p.m. at The Triangle. Visit NewportBeachFilmFest.com for details.