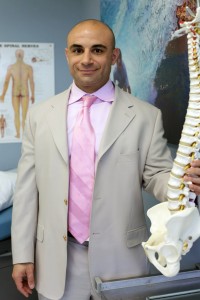 Hooman M. Melamed, M.D. FAAOS, one of the nation's leading spine surgeons, has joined DISC Sports & Spine Center in Newport Beach.
Among his credentials is being tapped by Dr. Oz to be on his Sharecare list of experts and is an inductee of the Leading Physicians of the World, a distinction earned after a thorough vetting process where he is cited for his "extraordinary surgical skill and excellent outcomes."
Melamed specializes in minimally invasive spine surgery and treats a wide range of conditions including herniated discs, complex cervical and lumbar disorders, cervical and lumbar stenosis, and scoliosis (abnormal curvature of the spine).
He has gained an international reputation for helping patients with back and neck conditions re-gain active, pain-free lives.
He has been featured in media nationwide including appearances on "Dr. Oz," "The Doctors," "Steve Harvey Show," and various local newscasts and newspapers.
Melamed was named director of Scoliosis and Spinal Deformity at Marina del Rey Hospital, is a member of Scoliosis Research Society, Fellow of the American Academy of Orthopaedic Surgeons, and adjunct assistant professor of orthopedic surgery at Touro University Medical Center.
In addition to his bustling practice, he formed his own nonprofit called Back To You, to extend free care to those who do not have the financial means for treatment.
DISC Sports & Spine Center is located at 3501 Jamboree Road. Call (949) 988-7800 or visit thespinepro.com.