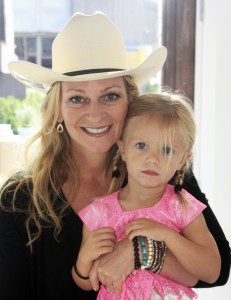 Chances are John Wayne never took a yoga class, but his daughter, Marisa Wayne, is such a proponent of yoga that she and three partners (Candice Collings, Matt Bourne and Joe Pham) recently opened a yoga studio on Coast Highway in Newport Beach.
The name of the studio? Grit. As in "True Grit," the title of her father's 1969 western film that garnered the iconic actor his only Academy Award.
In the film, young Mattie Ross seeks out sheriff Rooster Cogburn (played by Wayne) because he has true grit.
So does his daughter.
"The actual definition of grit is passion and perseverance to achieve ones goals," said Wayne at the grand opening celebration of Grit Yoga. "This is something I've been working on for the last year. I wanted to bring something that was community-based where you feel welcomed and that created health and wellness in the community, whether through yoga or cycling or cross fit–some sort of activity. I also wanted a program that gives back to local charities."
One of those charities is the John Wayne Cancer Foundation, based in Newport Beach. The Duke died of cancer, and the Wayne family created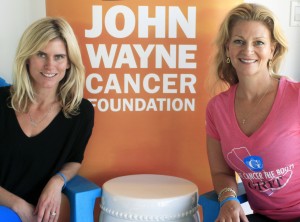 the foundation to honor Wayne while raising funds to promote cancer research and provide a wide range of programs to benefit those battling cancer, including a special summer camp for kids with cancer.
"Right now, they're also promoting breast cancer awareness," said Wayne, who lives in Newport Beach. "If there is an event they want me to go to, I'll be there."
Grit Yoga is not Wayne's first foray into fitness. Earlier this year, she, Collings and Bourne opened Grit Cycling in Costa Mesa, which has garnered rave reviews from fitness fans. Wayne, hopes Grit Yoga acquires the same reputation.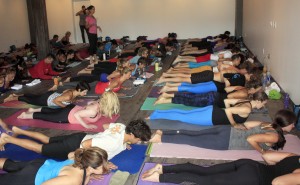 "We have locker rooms, showers,  yoga clothing and accessories, and a variety of classes–something for everyone. We have classes for serious yoga practitioners, hot yoga, kids yoga, beginners. Even if you're not into yoga, you might find something on our schedule."
Newport Beach Indy columnist Catherine Del Casale joined 60 other yoga enthusiasts at Grit's opening day celebration for a yoga class that involved 108 Sun Salutations.
"The room was peaceful with natural light and soft music," noted Del Casale. "Each of the six instructors led a portion of the Sun Salutations, going at their own pace and with their own special patterns. I enjoyed the sneak peek into each instructor's style and flow. After a little over an hour and a half and 108 Sun Salutations later, I felt rejuvenated, calm and accomplished."
For more information on Grit Yoga, visit GritYoga.com.