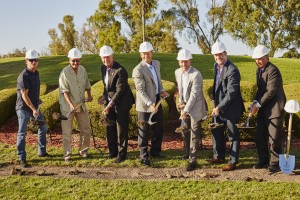 Newport Beach Country Club has begun construction on a new clubhouse at its facility near Jamboree Road and Coast Highway.
Construction on the two-story facility is expected to take 12 months. When completed in           October of 2015, the $40-million building will exemplify comfort, casual elegance, and timeless character. Its California coastal Craftsman-style will be uniquely suited to the Southern California beach climate and lifestyle.
"We started with an initial goal of designing a clubhouse befitting its signature Newport Beach location and complementing our beautiful golf course," said Kevin Martin, principal of Newport Beach Country Club. "Our vision for this long-awaited project has ultimately grown to building a clubhouse that will be an architectural icon in Newport Beach, and one that elevates us to one of the premier private golf clubs in California."
"The new clubhouse will completely transform the country club experience for our members. Our goal is to attract younger professionals and their families. The design, with its enhanced food and beverage venues, fitness facility, and resort-style pool, appeals to this important demographic," added Todd Pickup, principal of Newport Beach Country Club.
Members and their guests will enjoy ocean and coastline views through the wide expanses of glass, as well as experience the ambience of seamless indoor-outdoor areas, al fresco dining areas, and fireplaces and fire pits for cooler evenings.
The mixed grill, bar, banquet room, private dining room, and flexible-space board room will occupy the upper level, with enhanced views through large glass-paneled windows. The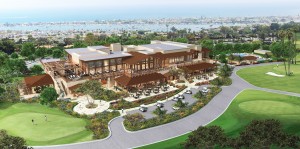 windows and doors in the banquet room will open completely to the golf course on one side and the ocean on the other.
All of the indoor areas will flow seamlessly to the large upper-level terraces, including one adjacent to the bar, another on the southern side of the banquet room, and a third one just south of the boardroom, with direct ocean views. The east, north, and west sides of the building will afford spectacular 180-degree golf-course vistas.
A new dining room will accommodate 150 people yet still feel intimate. The 4,000-square-foot ballroom will feature 17-foot-high ceilings and can accommodate up to 300 guests at round tables, making it an excellent location for weddings and social events. Golf-related functions—golf shop, men's and women's grillrooms and locker rooms, and outdoor patio dining—will all be located on the ground level, next to the course. All service-related functions—golf cart storage, golf cart repair, and golf bag storage—will be located in the basement, significantly reducing the overall building footprint.
The golf course will remain open throughout the entire construction period, with no interruption to play or member enjoyment. The club will continue offering full-service operations in a temporary, upscale, members' pavilion.
The 21st Annual PGA Champions Tour Toshiba Classic will continue to take place at the Newport Beach Country Club and is scheduled for October 26 through November 1, 2015.
Architects for the project are Melzer, Deckert & Ruder Architects, Inc. of Irvine. DriverSPG is the general contractor. TynanGroup is the construction manager. CAA Planning assisted with the entitlement approvals. Los Angeles-based Kay Lang + Associates is overseeing all interior design.
For more information, visit NewportBeachCC.com.