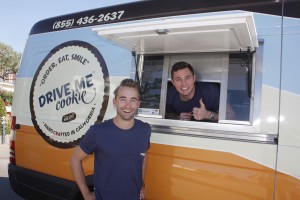 It takes guts to start a business, so when two recent college graduates invest over $160,000 in capital plus countless man hours into inventing something new, you have to give them credit.
Kohlman Verheyen, 22, and Taylor McSunas, 23, are both Newport Beach residents but attended the University of Colorado, where they saw a local cookie company, Boulder Bake, command much of the college crowd's money and appetite by delivering to dorms.
Verheyen and McSunas had visions of opening a similar store in Orange County and possibly developing a franchise with Boulder Bake, but the costs of rent made that an impractical solution.
The duo's dream didn't die but took another path and materialized as a food truck called Drive Me Cookie, serving hot, freshly baked cookies delivered to your door at home, school or work.
Their truck, a Mercedes Sprinter van, is fully wrapped and a true bakery on wheels. They hired a company to install a propane-fueled oven, refrigerator, and other amenities found in a typical kitchen. They make their dough at The Hood Kitchen in Costa Mesa and keep it chilled in the van, and bake the cookies onsite wherever they go.
According to Kohlman, who calls himself The "Doughmander" in Chief, they can "bake a tray of cookies in about 11 to 12 minutes," so cookies can be consumed within 15 minutes after ordering.
They offer six different varieties, including a classic that combines the old with the new using a recipe that has been in Kohlman's family for more than a century.
The Goth, Mac Doodle and Oat Cho are just some of the clever product names they came up with. They also carry ice cream so they can deliver the finished product as an ice cream sandwich.
I met the Drive Me Cookie guys as part of a project they are doing with Concordia University MBA students. They're using the brainpower of the students, who want to help with the needs of real-life entrepreneurs, which many of the students strive to be.
Of the seven projects the students are working on, the cookies were a hit when Verheyen and McSunas brought their truck out to the school.
This new Drive Me Cookie venture officially rolled out last September, but I suspect they have a long and well-fed future in front of them
For more information, visit them at DriveMeCookie.com.