On January 1, California's new Electric Bike Law (AB 1096) allows electric bicycles such as the Pedego brand on various types of bike paths throughout California.
Under this new law, California has designated three types of legal electric bicycles. Pedego electric bikes have been assigned the Type 2 distinction because they have a throttle and a motor that is governed to a top assisted speed of 20 miles per hour. Type 2 bikes can now be ridden on virtually all bicycle paths and lanes in the state, including the Crystal Cove back country, Back Bay bike trail, and other nearby areas where bicycle enthusiasts gather.
The bill was co-authored by Matthew Harper of the 74th District (which includes Newport Beach), who said in a statement, "This opens up the bike paths officially to riders who might not have been able to enjoy cycling in the past."
The Electric Bike Law meant nothing to me until I was invited to the Pedego electric bicycle shop in Corona del Mar to see and test drive a new folding model called the Latch that went on the market this week.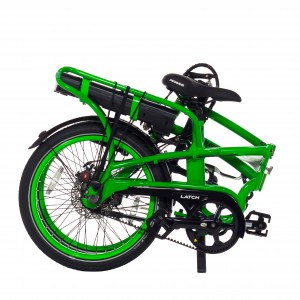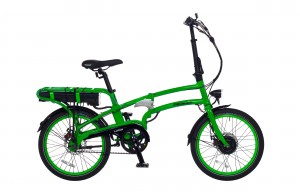 According to the press material, the Latch is made of durable, rust-resistant aircraft grade aluminum, and because it folds, riders can carry it onto a bus or train, into a motor home, or aboard a boat or private plane. It weighs 43 pounds (50 with a battery), so it is a little heavier than standard bicycles, yet easily manageable.
Having never ridden an electric bike, I learned that the Latch – while smaller than other Pedego bikes – adjusts to the feel of a full-size electric bike, with power to match.
I watched as one of the owners of the Pedego shop unfolded the bike. A mere 30 seconds later, it was ready to ride.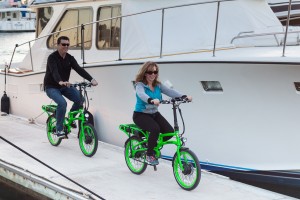 More facts I learned about the Latch: It has a twist-and-go throttle and a Pedal Assist computer, which means riders can pedal assisted by the motor (making climbing hills a breeze) or use just the motor and cruise unassisted.
The Latch uses a 36-volt rechargeable battery that's interchangeable with other Pedego models. The seat is comfortable, the brakes and controls easy to use, and it's peppy—top speed is 18 to 20 mph, and a slight twist of the throttle propels the bike forward.
Once I learned how to operate the bike, it was time for my first Pedego test drive. I zipped down several back streets in Corona del Mar towards Bayside Drive, then up a hill and down again, amazed at how easily the bike maneuvered and responded. During that five-minute ride, I quickly discovered why the store sells so many Pedego bikes: they are FUN!
The fun doubled when I also got to ride the Trail Tracker, Pedego's version of a mountain bike. I have a standard mountain bike that I ride along the Back Bay bike trail and other areas less frequented by motor vehicles, but the Trail Tracker's capabilities (48 volt battery, 500 watt motor) made me want to take the day off and ride the bike on the dirt trails above Crystal Cove.
Apparently my response is not unique—I was told that many people are skeptical until they take a test drive. More often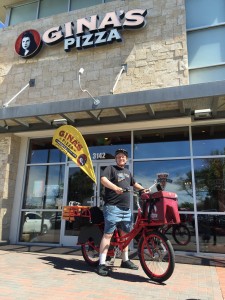 than not, the test turns into a love affair with Pedego bikes.
In addition to the Latch, which comes in three colors and retails for $2,595 to $2,895 depending on the battery selection, and the Trail Tracker, which gets into the $3,000+ range, several other models are available, including the Comfort Cruiser, City Commuter, a tandem bike, and one called a Stretch Cargo (Gina's Pizza in Newport Beach has several of these electric bikes they use during the summer for pizza deliveries around town, including customers on the beach and lifeguards).
Most of the bikes are available to rent by the hour ($20 to $30) or by the day. I plan to return to the CdM store and rent a Trail Tracker—although I have a feeling I'll end up purchasing a Pedego bike soon after (they have easy payment plans).
Pedego electric bikes are sold in more than 800 stores in 40 countries, which tells me that Pedego is a brand that's here to stay.
For more information, visit the Corona del Mar store at 2515 East Coast Hwy (near Sherman Library & Gardens), or go to pedegoelectricbikes.com.