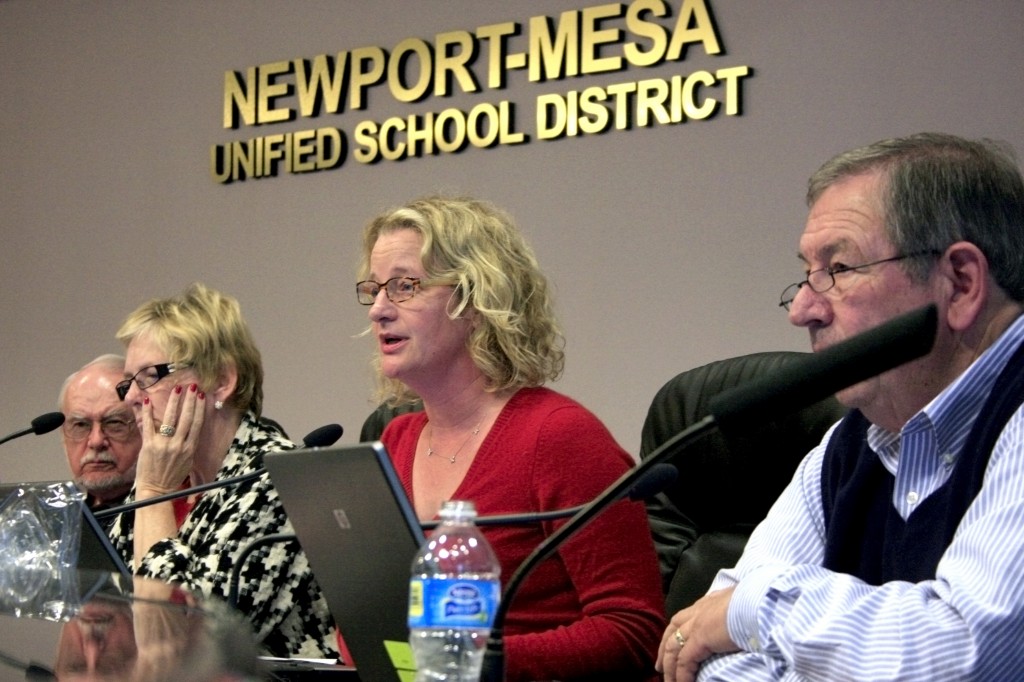 The shootings at a Connecticut elementary school and Fashion Island over the weekend prompted school district officials to sit down with local police during a special meeting on Tuesday and discuss school security.
Newport-Mesa Unified School District Board of Education members met with district staff, Newport Beach Police Department Deputy Chief of Police, David McGill, and Costa Mesa Police Department Chief of Police, Tom Gazsi, to discuss school safety efforts and procedures.
The meeting was called after the deadly attack at Sandy Hook Elementary School in Newtown, Conn., on Friday, in which a lone shooter killed 20 children and six adults.
"We join the country in grieving,"  Gazsi said.
"This was an eye opener," McGill added. "For crying out loud… It's unbelievable."
"The shooting incident at an elementary school in Connecticut is a senseless and horrific tragedy that will rightfully raise concerns in communities around the world about school safety," Superintendent Dr. Frederick Navarro wrote in a district message. "It's a frightful situation and one that we hope and pray we never have to deal with in Newport-Mesa. While no level of planning can truly prepare us for this kind of an incident, know that we are forever dedicated towards the safety of our children and staff."
Several board members also gave their condolences to those affected by the tragedy.
"This was a horrific event," said board Vice President Karen Yelsey. "And to think that something like that cannot happen here is very naïve."
The meeting also comes following an incident at Fashion Island last Saturday, where a man was arrested after allegedly firing more than 50 rounds from a handgun into the air and at the ground in the Macy's parking lot.
District staff also used the special meeting to explain NMUSD's plan to provide a safe environment for students and staff in case of an "active shooter event."
Costa Mesa and Newport Beach police would work in a collaborative effort to keep schools in the district safe, Gazsi said.
"We are at your disposal," McGill said.
In Newport Beach schools, police have identified a few areas to improve upon, McGill said.
Board members had a few ideas as well.
Yelsey asked if training and arming qualified school staff might help, suggesting "even less damage would be done" if something were to happen.
In Newport Beach, since response time is usually only a couple of minutes and there are already on-campus School Resource Officers, arming teachers might not be the best idea, McGill said.
It also might make the situation even riskier if the police have to go into the school, trying to identify the shooter or intruder, and have to worry about who has a gun and who doesn't.
McGill said he's just not sure if it's the right move.
"It's worthy of discussion," he added.
Gazsi agreed and said he'd rather leave it to the trained professionals.
Newport-Mesa Federation of Teachers President Kimberly Claytor, who spoke during public comment, also touched on this topic, essentially saying she didn't feel arming teachers was the way to go.
"We'd like to see if there is any commitment or any ideas looking into campaigning for stricter gun regulations and a ban on assault rifles," instead, she said.
There was also talk about doors that only lock from the outside, and some schools that don't have doors on the classrooms at all.
Claytor agreed that classrooms should have working doors that can be locked from the inside.
"I think that has been demonstrated as beneficial for safety," she said.
Board member Martha Fluor agreed about the concern over doors only being able to lock from the outside.
Fluor also brought up the suggestion of having panic buttons strategically placed around the classroom and throughout the school.
The use of SROs was also mentioned several times, with board members appreciating their work and value on campus. McGill recognized Corona del Mar and Newport Harbor high school's SROs, Vladimir Anderson and Marie Gamble, who were both in attendance.
A few board members recommended doing more frequent intruder alerts.
Foley said the first time her son came home and told her they did an intruder drill, it gave her chills. It was scary to think that kindergarteners have to learn how to protect themselves against an intruder with a gun, but it's an important lesson.
"We want to try to change with the times, even when the times are changing in a tragic way," Foley said.
Foley also suggested an intruder drill for the board members and audience, in case something happened during a meeting.
Some school sites are very open, in terms of access, as a few board members noted, and it would be important to limit that.
Board member Judy Franco mentioned that some schools have playground areas that are open to the beach, like Newport Elementary, so maybe extra patrol would be helpful.
McGill said he once inadvertently walked onto the beach play area and school staff were on him pretty instantly. Extra officers in the area is definitely an option, he added.
Video security, fences and locked doors and gates were also brought up as ideas to increase school safety.
Claytor suggested all teachers have keys or be able to open all gates. She also agreed with the idea of a silent alarm by the front office, adding fencing, and text message alerts.
"All of this has to be on the table," for consideration, Yelsey said.
Every little bit helps, McGill said, noting that criminals generally go for the easy targets, so adding anything that the public would perceive as a security measure would be beneficial.
Deputy Superintendent and Chief Business Official, Paul Reed, said some of these options may garner criticism from the community.
People will now have a harder time accessing school grounds and may be concerned that it's becoming overly-institutionalized, and a few of the suggestions will be costly, he added.
"Many of the things said are quite expensive," Reed said, adding that there are a lot of constraints to be take into account.
While some things may sound like easy fixes in the  discussion period, they sometimes end up being "not so easy," and certain ideas might be wonderful in terms of security, but there might be very costly staffing trade offs as a result.
Staff will take a closer look at security measures and all of the suggestions, Reed said.
These things may be expensive, Yelsey said, but the safety and security of the children is of the utmost importance.
During public comment, parent Kurt Nii observed that while there was talk of some of the security measures being costly.
"My kid is priceless," he said, as his voice broke with emotion. "You tell my kid, when he's gone, it's costly. I'll finance my house. I'll do whatever. I don't want to hear about this cost anymore. Let's do fundraisers. Let's do it. Let's get it together. This is what will get things done. The community will do it, guaranteed."
The district has posted resources to help Sandy Hook families and a link to helpful information from the Orange County Department of Education, on their website web.nmusd.us.