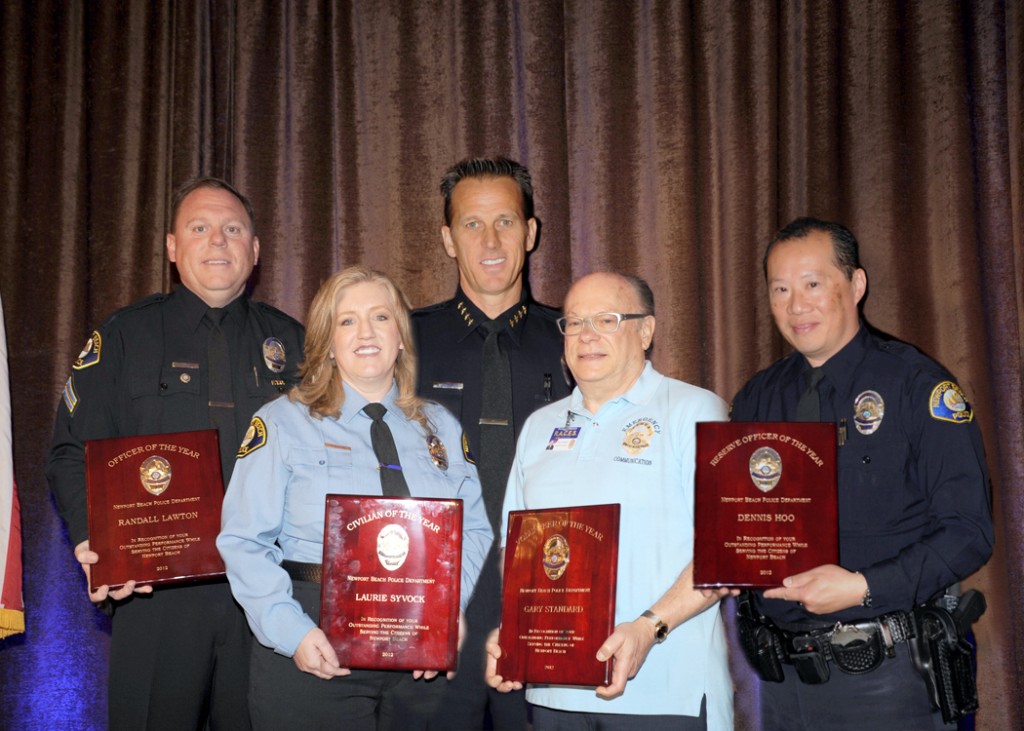 The Newport Beach Police Department honored several employees last week at the department's 42nd Annual Police Appreciation Breakfast.
Police officials, community members, and city staff, including Mayor Keith Curry, attended the breakfast, held March 21 at Island Hotel.
Police sent out a community message naming those that were honored at the event.
According to the statement, among those awarded: Officer Randall Lawton as Officer of the Year, civilian supervisor Bob Yamada as Supervisor of the Year, senior dispatcher Laurie Syvock as Civilian of the Year, reserve officer Dennis Hoo as Reserve Officer of the Year, and R.A.C.E.S. volunteer Gary Standard as Volunteer of the Year.
Several awards of merit were also handed out, the message explains: For their actions during the Dec. 15 Fashion Island shooting, officers Robert Hufford, David Spenser, Dennis Maisano, and William Hume; and Officer John Yim for attempting to save the life of a man trapped inside of a burning house on Sept. 10.
The Lifesaving Award was given to several officers, including Ricardo Adame for his efforts during the Sept. 10 house fire incident, Anthony Yim and Brian McDowell for saving a man who was attempting suicide, and Monica Tiscareno, along with Adame again, for performing CPR and saving the life of a man with a life threatening medical condition. Volunteer Richard Simon also received this award, for searching and finding a man with Alzheimer's, and helping rescue him from a ravine.
The Chief's Citation was given out to several NBPD members as well, as the statement lists, including: Civilian supervisor Wendy Koudelka, senior dispatchers Syvock and Joe Horton, and dispatchers Erin Duhon and Dave Ballantyne, detectives Bryan Moore, Ryan Peters, Scott Smith, Garrett Fitzgerald, Kyle Cammack, Sergeant Keith Krallman, Brandon Rodriguez, Brad Miller, Dave Darling, Tracy McKenzie, Sergeant Steve Burdette, Penny Freeman, Pete Carpentieri, David Syvock, and Sergeant Shontel Sherwood.
Newport Beach Chamber of Commerce and the Commodores Club hosted the event, according to the statement, and the Maseeh Family, Hoag Memorial Hospital Presbyterian, Visit Newport Beach, Inc., and Ware Disposal Company, Inc., all sponsored it.