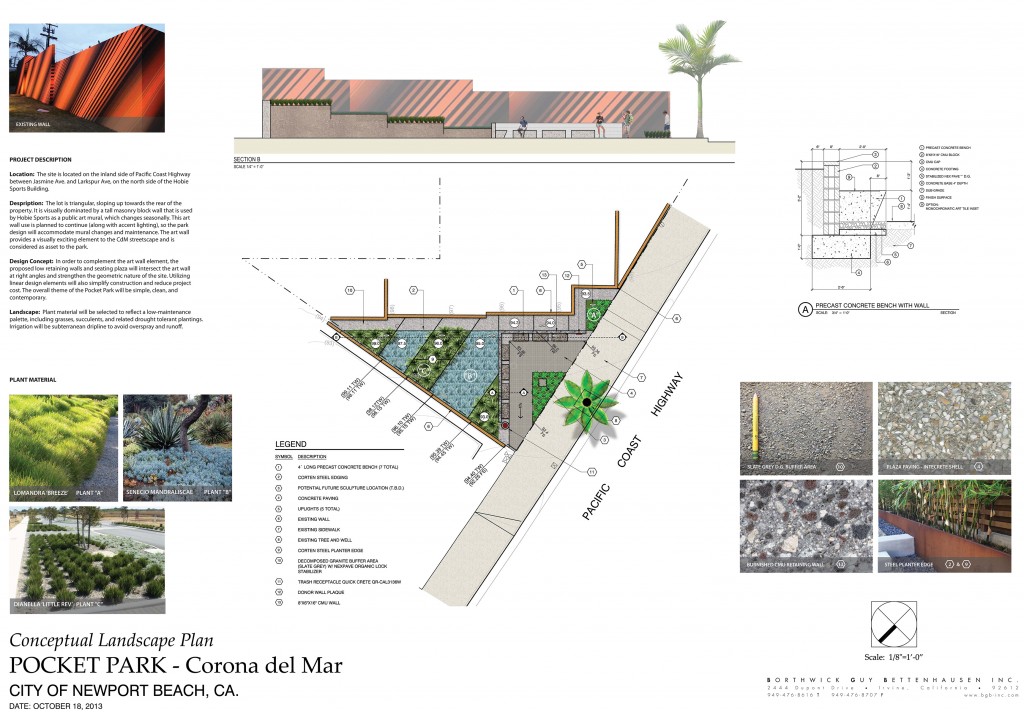 City officials are hoping a small park will make a big difference in an underutilized area of Corona del Mar.
At Tuesday's Parks, Beaches & Recreation meeting, commissioners unanimously approved 4-0 a $90,000 "pocket park" project planned for a small slice of property on Pacific Coast Highway in Corona del Mar, next to Hobie Surf Shop at 3140 E. Coast Hwy. Commissioners Tom Anderson and Marie Martson were absent.
There were two amendments to staff's recommended plans: Approval is pending official support from the CdM Business Improvement District and CdM Chamber of Commerce; and the concrete benches will be replaced with seating with backing, possibly wooden.
"This is what Corona del Mar Business District needs," said PB&R commissioner Roy Englebrecht, who has owned a family business in the area on PCH for many years. "To me, any improvement on Coast Highway in Corona del Mar, to make it more of a destination, as opposed to just a whole lot of traffic… I'm for."
Hobie's has offered to donate the vacant land to the city, explained Patrick Thomas, deputy public works director and city engineer.
It would become the property of the city, Thomas explained, so the city would be responsible for construction and maintenance.
The plan will go before the city council for final approval.
"It's a neat little site," said the project's landscape architect, Bob Borthwick, senior principal for Borthwick Guy Bettenhausen, Inc. "It will go from an unused, unappreciated spot to a little gem on Coast Highway."
The park is designed to accommodate and accentuate the public art mural painted on the wall by Hobie's, which is changed seasonally.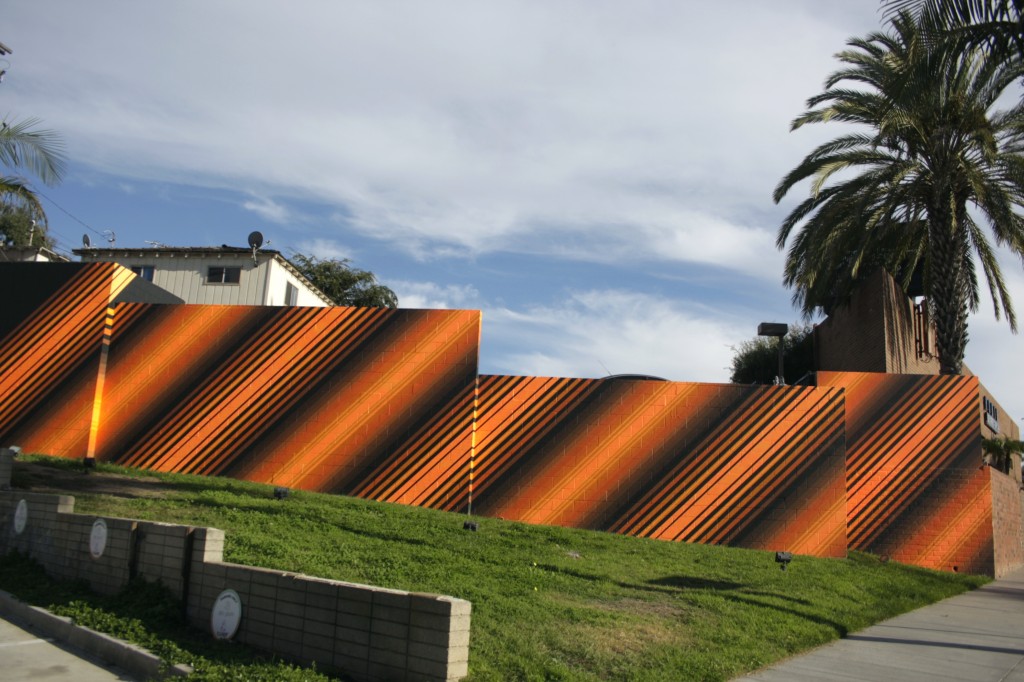 A three to four foot wide path of stabilized decomposed granite would allow the wall mural to continue to be easily accessed and maintained.
The park's proposed plan includes public seating, sustainable plant material, low maintenance pathways, utilize linear design elements, and strengthen the geometric nature of the site, according to the conceptual landscape plan.
"Our thought here was to make it as efficient and low maintenance (as possible), but at the same time beautiful and a nice, simple, modern forecourt to the wall, which is such a striking feature," Borthwick said.
There were just a few concerns and comments from the commissioners.
Commissioner Ron Cole suggested the project get the official support of the CdM Business Improvement District and the Chamber of Commerce
"It's critical to make sure that they have had an opportunity to support this in some formal manner," Commissioner Walt Howald agreed.
The BID and chamber have been "striving to make our little village more pedestrian friendly," said CdM resident Ron Yeo.
Instead of the proposed cement benches, Englebrecht suggested wooden seats with backing so people can sit and enjoy an ice cream or a slice of pizza.
"You can't do that on a hard, concrete bench," he commented, calling them "cinder blocks."
"If we don't want anyone to stay at the park, put these concrete seats in," Englebrecht said. "They're the most uncomfortable (type of seating option)."
Borthwick said they are very open to other styles of seating ideas. In this particular case though, he explained, it's not likely people will spend more than five to 10 minutes for a "quick stop-off" or brief rest.
They thought the backless style would suffice, but were very willing to explore other ideas and switch to something with a backing.
Thomas noted that the resident's association had suggested using more California native vegetation. The plant material being used in the park, he continued, is native elsewhere, but regularly used in California park projects.
Generally speaking, native plants tend to be woodier and larger than what they had planned for this specific project, Borthwick explained. They are aiming for a low-profile, very uniform plant palette, that nicely complements the mural wall without any competition for attention.
The grass-like materials suggested are from Australia, he continued, and are considered very drought tolerant and sustainable. The third plant is a bushy succulent called senecio mandraliscae, it's purplish color creates an interesting contrast, he added.
"It's a very simple plant palette and one we feel is very drought tolerant and almost maintenance free," Borthwick said.
Howald had concerns about liability, maintenance responsibility and how much it would actually be used.
The city would be responsible for it, Thomas explained.
The only real "usable" part are the benches, which may be utilized by pedestrians walking to and from the local shops, Borthwick explained. It's more of a "visual upgrade of the current conditions" of the area and a pedestrian amenity, he noted.
"It's a win-win situation," Yeo said. "I think the landscape architects have done an outstanding job of tying down not only a functional and comfortable seating area, but a very visual element that reflects all the great graphics that Hobie's does."
Staff anticipates construction to begin in spring 2014.