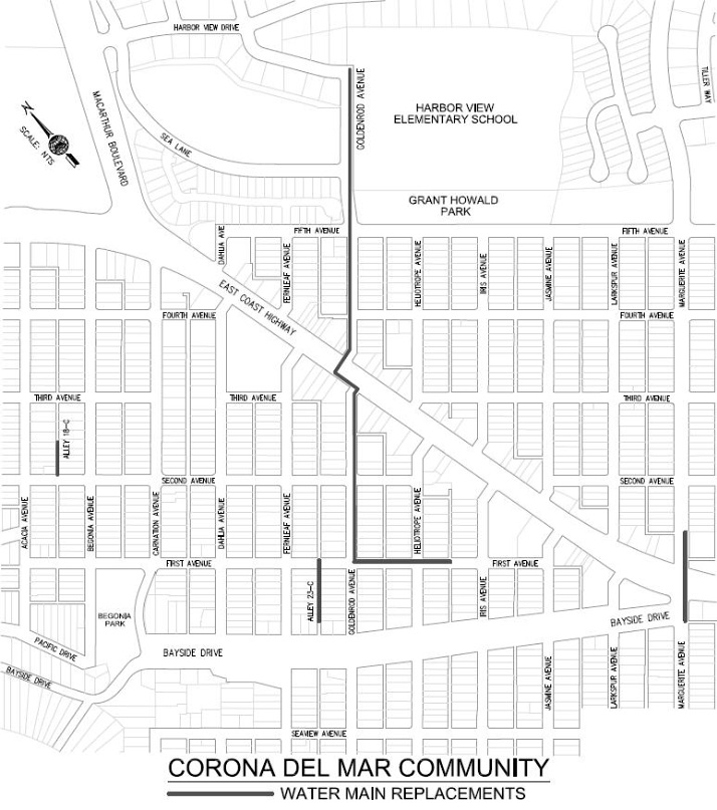 Construction begins Monday on the Water Main Master Plan Replacement Project that will impact several streets in Corona del Mar through October.
According to details provided by the city of Newport Beach, this project will focus on older deteriorated cast iron water mains in the Corona del Mar Community that have experienced breaks in the past.
The work necessary to complete this contract includes the removal and replacement of cast iron water mains, replacement of water services and meters, fire hydrants, valves, pavement replacement and re-striping.
Project phasing has been developed to minimize impacts to the community. For example, work on Goldenrod Avenue between Harbor View Elementary School and First Avenue will be constructed during the summer months to avoid impacts with school traffic in the area. A good portion of this work on Goldenrod involves slip-lining the existing 18-inch cast iron water main with new 12-inch pipe, which requires minimal street trenching.
Work at Marguerite Avenue and East Coast Highway will be scheduled after September 7 to avoid impacts with the summer traffic. In addition, working hours have been established to minimize impacts to commuter traffic, which will include some night work.
The work includes water main replacements for the following areas:
Goldenrod Avenue from Harbor View Elementary School to First Avenue
First Avenue from Goldenrod Avenue to the alley east of Heliotrope Avenue
Marguerite Avenue/Coast Highway crossing
Alley 18C (bounded by Second & Third Avenue and Acacia & Begonia Avenue)
Alley 23C (bounded by Bayside Drive & First Avenue and Fernleaf & Goldenrod Avenue)
Construction prior to Sept. 7:
Goldenrod Avenue between Coast Highway and Harbor View Elementary School
Goldenrod Intersection at Coast Highway (Night Work)
Goldenrod Avenue between 1st Avenue and Coast Highway (not including Coast Highway)
Construction after Sept. 7:
First Avenue
Alley's 23c and 18c
Marguerite Avenue crossing at Coast Highway
If inclement weather is encountered, the contractor is allowed additional working days to complete the work. Working hours have been established to minimize impacts to commuter traffic and will include some night work. The contractor will prepare a detailed schedule that can be adjusted to address concerns from businesses and residents in the project area.
Normal working hours are limited to 7 a.m. to 4:30 p.m., Monday through Friday.
In order to shorten the construction duration and minimize the impact to the community, work will require street and alley closures. Street closures will be phased a few blocks at a time in order to allow as much on-street parking as possible.
For more information/questions concerning this project, call city of Newport Beach Project Inspector Frank Martin at (949) 795-6944.