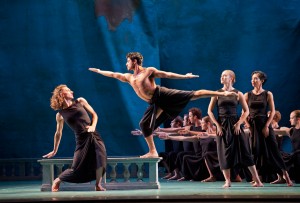 "For me, it's all or nothing" explained über-talented Renaissance man Mark Morris with customary candor. "I'm obsessed with live dancers, live music, and live audiences; I have to have it, and I won't do it any other way."
The acclaimed dancer, choreographer, artistic director and conductor spoke by phone from New York recently about the visceral immediacy of live performance, its creative power, and the Mark Morris Dance Group's much anticipated return to Irvine Barclay Theatre this weekend with one of his masterworks, "Dido and Aeneas."
A dark and dramatic melding of modern dance and baroque choral music, Morris's interpretation of English composer Henry Purcell's 1689 opera, itself based on a tragic love story by the Roman poet Virgil, resonates with raw emotion. The production debuted in 1989 with Artistic Director Morris dancing the lead role of Dido/Sorceress alongside his company. Nearly three decades and a 2008 visit to The Barclay later, "Dido and Aeneas" remains as ageless as it is unforgettable.
"We do 'Dido and Aeneas' with some frequency," said Morris. "It's quite a big project; things on this scale are a lot of work, money, and people, and are a bigger gamble. We have been trying to do it again at The Barclay for a long time, though; it was desired, and it came true."
The two-evening run is presented by the Philharmonic Society of Orange County, with Morris himself conducting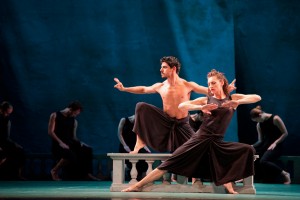 the Musica Angelica Baroque Orchestra and the Bob Cole Chamber Choir from California State University, Long Beach. Mezzo-soprano Jamie Van Eyck will sing the role of Dido, Queen of Carthage as well as Sorceress and bass-baritone Douglas Williams portrays the hero Aeneas.
"'Dido and Aeneas' is pretty much one of the first operas in English, and it's an unbelievably fabulous story, a complicated and emotional one that a lot of people don't know as well today," Morris pointed out. "The fact that it's so concise, quite short really – the whole piece is only 60 minutes long – and so much action takes place means we have to get it done as swiftly and accurately as possible. It's haiku versus a longer form… that's the magic of Purcell's story."
"It's the 'alive' part that's important, I can't stress that enough," added Morris. "Every performance is different from every other. That's what makes it an art experience rather than a documentary or report, and I think 'Dido and Aeneas' is the absolute perfection of that. You could stay home and read the book, but I did that for you. Now you get to watch and listen, something that can be hard to do. I won't use words like 'accessible' or 'relevant;' I think that's insulting. I'm not trying to make people better. Each person, I hope, gets something from it, but I don't get to decide what that is. I trust people to experience 'Dido and Aeneas' on its own. Pay close attention, it will be over before you know it."
Mark Morris Dance Group performs "Dido and Aeneas" Friday, May 15 and Saturday, May 16 at 8 p.m. at Irvine Barclay Theatre. There will be a pre-concert lecture at 7 p.m. prior to each performance by Dr. Burton Karson. For tickets and information call the Philharmonic Society at (949) 553-2422, the Barclay Box Office at (949) 854-4646, or go to thebarclay.org.
Other dance performances coming up at The Barclay: The Wooden Floor, May 28 – 30; Classical Dance Center, June 2-3; Southland Ballet, June 6-7; Pacific Dance, June 10-14; Focus Dance Center, June 17-21; National Choreographers Initiative, July 25.