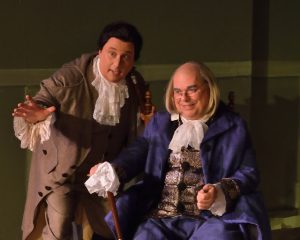 Classic Americana closes out Newport Theatre Arts Center's 2015-2016 season this weekend with the last few performances of "1776 The Musical."
The patriotic play delves into the diverse personalities behind the signing of the Declaration of Independence, delivering a lively and enriching history lesson that's been playing to sold out houses for most of its run.
First, the bad news: tickets to "1776" are rarer than backyard fireworks in Newport Beach.
The good news: NTAC's 38th season has just been announced, and the lineup sizzles with a saucy mix of comedy, satire, and mystery.
"I'll tell you about the new season we have this year," shares long-time NTAC Board President Rae Cohen, speaking by phone from her Newport Beach home. "It's run similar to the school year. We start up again in September and we're opening with another musical, which we don't usually do. We're going from 27 people in the cast of '1776' to two for 'I Do! I Do!' That show was written by the same guys who did 'The Fantasticks.'"
With book and lyrics by Tom Jones and music by Harvey Schmidt, "I Do! I Do!" takes a nostalgic look at marriage through the musings of a young couple on their wedding day. Based on "The Fourposter" by Jan de Hartog, the musical received seven Tony Award nominations. It opens September 9.
Can't wait that long? Starting August 4, don some love beads and revisit the 60s for summer fun with the family in NTAC's children's musical, "Groovy!" by Tim Kelly and Bill Francoeur.
Then get ready for fall and the rest of the season, which includes Yasmina Reza's Tony Award-winning take on parents and playground politics, "God of Carnage," Dame Agatha Christie's 1950s-era brainteaser, "A Murder is Announced," a classic British farce where three couples frolic through two dinner parties in Alan Ayckbourn's "How the Other Half Loves," and the feel-good friendship and feminine empowerment play "Calendar Girls," based on the Miramax movie by Juliette Towhidi and Tim Firth and winner of the What's On Stage Award for Best New Comedy of 2010.
"God of Carnage is maybe a little reckless for us to do, because it has adult language," muses Cohen. "She (Yasmina Reza) is a Frenchwoman; we did her play "Art" a few years ago. And then, everybody loves a mystery! Agatha Christie is so very popular, and this ("A Murder is Announced") is her only play with Miss Marple in it, so that'll be fun."
"I'm thinking that "Calendar Girls" should be a lot of fun, too," Cohen concludes. "I find the whole concept of a bunch of middle aged and older women in a social group using themselves as pinups for a calendar very humorous."
"But don't worry, we won't be showing anything, we'll be careful!" she laughs.
Newport Theater Arts Center is located at 2501 Cliff Dr. For tickets and information call the NTAC Box Office at (949) 631-0288 or go to ntaconline.com.