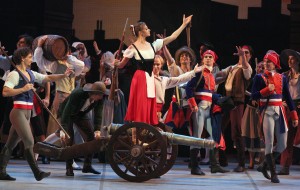 Sophisticated, stimulating, and spiked with the unexpected.
Sounds a bit like the best sort of cocktails, doesn't it? But then, the Segerstrom Center for the Arts' 2014-2015 International Dance Series (which opens this weekend with the West Coast Premiere of Mikhailovsky Ballet's "Flames of Paris,") serves up a heady and provocative mix that's well worth getting all stirred up about.
"I think there's incredible passion coming our way," predicts Executive Vice-President Judy Morr of the companies and repertory she's chosen for Center audiences this year. "It's a season filled with extreme emotions where the passion of both the dancers and the works themselves will ignite the hearts of those that see it."
The diverse and dramatic line-up ranges from Mikhail Messerer's acclaimed restaging of the rarely seen "Flames of Paris" for Mikhailovsky Ballet (a full-length classical piece created in 1932 and set during the French Revolution) to the unfolding of Argentinian Eva Perón's struggles shown through tango in Tango Buenos Aires' "Song of Eva Perón."
Also included will be American Ballet Theatre with the World Premiere of renowned choreographer Alexei Ratmansky's vision for that quintessential love story, "The Sleeping Beauty."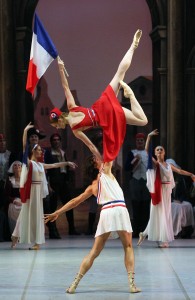 The season culminates with the unforgettable intensity of Eifman Ballet of St. Petersburg, returning to the Center to present the West Coast Premiere of Artistic Director Boris Eifman's latest turbulent take on love, "Up and Down," inspired by Sigmund Freud's theories of the unconscious mind.
"The audience here really has taken a chance and gone the journey with me," reflects Morr on her years at the Center, speaking eloquently of her creative process in putting together each season. "I try to have it equally balanced between caring how a company's artistic integrity is portrayed and what the audience will enjoy and what experience they will have. It's stimulating and exciting at the same time."
"For instance, I knew they (Mikhailovsky Ballet) would be a good company to bring because they have lovely dancers and they had 'Flames of Paris,'" she continues, describing her trip to St. Petersburg, Russia, a few years ago to do research. "I remember seeing them do 'Giselle' and other standard repertory, which they did very well, but I was interested in bringing something different for our audiences. I knew that the company wanted to premiere 'Flames of Paris' in New York City (it premiered at Lincoln Center earlier this month) and that I could attach to that trip and have the premiere on the West Coast. I think it's significant for us."
Morr has seen each of the companies in the series, but not the works themselves, and seems as fizzy with anticipation as the rest of us for the season to begin.
"Even Eifman is creating as we speak! I'll be sitting on the edge of my chair for each one," she says. "It won't be a repeat, it will be new and exciting. I just can't wait for it to begin. By the end of the season we will have our hearts filled with this beautiful dance."
Segerstrom Center for the Arts Dance series: Mikhailovsky Ballet "The Flames of Paris" Nov. 28 – 30; Tango Buenos Aires "Song of Eva Perón" Jan. 17 & 18; American Ballet Theatre "The Sleeping Beauty" March 3 – 8; Eifman Ballet of St. Petersburg "Up and Down" June 5 – 7.
For tickets and information go to SCFTA.org, or call the Box Office at (714) 556-2787.