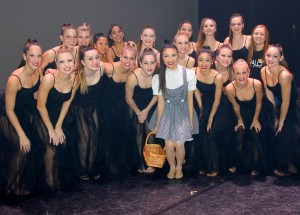 Setting stars in young eyes and eager rhythms in hearts and soles, dancers' dreams deserve both encouragement and nurturance.
To that end, this week Center Stage shines the spotlight on Corona del Mar High School's Orchesis Dance Company and Maple Youth Ballet's Spring Gala 2015.
Orchesis
"Dance is integral to my life—words cannot describe the liberating joy that comes with expression through movement!" wrote Janelle Kaneda, co-president of Corona del Mar High School's Orchesis Dance Company.
The 17-year-old senior waxed by turns reflective and enthusiastic about her four years with the varsity dance team during a recent email before heading off to rehearsal for this year's annual spring show.
Funky, dramatic, and just plain fun, "Dancing Over The Rainbow… Follow Orchesis to OZ" features Kaneda (who also co-choreographed the opening number) as Dorothy, joining her cast mates for a memorable trip down the yellow brick road this weekend at Newport Harbor High School's Loats Theater.
Overseen by Orchesis Dance Company Artistic Director Cami Marseilles, head of the CDMHS dance department, the program features 20 dancers, student and advisor choreography, and a high-octane blend of contemporary styles including lyrical, hip hop, a highly anticipated "boys dance," and the senior tribute dance.
"What I enjoy most about our company is being able represent Corona del Mar High School through the athletic art of dance, encouraging school spirit on campus," Kaneda said. "I'm so grateful to be able to work with my peers and advisors in making our creative visions come to life. The most challenging aspects are the time commitment and arduous work that go into our rehearsals, but they're also the most rewarding."
Corona del Mar High School Orchesis Dance Company presents "Dancing Over The Rainbow… Follow Orchesis to OZ" on March 6 & 7 at 7 p.m. in Loats Theater, Newport Harbor High School, 600 Irvine Blvd. Newport Beach.
Tickets are $20 at the door.
Maple Youth Ballet
Set for Sunday, March 8, at the Avenue of the Arts Wyndham Hotel in Costa Mesa, the fourth annual Maple Youth Ballet benefit supports the Charles A. Maple, Sr. Scholarship Fund as well as productions such as next month's "Alice in Wonderland" at Irvine Barclay Theatre.
In addition to a silent auction and a performance by the Maple Youth Ballet (which includes young dancers from Newport Beach), attendees will have the opportunity to meet the guest of honor, American Ballet Theatre Soloist Misty Copeland, who is in town through Sunday performing 'Princess Florine' in ABT's World Premiere of "The Sleeping Beauty" at Segerstrom Center for the Arts.
Copeland will be joining Maple Youth Ballet co-founder Charles Maple during the gala for a one-on-one interview about her early struggles and current white-hot career.
"With her polished technique and vibrant personality, Misty shines right up to the balcony," says Maple of his former student and friend.
Copeland persevered through many difficulties with the assistance of scholarships such as San Francisco Ballet's summer intensive program, eventually earning a place as only the third African American female soloist in two decades at ABT.
The two first met when Copeland was thirteen; it was 1997, and an impressed Maple, who had been commissioned to choreograph his first production of "The Nutcracker" for Black Hills Dance Theatre in Rapid City, South Dakota, cast Copeland in her first role, as Clara.
"I saw in her a talent that I'd never experienced before, and I couldn't get her out of my mind," he remembered. "Misty is just a lovely person. What we'll be talking at the gala about how she rose to stardom, which will hopefully inspire others. What makes it so amazing is that she overcame a difficult home life and was able to climb to such heights."
"My father knew Misty very well, and before he died he said he wanted to start a scholarship fund because people like Misty need to have some support," Maple continued, pointing out the need for help with basics such as shoes, clothes, and just getting to class. "I decided to start the Charles A. Maple, Sr. Scholarship Fund to raise money so that underprivileged dancers, like Misty Copeland, would have this as a mechanism to forward themselves and achieve their dreams."
The Maple Youth Ballet Spring Gala is Sunday, March 8, from 2 to 6 p.m. at the Avenue of the Arts Wyndham Hotel, 3350 Avenue of the Arts in Costa Mesa. Tickets start at $75 per guest and may be purchased at mapleconservatory.com or by calling (949) 660-9930.