Next Saturday, the hopeful civilians will be able to challenge the few and the proud Marines to a beach obstacle course.
Participants will crawl, climb and jump their way through either a 5k or 2k course at the beach at Balboa Pier during the 2nd Annual Newport Beach 1st Battalion 1st Marines Foundation Beach Challenge. A kids 1k course is also available.
"It's (similar) to a scaled-down version of what the Marines do," during training, said foundation member and event director, Krisztina Scheeff.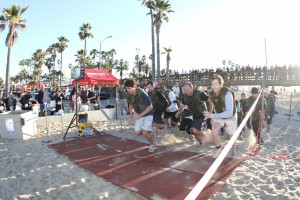 The various physical challenges in the course are meant to mirror what the Marines use to "maintain the highest levels of strength and endurance conditioning," according to the foundation's website, www.oneonemarines.com. The event is supposed to give participants a window into the Marines' world and what they go through.
"Although our version may not make you into a Marine, you will certainly feel as tough as one when you cross the finish line," the website states.
Some of the challenges include: Low and back crawl while carrying an empty missile shell, carrying ammo cans filled with sand, climbing over and under logs, running through a "minefield" of tires, flipping over Humvee tires and more.
"Some people might worry (that) it's too hard," Scheeff said. "It is a challenge, but you can run the course or go slower."
Participants can go at whatever pace they feel comfortable with, she said.
Even if someone doesn't want to race, there are plenty of things to do at the event. Onlookers can watch the participants and cheer them on of course, Scheeff said, but there will also be vendor booths, static Marine displays, light armored vehicles (LAV) and Humvees, and live music from the Whiskey Tango, a band made up of Newport Beach Police Department members.
"It's going to be a lot of fun… bring the whole family," Scheeff said. "Come out and support our adopted battalion."
The 1/1 Marines are in their own category, but they set the course time in the first wave at 7:30 a.m. Participants are welcome to try and beat the Marine's time and if anyone does they get a special reward. Only one person beat them last year, Scheeff said.
Last year, participants ranged from 14 to 69 years old and finishing times were between 11 and 35 minutes.
About 150 people have signed up so far, already surpassing last year's 130 total, Scheeff said. About 150 Marines will attend the event, Scheeff said.
The kids course is new this year, which is more like a fun run, Scheeff said. It's for participants in the 6 to 13 age range. Parents are welcome to run along, she added.
Entry fees are $15 for the kids course, $40 for the 2k course and $50 for the 5k course. Interested racers can sign up online until Thursday at noon or for $10 more (just $5 for the kids course) individuals -not teams- can sign up at the registration table the day of the event.
Since Newport Beach 1st Battalion, 1st Marines Foundation is a 501(c)(3) non-profit organization the entry fee is tax deductible to the limit allowed by law.
The foundation supports members of the 1/1 and their families.
Race packet pick-up will be at Roadrunner Sports, 1835 Newport Blvd., Costa Mesa, from 4 to 7 p.m. next Friday.
Roadrunner's is also offering a 10 percent discount to shoppers on Friday for race participants.
Ruby's on the pier will also be donating 20 percent to the cause if diners come in with a specific event flyer, available at the registration booth.
All finishers will get medals, dog tags, and all participants will get a t-shirt and goodie bag. They'll also receive "priceless motivation" from the Marines, according to the website.
The Marines will be on hand to motivate participants, which might include a bit of yelling, or maybe a lot of yelling, Scheeff joked.
"They will be there to "motivate" you, make sure you do not get "out of line" and if you do, put you back in place," the website states. "Oh yes, they are really looking forward to this fun job."
They will also happily encourage anyone they see struggling, they'll even get down and do it with them, Scheeff said.
The Marines just got back from deployment in September, Scheeff said, and they are looking forward to the event.
"It's kind of priceless to have them out there," she said. "They have a great time… They love Newport Beach… And they love sharing (a part of) their world."
Visit www.oneonemarines.com for more information.