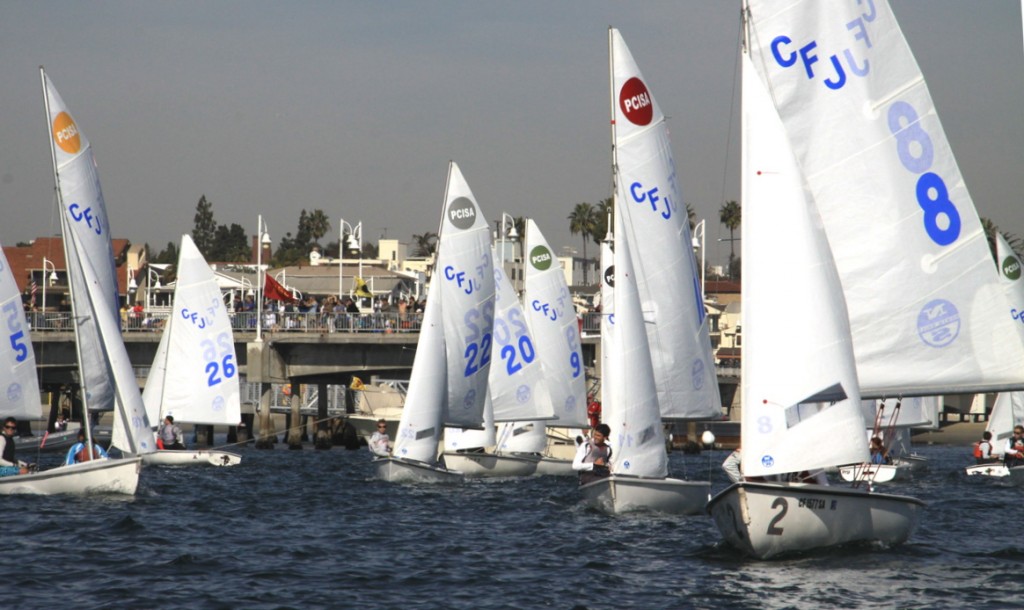 The U.S. Naval Academy topped the college divisions, while San Diego's Point Loma High School dominated this year's Rose Bowl Regatta at the Long Beach Sailing Center last weekend.
More than 500 sailors, coaches, families and friends descended on Long Beach's Belmont Pier for the West Coast's largest combined high school and college event (and one of the few high school/college events sailed concurrently).  In addition to sailing teams from each local Newport area high school, there were top collegiate sailing teams from throughout the US, and virtually every high school team from the West Coast.
Recent warm weather and, battling typically finicky January conditions with the wind rarely reaching even 8 knots during the event. The light conditions and huge 30-boat fleets made for crowded starting lines and congested mark roundings.  Saturday breezes never topped 6 knots. Sunday morning kicked off with promising light Santa Anas, but they too would drop out by midday.
Top local high school teams were Newport Harbor Varsity (5th), Corona Del Mar Varsity (8th), Newport Harbor JV1 (9th), Newport Harbor JV2 (15th), Corona del Mar JV1 (16th), Corona del Mar JV2 (19th) and Mater Dei (20th).
On the collegiate side, US Naval Academy topped 28 other teams with an 11-point win over Stanford.  St Mary's College of Maryland (3rd), Georgetown (4th) and College of Charlestown (5th) rounded out the top five.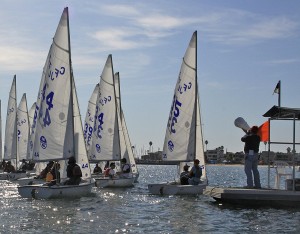 One of the most popular aspects of the Rose Bowl is that it gives recent local sailing team alumni a chance to return to their roots; it was not surprising to see many NHHS and CdM alumni returning with their collegiate teams, among them Kiernan Chung-Wolf and Sally Mace (Stanford); Chris Barnard (Georgetown); Mac Mace and Jeffrey Ashieres (Charlestown); and Tyler MacDonald (Roger Williams).
Full results are available at www.abyc.org.