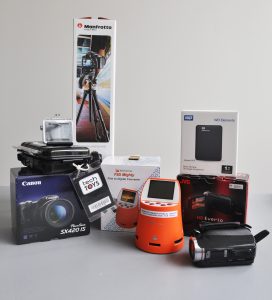 With our world becoming increasingly reliant upon technology, it can sometimes be hard to keep up.
It's funny to recall that 20 years ago, we frequently made the 500 mile drive from our home in Northern California to visit family here in the south without the benefit of any technology save roadside call boxes.
Now, if I leave the house for five minutes and forget my cell phone, anxiety sets in, and I feel as though tragedy may strike and no one will be able to tell me.
With this shift in the norms of everyday life, it can be tough for the more technologically challenged among us to find their place. New gadgets are not only often expensive, but learning to use them can be intimidating as well. And, successes in this arena frequently come slower than changes in the technology itself. This dilemma is especially taxing on our more "golden" population, for whom the tried and true methods of doing things are quickly becoming obsolete.
However, even for those in their twilight years, technology offers a means to continue learning, as well as many ways to make life easier.
Just today, my stepmother posted on social media that my dad entered their living room in a full swagger, proud of the fact that he had successfully searched the internet for and found the information he needed – without help.
Even for those of us who consider ourselves to be more on the savvy side, owning all the tools we need to fully support our tech-reliant pursuits is often not a reality. Luckily for us, we live in a town that offers not only great views and year-round sunshine, but free tech support as well.
Solidifying, once again, their position as a cornerstone of our community, the Newport Beach Public Library has announced a new program that will help everyone have access to several of the tech tools which might be missing from their own personal library.
"Tech Toys" are now available for loan from the Media Lab in the Central Library. Included in the arsenal of available gadgets are a Go Pro Hero4 video camera, a JVC HD waterproof camcorder, a Canon Powershot digital camera, a media converter to convert your pictures and film to digital images, a tripod, and an external hard drive.
Each of these devices comes with all necessary cables and batteries, as well as a carrying case and instruction manual.
Checking them out couldn't be easier, either. Simply come to the Media Lab with your library card (patrons must be at least 18 years old,) and see what's in stock.
Toys may be checked out for a period of seven days, and while there are no renewals available, upon the return of your chosen toy, if there are no "holds" on the device, it may be checked out for another seven days.
The library advises that there is a $5 per day overdue fee for each item checked out, and that should one of these devices be lost or damaged, patrons will be responsible for the cost of replacement, plus a $20 replacement fee.
In addition to this great new program, the library operates an ongoing series of courses designed to help patrons stay up to date technologically.
Each Tuesday, the Media Lab offers "[email protected]" classes at 2 p.m., and "Let's Talk Tech" classes at 7 p.m. Classes are designed to help patrons learn to take advantage of a wide array of online resources.
Upcoming topics include: "Final Cut Pro, iMovie, and Lynda.com," "Self-Publishing Basics," "Digital Storytelling," and "Ancestry," as well as courses on popular software such as Photoshop and Adobe CS6, and how to download e-books from the library database. While classes are always free, registration is required.
With all of these resources available, there is no reason everyone can't embrace this brave new world. Now, excuse me while I go ask my teenager to fix what I accidentally did to my phone.
For more information on these or other library programs, please visit newportbeachlibrary.org, or call (949) 717-3860.
Edie Crabtree is an avid reader and the mother of three active boys. She can be reached at [email protected]