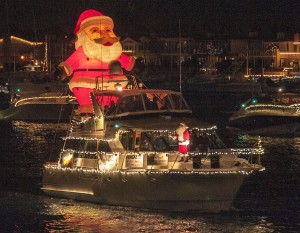 Thousands of people descended on Newport Harbor this week to watch an estimated 80 decorated boats of all shapes and sizes slowly cruise the harbor's perimeter for the 105th annual Newport Beach Christmas Boat Parade, which runs through this Sunday, Dec. 22.
Presented by the Commodores Club of the Newport Beach Chamber of Commerce, the parade's theme this year is "Rockin' Around the Christmas Tree," and many of the boats adhered to that theme.
Some yachts, such as The Last Hurrah (a perennial boat parade award winner), had elaborate themed displays with blaring 50s rock and roll music plus costumed singers, while others were adorned with lighted sea motifs and giant inflatable snowmen and Santas. Some boat owners reportedly spent more than $50,000 to decorate their yachts.
"It's like the Rose Parade, only on water," one onlooker told a companion as the boats cruised by.
Indy writer Norm Bour, who recently moved to Newport Beach and had never seen the parade, hitched a ride in the lead boat. He defined the experience as "surreal" and "sensory overload."
Columnist Catherine Del Casale, another boat parade newcomer, noted that "not being from Southern California, I'm only used to the regular Christmas parades in the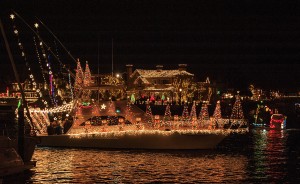 streets, so it was fun to experience the Newport Beach tradition of the boat parade. But as boat after boat passed by with their inflatable Santas, carolers and lights galore, I wondered how some of these boats don't just sink from the amount of Christmas decorations."
Del Casale said the parade helped put her in the mood for Christmas, and now understands why so many people make the trek to Newport to watch the parade.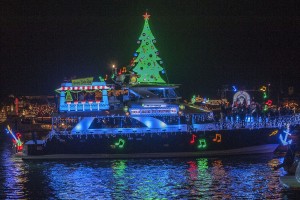 Traffic in the harbor area, particularly on Coast Highway and Newport Avenue, was heavier than normal, with one traffic report noting that vehicles heading southbound on the 55 Freeway to Newport Beach were backed up to the 405 Freeway. Traffic is expected to be heavy through this weekend between 5 and 8 p.m. as visitors arrive in time to watch the parade.
The parade officially got underway with a fireworks display from the Newport Beach pier at 6:15 p.m. The parade starts off Bay Island at 6:30 p.m. and finishes at the same site at approximately 9 p.m. each evening. A final fireworks display at the conclusion of Sunday's parade will mark the end of this year's Christmas Boat Parade.
For more information on the Christmas Boat Parade, including viewing areas and boat parade route, visit the parade's official website at ChristmasBoatParade.com