Newport Beach has launched an app that could potentially help save lives, according to a city message sent out last week.
The smart phone application Pulse Point alerts users of nearby cardiac victims in need of CPR.
"This system is going to save lives," said Newport Beach Fire Chief Scott Poster during a presentation to city council on Tuesday.
People trained in CPR can assist those in need "at a moment's notice," he said.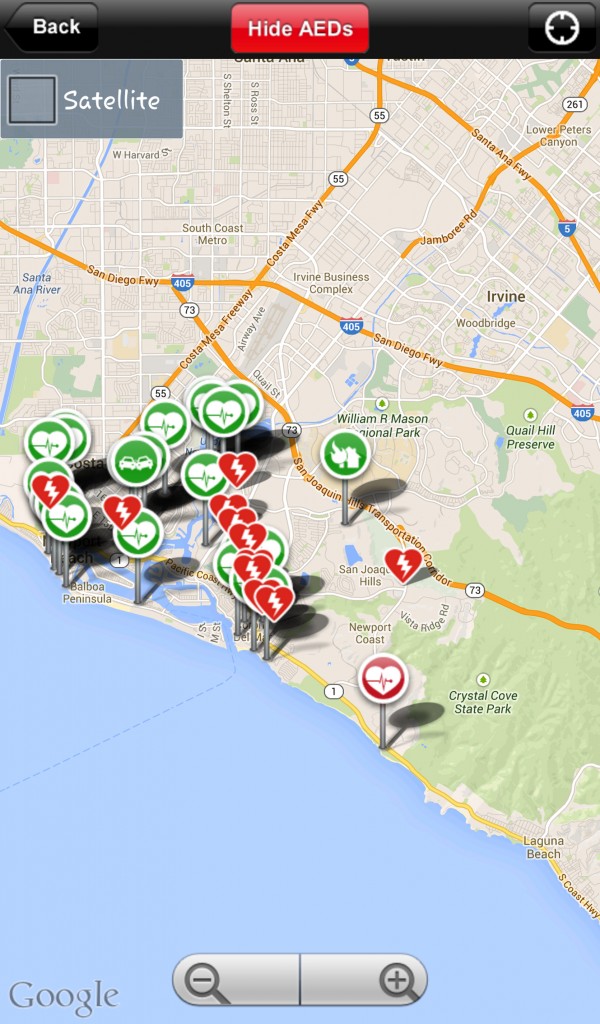 Pulse Point alerts nearby citizens when there is a need for CPR in a public area (not a private residence or building) and the location of a nearby public access automated external defibrillator, according to the announcement released April 16.
Fire departments from Newport Beach, Anaheim, Brea, Fountain Valley, Fullerton, Garden Grove, Huntington Beach and Orange have launched a trial version of the app, the message states.
Metro Cities Fire Authority, in cooperation with the Metro Cities' dispatch center (Metro Net), is the first in Orange County to pilot this application.
It goes from the dispatch center to the user's phone in a matter of seconds, Poster explained Tuesday.
"With more than one million residents served by Metro Cities Fire Authority, we have the potential to really make a difference," Poster said in the statement.
Assistant Chief Kevin Kitch gave a presentation on sudden cardiac arrest and public access Automatic External Deliberators (AEDs) to the city council on Tuesday.
Several of the council members downloaded the app during the presentation, including councilman Tony Petros.
"This is so easy to get and so valuable for us as a community to share," Petros said and encouraged people to get trained in CPR.
Petros also mentioned ways to help prevent cardiac events, like exercise and a healthy diet.
"I needed CPR at one point in time," Petros said. "I suffered a cardiac event and I'm still here as a result of that kind of fast treatment."
Both CPR and the use of AEDs can make a significant difference, Kitch said.
A victim's chances of surviving decreases by about 10 percent every minute that passes without aid, Kitch said.
"Time is of the essence," Kitch said.
It can happen to people of all ages, he added.
"This is why we want to encourage, in any way possible, bystander CPR and access to an AED," he said.
The city installed four new AEDs in the civic center last week, Kitch said, in addition to others throughout the city and attached to emergency vehicles.
"This is community helping community," Kitch said. "(The app provides) all the information that is truly needed to be able to intervene, community member to community member, to make a difference by providing life-saving CPR coupled with defibrillation," with the properly applied public access AEDs," Kitch said.
As of today, more than 530 communities across 18 states have enabled citizen response through Pulse Point, and 75,000 people carry the app on their smart phone, according to the city message. To date, the Pulse Point app has been activated on 1,500 actual cardiac emergencies informing nearly 6,000 nearby citizen rescuers.
There are more than 1,000 deaths per day in the US due to sudden cardiac arrest, Kitch added.
"It is a nationwide problem. It is a worldwide problem," he said.
The Pulse Point app is available free of charge on Apple iOS and Google Android devices.
For more information, visit pulsepoint.org.