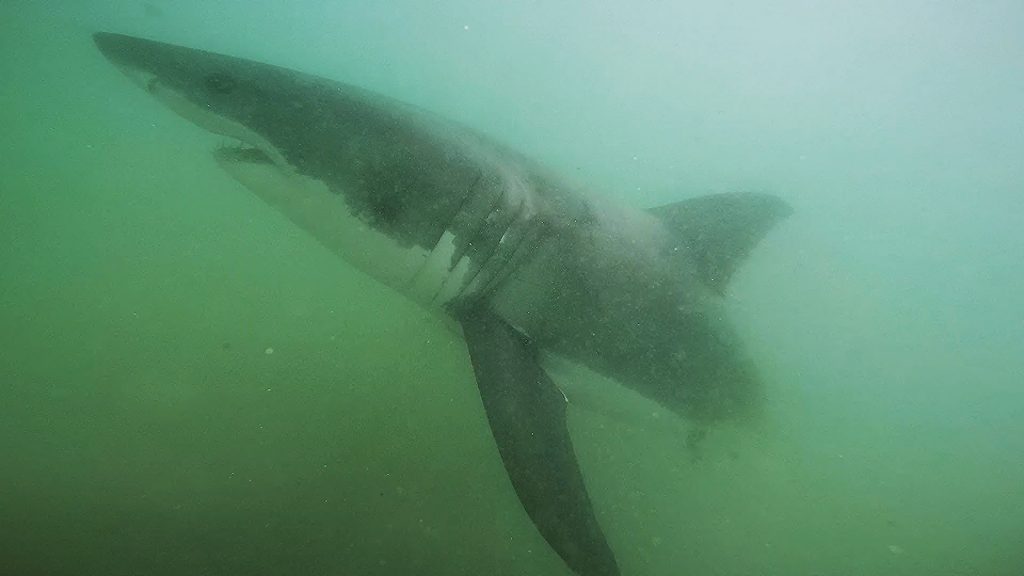 In an effort to educate staff, lifeguards, and the public, the city launched a shark information website last week.
Included on the website is information about the combined monitoring efforts of Newport Beach lifeguards and California State University, Long Beach, Shark Lab, which revealed a 15-foot female white shark visited the waters off the coast of Newport Beach on July 19.
The monitoring efforts include gathering data from three acoustic receivers that were deployed at the Newport Pier, the Balboa Pier, and in the swim lines off the shore of Corona del Mar in July. The receivers record data from previously tagged marine animals when their transponder signal comes within 500 yards.
Lifeguards have been checking the receivers and collecting information every week for about one month.
"No data was recorded until the evening of July 19, which revealed the same tag number three times within a 10-minute period," city officials explain in a press release.
The Shark Lab experts were unsure how close the white shark (who was tagged last year off Tomales Bay in Northern California) came to the receiver, since the transponders on the tagged sharks transmit a signal up to one kilometer.
Recently, there have been an increase in shark sightings, officials noted.
Since a woman was bitten by a shark about 500 feet off the coast of Corona del Mar State Beach in May, lifeguards and city staff have educating themselves on sharks to make informed decisions.
"It's just like any other risk we have, we want to learn to educate the public," said Chief Lifeguard Rob Williams. "If we educate ourselves and the public, maybe we can minimize the risks."
The new website is operated under the city's Marine Operations Division. The city aims to provide an educational platform for the public about sharks and how the city is responding to sightings.
Included on the website is  a log of the recorded data, any confirmed shark sightings in Newport Beach, information about how lifeguard personnel in Newport Beach and across the region follow a policy when responding to shark sightings or aggressive behavior, resources for learning more about sharks and shark behavior, and some general safety tips for beach visitors.
For more information, visit newportbeachca.gov/sharkeducation.