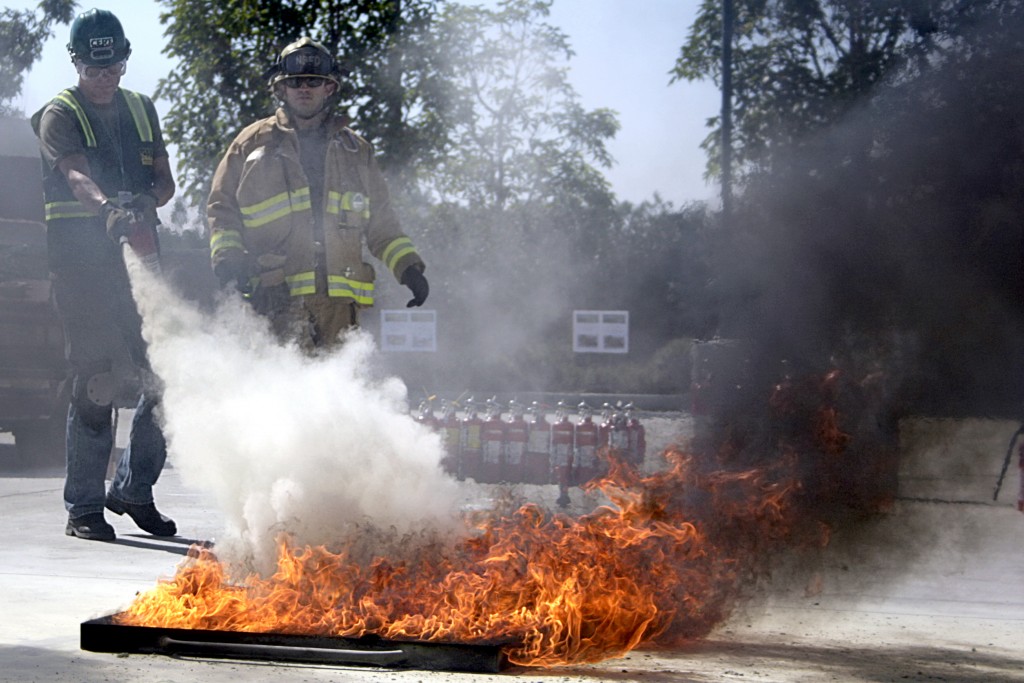 Working to become better prepared as a community, about 140 volunteers tested their emergency skills in a drill over the weekend.
They're an elite squad, known as the Newport Beach Fire Department Community Emergency Response Team, and they held their biannual "Drill the Skills" event at Santa Ana Heights Fire Station #7 on Saturday.
The CERT members were divided into six neighborhood teams and participated in six stations: Outdoor search and rescue, indoor search and rescue, fires suppression, disaster medical operations (triage), ID badge, and disaster medical operations review.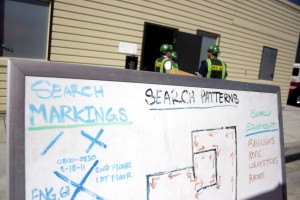 The event was the accumulation of the fall classes, with 70 volunteers graduating, according to the program's leader, Matt Brisbois, life safety specialist for NBFD.
It was the biggest event and graduating class the program has ever had, he noted.
The big turnout had a lot to do with the program offering a Thursday day class for the first time.
It may also partially be because of the buzz the program has received recently.
The drill comes hot on the heels of Brisbois being recognized as a 2013 White House Champion of Change
It also follows last year's honor of being awarded with the 2012 FEMA Individual and Community Preparedness award for Outstanding CERT program initiatives and honorable mention for volunteer integration.
"For a program our size with 88,000 residents to be recognized as, essentially, the best CERT program in the United States for 2012, it was a huge accomplishment," Brisbois said.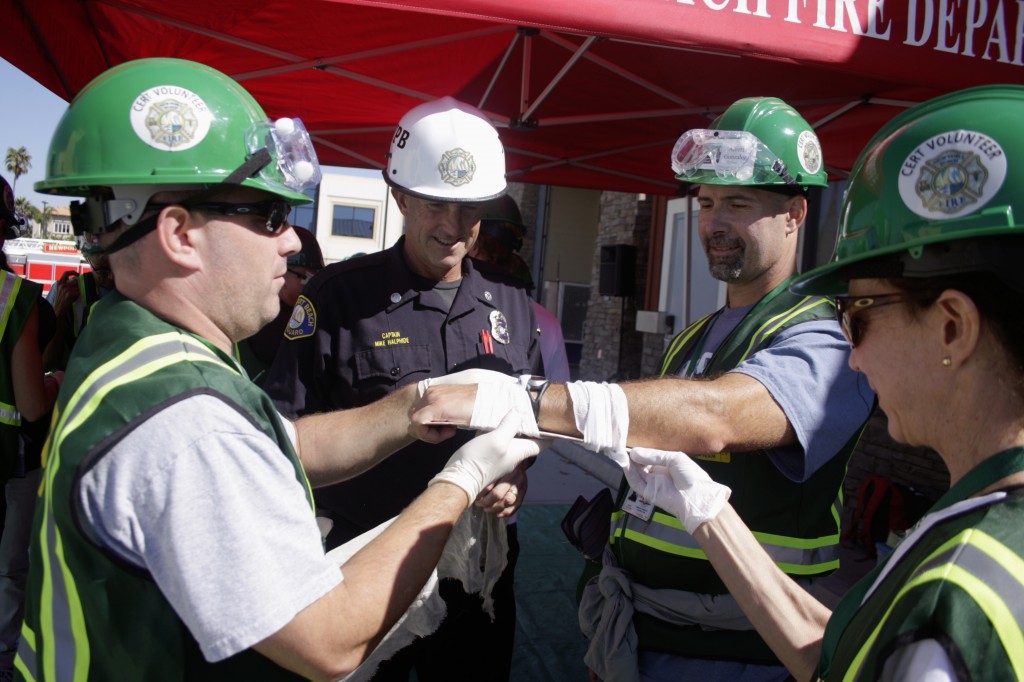 The volunteers are really excited about all the honors the NB program has received recently, he said. It's really about them, they take ownership in the program, he added.
"It's really about creating a culture of preparedness here in Newport Beach and in Orange County, and I think our volunteers really understand that and embrace it," Brisbois said.
Also in the CERT classes this fall were 25 staff, administration and teachers from Harbor Day School, making it the first CERT certified school in Newport Beach. Only 19 of them graduated on Saturday because the other six couldn't make the ceremony, but they will officially finish in spring.
"It was a fantastic program," said Dr. Dan Greenwood, head of school. "It really prepares you for helping the community. Our focus was preparing for something that might happen while we have the kids under our care."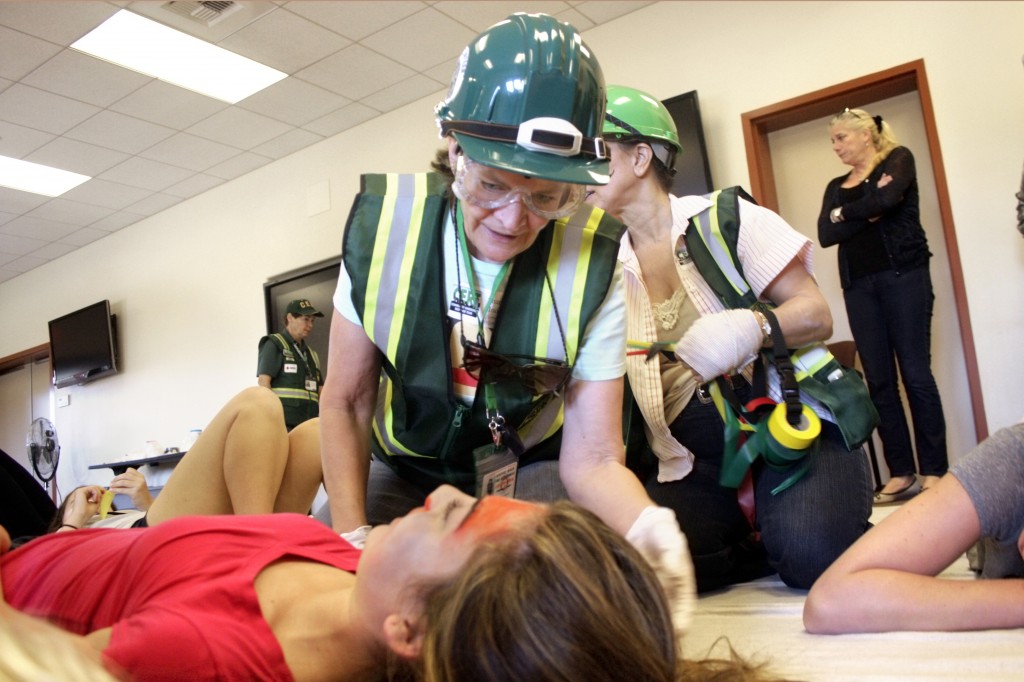 The Harbor Day School CERT team has a plan in place that has been evaluated by Brisbois and others, explained Sylvanda Edwards, Harbor Day receptionist and the school's emergency preparedness coordinator.
The staff who did participate in the CERT program are encouraged to go and share what they learned with others, Edwards said.
"When you ask everyone what they need to feel safe in what they're doing, they want training," she said, "they want the knowledge and they want the experience."
The group definitely got that through CERT, she said.
The hands-on experience was noteworthy  Greenwood commented. The procedures and timeframe for professionals after an earthquake or other emergency were also very interesting to learn about, he added.
"I think there is an expectation that we all have that as soon as something happens a fire truck is going to roll up out front and attend to all of us," Greenwood said. "But to find out that it is going to take three to four hours before they help their first victim really put the onus back on us to be more prepared and be able to take care of ourselves in the immediate event and in the long term as well."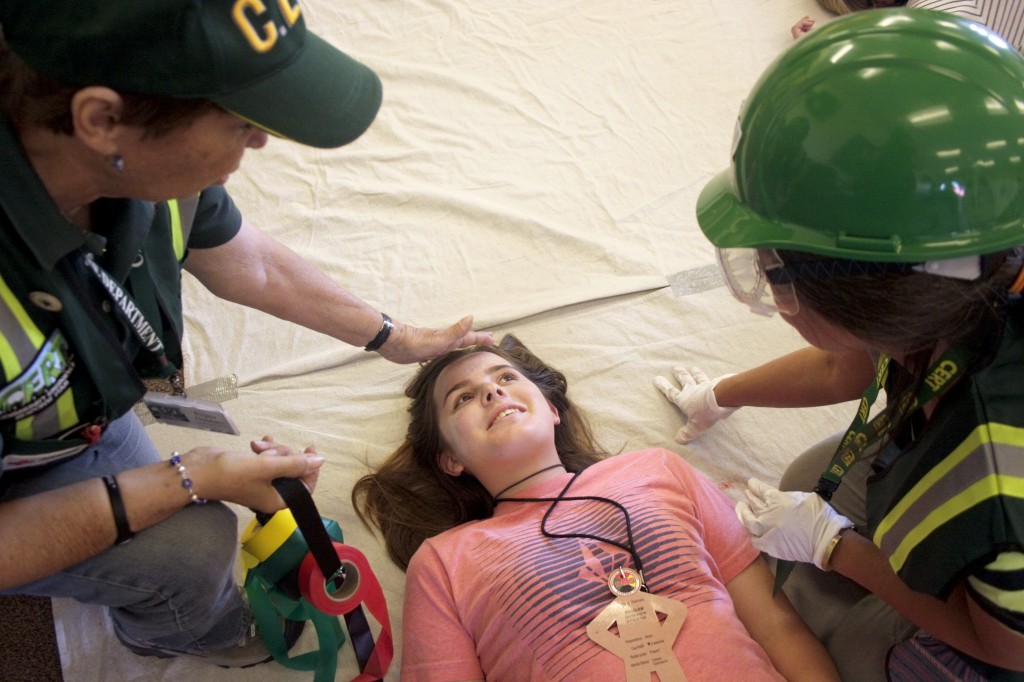 "Help won't be available right away," Edwards agreed. "If you're lucky three hours, but if not three days. So you want to be prepared to handle (anything) until help can get there."
The takeaway is that they need to be prepared to be the first responders, Greenwood said.
The program also informed them what additional equipment they need, Greenwood said.
In addition to the 25 staff members, the Harbor Day group included a handful of parents.
It's important to work with the parents, Edwards said.
"Right now our main focus is to keep the parents aware of what we're doing, so they know that their children are in the safest place possible," she said.
Many of them also plan on getting certified in HAM radio operation.
Also among the recent graduates were Team Newport Shores members Wendy Wagner of Irvine and Ken Rawson of Balboa Peninsula.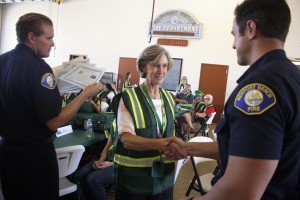 Both agreed that the passionate speakers and great instructors were a highlight of the program.
The instructors were experts, Rawson said, and were very genuine about teaching the inexperienced volunteers. So the volunteers could understand and use the information easily, he explained.
"(They explained) about what's realistic to teach a CERT," Rawson said, how to help and what to leave to the professionals. "It was a very relevant class and taught at the appropriate level."
Wagner joined because of her two small children, but the program helped her see beyond just her family.
"It opened my eyes up to wanting to help the community more and help my neighbors," she said.
For more information, contact Matt Brisbois at [email protected] or (949) 644-3112, or visit nbcert.org.