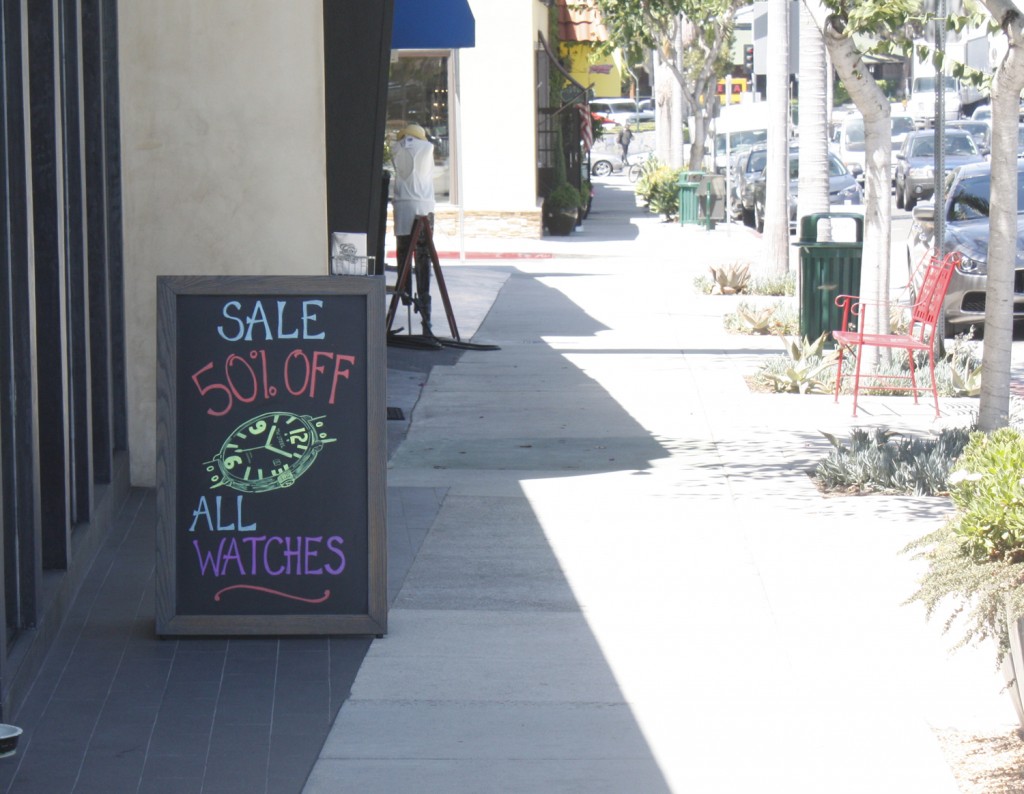 Newport Beach City Council had a busy night during their meeting Tuesday, with A-frame signs, the airport agreement and appointments all on the agenda.
Council unanimously approved an amendment to the city code allowing A-frame signs in Corona del Mar commercial zones.
They voted 6-0 with Councilwoman Nancy Gardner recusing herself because an A-frame sign may be posted within 500 feet of her home.
Council approved the signs in CdM, but asked staff to come back with another proposal for other areas in the city.
Councilman Mike Henn noted that the Balboa Village Merchants Association recently stated that they would like a one-year trial period allowing the A-frame signs. They recognize that there may be limited opportunities to use them, Henn added.
"They would like the opportunity to experiment with it," Henn said.
The Planning Commission had recommended limiting it to Corona del Mar after hearing opposition to the signs in certain areas of the city.
An expanded area will allow other areas of the city to be included, if they want, Mayor Rush Hill said.
The signs are allowed within 10 feet of the primary entrance to the business, a pedestrian plaza, courtyard or arcade.
They cannot interfere with pedestrians, be less than three feet from another A-frame or portable sign, obstruct parking spaces or vehicular sight distance, or be located in landscape planters. They also may not be illuminated, hold flags, balloons or other attention attracting devices.
Only one frame per tenant with a maximum of 10 square feet per sign face and a height of 48 inches and must be able to stand upright in moderate wind. Re-writable surfaces are allowed. They may only be displayed during business hours.
Also on Tuesday, council unanimously approved the John Wayne Airport settlement agreement amendment and extension.
It was approved by the Orange County Board of Supervisors last month (visit newoprtbeachindy.com for the full story).
It's a balance for the community and the carrier, OC Supervisor John Moorlach said during Tuesday's council meeting.
It was lengthy and long process, Moorlach noted. It's been a priority all eight years he's been on the county board, he said.
The approved amendment will prohibit commercial planes from departing or arriving before 7 a.m. Monday through Saturday and 8 a.m. on Sunday. They are prohibited from departing after 10 p.m. or arriving after 11 p.m. all week.
The curfew will be extended through 2035, which is "critical," Moorlach said.
The cap on annual passengers will stay at 10.8 million through 2020. That number will increase to 11.8 million in 2021 and then again in 2026 to either 12.2 or 12.5, depending on the actual number of passengers. These limits are good through 2030.
The number of daily passenger flights would also increase from 85 to 95, starting in 2021.
The vote extends and amends the current 1985 agreement, which was amended in 2003. It would have expired next year.
During Tuesday's meeting, council also made two appointments to a commission and a committee.
The City Arts Commission had an opening after Michaell Magrutsche resigned.
Mayor Pro Tem Ed Selich recused himself because his wife was a candidate
There were several applicants, but the council was split between just two on the first vote: Lynn Selich and Neil Buttermore.
On the second vote, Nancy Gardner stayed with her choice of Buttermore while all other council members voted for Lynn Selich.
Lynn Selich, an NB Indy columnist, has served on the Pacific Symphony board of directors and the Season Without Walls Committee for the Balboa Performing Arts Theater, among other organizations. She is also currently the president of Marketing Communications Services.
Her term will expire on June 30, 2017.
Another resignation, from Joshua Olazabal on the Environmental Quality Affairs Committee, opened up a seat.
After three rounds of voting, with council focusing on Mark Tabbert, Jack Callahan and Joan Penfil, Callahan was eventually appointed 6-1 with Gardner voting for Tabbert.
Callahan was previously on EQAC between 1998 and 2002. He has been the president and a member of both the Improvement District and the Business Association for Balboa Island. He is currently a realtor with First Team Estates.
His term will expire  Feb. 26, 2017.