Back Bay Landing is one step closer to becoming a reality after city council voted last week.
Council unanimously passed the first stage of approvals for the project, an approximately 7-acre proposed integrated, mixed-use waterfront village located at 300 E. Coast Hwy., between Bayside Drive and the Bayside Marina, adjacent to the Upper Newport Bay.
It includes a 140-space enclosed boat storage, recreational marine-oriented retail, marine offices and services, restaurants, and two floors of residential over non-residential uses with a limited number of free standing units.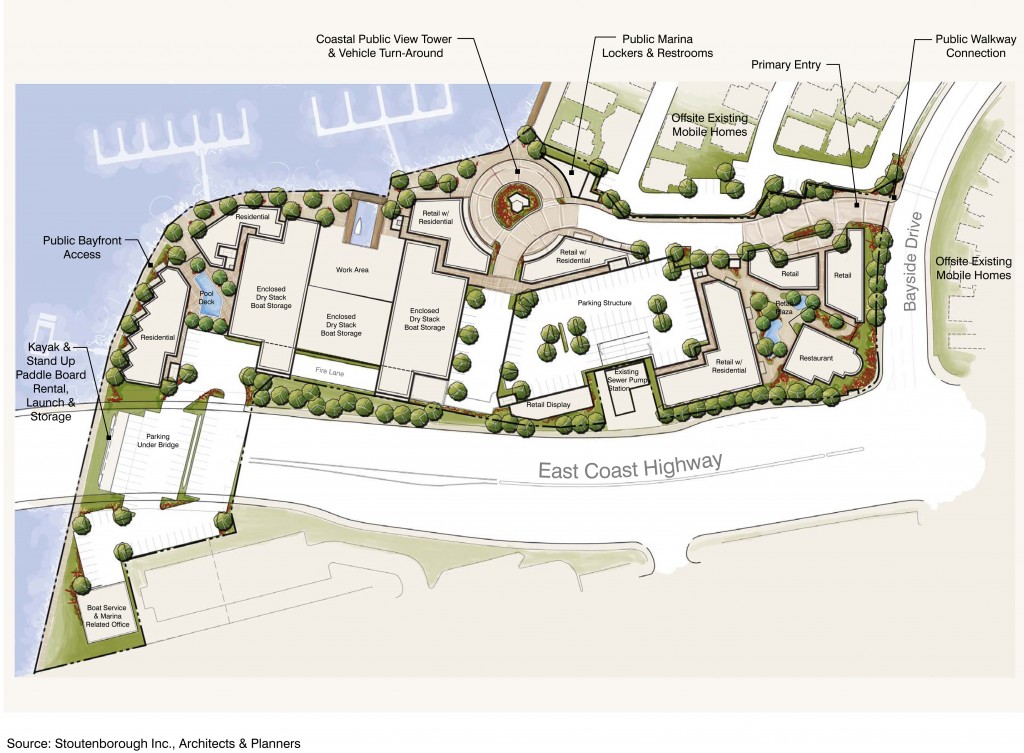 "It's a terrific first step towards the improvement of this property," said Mayor Pro Tem Ed Selich. "It's long, in my opinion, been an eyesore to the community."
He emphasized that this is the first step, there are a lot of details that need to be worked out, he said.
Selich moved to approve staff's recommendation, but without the bars, lounges and nightclubs option from the permitted uses section.
"I think we're just buying problems," he said. "To me, it seems appropriate to eliminate it right now."
Councilman Mike Henn agreed, saying it would be "inviting trouble."
John Erskine, attorney for Back Bay Landing, recognized the possible problems with a nightclub, but because of the parking structure, location of the bar or club on the property and security, it could be a "unique, self-contained kind of experience," he said.
It would also be some fun entertainment for the younger generation, he added.
A conditional use permit was suggested instead in a substitute motion by councilwoman Leslie Daigle, but it failed 4-3, with council members Nancy Gardner, Tony Petros, Henn and Selich dissenting and Mayor Rush Hill, councilman Keith Curry and Daigle voting in favor.
Selich added in Gardner's suggested revised mitigations in his main motion, which included increasing the street sweeping from quarterly to weekly or bi-weekly and reducing the idling time limit for diesel-fueled commercial vehicles during development. It passed unanimously.
"This is a critical link in our overall plan," Petros said.
The project will be economically supportive and bring vitality to the bay front village, said Gordon Craig, project manager for Back Bay Landing.
Kayak and stand-up paddle board rentals with launch and storage areas will continue to be provided, Craig said.
The "iconic" Pearson's Port will remain in it's current location, he emphasized.
Erskine later added that they would like to keep the option of relocation open for the floating fish market.
"We want to keep Pearson's Port, but we want to have the opportunity in a future phase to discuss with them the potential that they might relocate around the corner or at another location on the waterfront," Erskine said.
The applicant has broken up their application process into two stages of approvals.
The first stage of approvals, called the legislative approvals, was the portion before the council last week. It consisted of amendments to the General Plan, Coastal Land Use Plan, Planned Community Development Plan and city code. It also included lot line adjustments and a traffic study.
Amendments to the General Plan and Coastal Land Use Plan are required to change the land use designations to a Mixed-Use Horizontal designation and a Planned Community Development Plan (PCDP) is proposed to establish appropriate zoning regulations and development standards, according to the city website.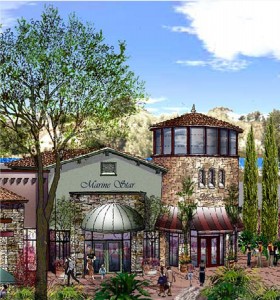 The Coastal Land Use Plan amendment includes site-specific narrative and policy, explained Jaime Murillo, a senior planner for the city. It would guide and restrict future development of the site.
It would include specific limitations on the residential component of the project, he continued, to ensure that the development of the site does not become predominantly residential, but rather a true mixed use development.
"It also includes the requirement that public trails and access be included as part of the project, as well as new view opportunities and enhancement of the existing views," he said.
It would also involve an exception to the shoreline height limitation rule to allow a single 65-foot tall, publicly accessible, coastal view tower.
Resident Jim Mosher noted that the current views will be interrupted and with developments at Mariner's Point and the Irvine Company's lot at PCH and Dover Drive, it would create a "tunnel of development" leaving only the bridge as the only remaining view of the harbor.
Mosher also mentioned some environmental concerns raised in the comments for the final Environmental Impact Report and worried that they may not be addressed when the specific project comes back to council.
The comments were reviewed by staff and did not raise any new significant impacts and did not trigger the need to re-circulate the EIR, according to city staff.
Also during public comment, Larry Van Pelt spoke on behalf of the Bayside Village Homeowners Association, the community most affected by the project.
The group is supportive of the project, Van Pelt said, as long as their concerns are taken into consideration.
"By and large, we think it will be a definite improvement to our community," added Dick Hoaglin, also on behalf of BVHA.
The vast majority of the units in the mobile home park are owner occupied with long term leases, many through 2026, Van Pelt explained.
"So while we're called a mobile home park, our residents are actually much more rooted than mobile," he said.
The park, and the roads and beach within it, are private, he continued. So any efforts to alter or take away parts of the park for public access would be met with strong community resistance.
When the project comes back with the site development plan, new requirements and adjustments can be made, Gardner clarified.
The city will now process an application with the California Coastal Commission for a Coastal Land Use amendment, Murillo explained. If that is approved, the applicant will move on to stage two of approvals, which involves preparing a precise development plan, which would need to be reviewed by the council and CCC.
For more information, click here or visit newportbeachca.gov.