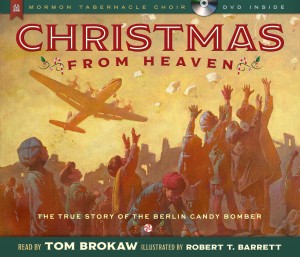 Obviously, I have a thing for books. At Christmas time, however, my neurosis gets ratcheted up a notch. If I like books, then I LOVE Christmas books. Each year, I try to add a new one to our collection that is unique and not simply a reworking of the same book over and over again – a tall order, I know.
This year, I stumbled upon a book that not only told a great story, but gave me a little history lesson as well.
"Christmas From Heaven: The True Story of the Berlin Candy Bomber" by Tom Brokaw, tells the story of Colonel Gail "Hal" Halvorsen, a man who long ago proved that a little kindness can go a long way—sometimes even forging a tenuous friendship between two nations.
It was the winter of 1948, and the Stalin-led Soviets were making a grab for all of Eastern Europe. The wrinkle in their plan turned out to be the people of West Berlin. In an attempt to compel Berliners to accept Soviet rule, Stalin's forces created a blockade, preventing food and essential supplies from making their way into the city.
Enter Colonel Halvorsen and the allied forces. In response to the blockade, allied pilots began airlifting supplies to Berlin. While there on a mission, Halvorsen noticed a small group of children standing outside of a barbed-wire fence at Tempelhof Airfield, watching the planes take off and land. As he attempted to chat with them in broken German, it dawned on him that, unlike all the other foreign children he had met during his military duties, these kids had not asked him or the other soldiers for gum or chocolate.
Halvorsen had two sticks of gum in his pocket, and in an attempt to brighten up a moment of the bleak existence that was life in post-war Berlin, he tore them each in half, and gave them to four of the children. Those children then tore their pieces into strips, so that even more could enjoy the treat.
Impressed by how much his small gesture obviously meant to these impoverished children, Halvorsen vowed to return, dropping more candy in small parachutes from his plane. He told the children that they would recognize his plane, because he would wiggle his wings upon approach.
True to his word, he returned the next day, and did just that. This commitment to share his gum and chocolate ration with the children of Berlin grew into a mission known as "Operation Little Vittles," earning Halvorsen the nickname of  "Onkel Wackelflügel," or Uncle Wiggly Wings.
Back home, word of the operation spread, prompting confectioners to donate their wares, and American schoolchildren to work, attaching parachutes to the sweet treats, readying them for the drop. In all, by the airlift program's end, 23 tons of chocolate, chewing gum, and other candies were dropped over various places in Berlin.
Today, Halvorsen – still living at 93 – is widely credited with helping to thaw the post-war fear and distrust of Americans felt by many in Germany. In fact, two schools in Berlin have been named after the Colonel, and he was even awarded Germany's Grand Cross of the Order of Merit, one of the nation's highest medals.
Halvorsen himself has called the airlift a "healing balm on the wounds of war."
The book, with historical photos peppered amongst its illustrations, also contains instructions on how to make your very own candy parachutes, offering an opportunity to engage in a fun family activity after reading the story.