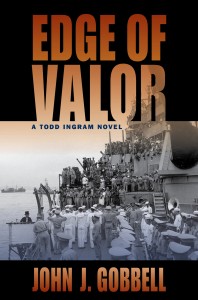 If some of your favorite book characters are Jack Ryan and Dirk Pitt, allow me to introduce you to another friend whose company I think you'd enjoy: Todd Ingram.
Just as Jack and Dirk have each enjoyed their own series of novels, penned by Tom Clancy, Todd stars in a set of five books written by local author and former Navy man, John J. Gobbell.
This month, on the heels of the release of the newest Todd Ingram tale, "Edge of Valor," you can also make the acquaintance of the author responsible for bringing him to life, when Gobbell appears at Barnes and Noble in Fashion Island on Saturday, August 30, at 1 p.m. Gobbell will discuss the inspiration for his latest novel and sign copies of his book.
Known for his historically accurate writing, Gobbell depicts, via the Todd Ingram series, some of the most critical naval battles in the Pacific Theater during World War II.
In "Edge of Valor," we are taken back to August 1945, when a cease-fire is declared in the Pacific. Expecting to return home with his ship and crew, Commander Todd Ingram is instead sent to Manila, where he meets with an Army intelligence aide.
Once there, Ingram discovers he will be working with 16 senior Japanese military officials and diplomats to iron out the terms of the Tokyo Bay surrender ceremony, oversee the release of the POWs, and begin disarming the mines that had previously been lain in the bay, in order to allow the safe passage home of hundreds of allied ships.
While carrying out these duties, Ingram is shuttled back and forth between the Philippines, Okinawa, and mainland Japan, ending in a side mission to Soviet-occupied Sakhalin Island, to attempt to put a stop to a Russian attack on Hokkaido.
Finding himself on the opposite side of our recent allies, the Soviets, Ingram is stuck in a place where he is unsure whom he should trust. As terrible secrets are unearthed, those on all sides of the conflict have a stake in keeping them from becoming public, and Ingram is forced to think quick in order to complete his mission and return home to join the rest of his crew.
Since each book in the series is also designed to be a stand-alone novel, you don't need to have read about Ingram previously to enjoy his latest adventure. Don't let that stop you however, from checking out Gobbell's previous novels: "The Last Lieutenant," "A Code for Tomorrow," "When Duty Whispers Low," and "The Neptune Strategy." Each depicts a pivotal moment in the war in the Pacific.
A former Navy Ensign, and Anti-Submarine Warfare Officer, it is no surprise that Gobbell has found his writing muse in the waters of the Pacific. In a testament to how much the ocean's waters have filled the former executive recruiter's life, he still spends many hours in the swells as he sails in Southern California yacht racing regattas. In his younger days, he even skippered in the Long Beach Yacht Club's Congressional Cup, one of the most prestigious regattas around.
It is this love of the ocean, along with his insider knowledge of Naval procedure that lends an air of authenticity to his writing, allowing readers to truly appreciate the exploits of his fictional, yet utterly believable, hero.
For more information on Gobbell and the full spectrum of his books, visit johnjgobbell.com. For more information on the event, visit bn.com, or call (949) 718-0109.
Edie Crabtree is an avid reader and the mother of three active boys. She can be reached at [email protected]