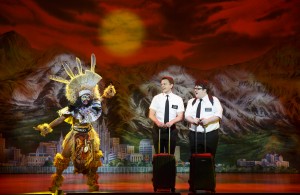 Ben Brantley of The New York Times calls it "the best musical of this century." Entertainment Weekly says it's "the funniest musical of all time."
Orange County audiences can judge for themselves when "The Book of Mormon" comes to Segerstrom Center for the Arts May 13 – 25.
The winner of nine Tony Awards, including Best Musical, "The Book of Mormon" comes from the crazy minds of "South Park" creators Trey Parker and Matt Stone, so expect an irreverent and twisted tale.
"It's very funny, very irreverent," agreed actor Christopher Shyer, who plays multiple roles in "The Book of Mormon," including Joseph Smith and various disembodied voices. "If you're familiar with 'South Park,' you have an idea what to expect. This show is a masterpiece of its genre. It will be around for a long time. It's really clever."
In "The Book of Mormon," two young Mormons are sent on their mission to Uganda, but everything soon starts to spin out of control. One of the lead boys is hoping to go to another location, but is paired with an awkward Mormon.
"That's when the laughs ensue," said Shyer. "It's almost immediately laughter."
The show has been entrenched in Los Angeles for the past several months, where Shyer said it's been virtually sold out every night.
"Audiences have been incredibly generous," he noted. "In Colorado, it was like they were waiting for the crazy uncle to show up. In San Francisco, comparatively speaking the audience was like a cat that takes its time to get to know you, and then it's all over you."
"It's a fun show to do," he added. "I get to be a character actor, which is a lot of fun."
Shyer uses various ranges of his voice depending on his character, and has several quick costume changes, including one for a sequence he dubbed "a spooky Mormon hell dream."
Shyer has logged 570 performances with "The Book of Mormon," and despite having focused on film and TV work, said there's nothing like live theater.
"If someone falls, or you skip a line, there are no retakes," he noted. "It's live. Sometimes magic can happen in the mistakes. It's pretty exciting. We have such a strong cast, but when an understudy goes on, that also brings a new energy. You listen as though you're hearing the show for the first time—like we're doing the same show but with slight variances. But you get into a rhythm, so once that first note is played, you go into show mode."
Shyer said he is contracted with "The Book of Mormon" through December, which will mark two years with the show.
"I have been in the business for a long time, and it's fantastic to have a job for this long, consistently, as an actor," said Shyer. "There are ebbs and flows. In theater, you have six weeks, six months, or a year, unlike TV when you're a gust star or have a recurring role. I'm grateful to be in such a fun show."
Tickets are $34.75 to $124.75. Call (714) 5556-2787 or visit scfta.org.