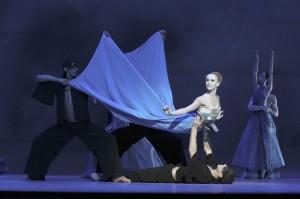 The experience of feeling oneself on the outside of life's party, looking in the window and longing to be a part of things, isn't the sole provenance of artists and writers. Those emotions can resonate with anyone at any time. It's an almost inevitable part of life, and a favorite theme in the works of Danish author Hans Christian Andersen.
This month, Orange County audiences are invited to delve the depths of one of Andersen's most treasured tales when Hamburg Ballet presents the Southern California premiere of Artistic Director John Neumeier's haunting and evocative The Little Mermaid February 8 – 10 at Segerstrom Hall in Costa Mesa.
Originally created for the Royal Danish Ballet to commemorate Andersen's 200th birthday in 2005, the ballet premiered in Copenhagen and is based on Andersen's original story, with choreography by Neumeier and featuring an original commissioned score by Lera Auerbach. "It's wonderful! There's so much fantasy that it really transports you to another world," says Hamburg Ballet Principal- and Ballet Master-Lloyd Riggins, speaking by phone from Germany. "When you watch one of John's works, I think it is advisable to look at it as poetry. There's a theme in the ballet, the spirit of the creative. He encourages audiences to find their own meanings and connections to everything."
Riggins, who performs the role of the Poet, Neumeier's homage to Andersen himself, says not to expect the more familiar, Disney-fied version of the classic. This Little Mermaid, as seen through the eyes of Riggins' storyteller – someone unable to feel at home in the human world – explores the deeper longings of love and the price one pays to belong. While the Mermaid travels from her home in the sea, where she is beautiful and beloved, to an unknown fate in a strange land, giving up her tail and her voice to win the heart of the Prince she adores, the ballet explores the dichotomy of created and creator, and their dual lives.
"The Little Mermaid is one of Andersen's most personal pieces," Riggins' reflects. "It was written at a time in his life when a very close friend was getting married, and I think he worried that he would be left alone. The Mermaid is, of course, him. He seemed to have this otherworldly wish to somehow feel right, right where he was."
"The ballet starts underwater, where the undersea world has a beauty, grace, and flow to it. Then it comes up to earth where the human world seems a jagged, difficult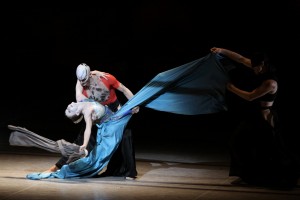 place to live," he continues. "The story takes on a life of its own and takes him to places he didn't think it would go. Sometimes The Poet enters into the action of the story. There are really two layers of existence: the story he is writing and then the story he lives through that produces the story."
Riggins, who spent eight years in Denmark, says there is something innately Danish in Andersen's tale.
"In a very imaginative way, I feel he's saying to kids that this is part of life, even more than sweets and happiness. I think his message is to live the poetry of life with imagination and fullness."
Ultimately, The Little Mermaid is an unforgettable story of love and sacrifice, but Riggins says that doesn't necessarily make it all darkness.
"The wonderful thing is that she, in not being able to kill the prince, becomes foam on the sea, a creature of the air. Her spirit goes on eternally, a spirit of unconditional love. The power of love and her act of sacrifice has made her eternal. As she ascends into the air the Poet goes with her: he made her eternal and in turn she made him (Hans Christian Andersen) eternal, too. Both will live forever."
Hamburg Ballet presents "The Little Mermaid" at Segerstrom Center for the Arts on February 8-10. Friday at 7:30 p.m., Saturday at 2 and 7:30 p.m., Sunday at 2 p.m. Tickets prices start at $25 and are available online at SCFTA.org, at the Box Office at 600 Town Center Drive in Costa Mesa, or by calling (714) 556-2787. Free Preview Talks will occur one hour prior to each performance.