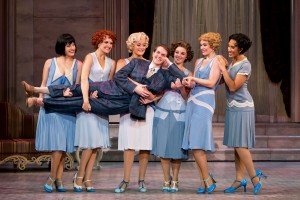 Touring in a Broadway show? Nice work if you can get it.
A handful of young singer-dancers did get nice work, as evidenced by the popular touring production of "Nice Work If You Can Get It" that comes to Segerstrom Center for the Arts March 17 – 22.
The show ran on Broadway several years ago, and features the incomparable music and lyrics of George and Ira Gershwin. One review noted that the show had "beautiful tunes, a madcap plot, dozens of inventive moments, and visual delights in every scene."
The original production featured direction and choreography by three-time Tony Award winner Kathleen Marshall. It's been recreated for the touring version by David Eggers, who was the associate director and choreographer for the Broadway production.
Eggers has worked with Marshall for more than a decade on other shows, so he knows her style.
"I know how she directs and creates, but when it came time to do the tour, the immediate thing was the mere translation of the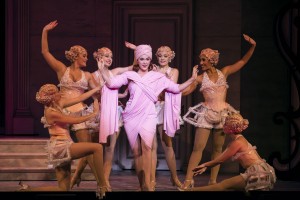 show from Broadway to touring," said Eggers during a recent phone interview. "On Broadway we had a hydraulic stage, so when the middle of the stage went down, something was brought back up on stage. That's not possible for a touring show, so we had to take the original designs and rethink them while keeping the show fluid with seamless transitions."
Another touring challenge, said Eggers, was making sure the show was built so that it could go up fast and go down fast to accommodate short runs (some cities only had the touring show for a day or two).
The tour of "Nice Work If You Can Get It," which started last fall, ends its run in Costa Mesa.
"I'm so proud of their work—this show means so much to me," said Eggers, who visited the show several times on tour to make sure the production was still on track. "The tour may be ending, but that means the show will start popping up regionally round the country. It's really a delightful show, with a smart book and wonderful tunes that work so well in the story."
Single tickets start at $29. Call (714) 556-2787 or visit SCFTA.org.