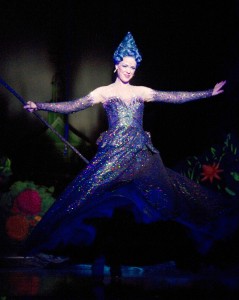 Dorothy and Toto are dropping into town next month when the new stage adaptation of "The Wizard of Oz" lands at Segerstrom Center for the Arts February 11 – 23.
Perhaps the most beloved movie musical ever made, this adaptation features the familiar film score plus a handful of new songs by Andrew Lloyd Webber and Tim Rice, who collaborated on "Evita" and other hit musicals.
This first North American tour features many of the Canadian cast members from the original Toronto production of "The Wizard of Oz," including Robin Evan Willis, a veteran of Canada's famed Shaw Festival, who plays Glinda the good witch.
Despite her Canadian roots, Willis has very close ties to Orange County.
"My dad grew up in Laguna Beach and lived there again while I was in university, so I spent summers there while in college—it's my favorite place along the southern coastline," said Willis during a phone interview from Florida, where the show was touring prior to coming to Segerstrom Center.
"My grandparents on my mother's side lived in Laguna Niguel when I was a child, and my dad's mom lived in Newport Beach. I love the area so much that when I got a new cell phone number last year, I asked for a Laguna Beach phone number."
Wills recalled watching the classic "Wizard of Oz" movie with her grandmother many times, but had never seen "Wicked," the modern Oz prequel of sorts that has been a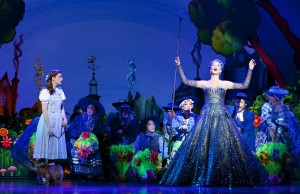 phenomenal Broadway hit, until she was cast as Glinda.
"When I auditioned, I had an inkling of the character, but I went in with a clear mind. The director wanted the character to be more contemporary. I think my role fits between the film version and 'Wicked,' characters," she said. "I'm like a spunky fairy godmother, spunky and nurturing at the same time. My costume is blue, not pink—it's a huge gown with crystals all over it, and I have blue hair."
Willis said the show uses the original book from the movie, but Webber and Rice penned new songs for the witches to sing.
"Right before I send Dorothy back to Kansas, I sing an advice song called "Already Home." It's a beautiful song, classic Andrew Lloyd Webber, very simple and classy."
Simple and classy also describes this production, said Willis.
"When this was first performed in London, it was heavy in special effects, but for the tour it's simplified and relies more on relationships between Dorothy and her friends," explained Willis. "They made the acting more of a priority in Toronto, but there are still a few special effects. I have a glamorous entrance where I fly in, and there are some nice video effects, but this is much more about the story."
"This show is perfect for all audiences," she added. "It's an ideal family musical. Children can have a first experience with 'Wizard of Oz,' and their first experience with live theater. It's colorful, vibrant, splashy and fun. And kids often come dressed in character and I can hear them talking back to the stage. That doesn't happen at the Shaw Festival!"
Tickets for "The Wizard of Oz" start at $29. For tickets and more information, call (714) 556-2787 or visit www.SCFTA.org.