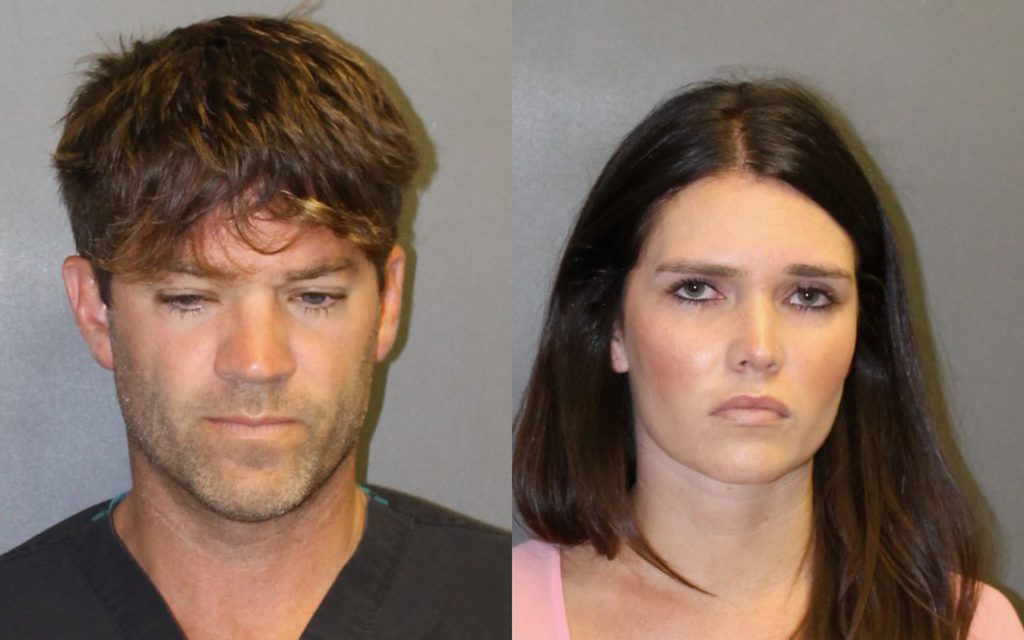 A Newport Beach doctor and his girlfriend were arrested last week on multiple felony sexual assault counts, with more "credible" witness leads coming forward this week, the Orange County District Attorney reported.
Orthopedic surgeon and reality star Grant William Robicheaux, 38, was charged Sept. 11 with felony counts of rape by use of drugs, oral copulation by anesthesia or controlled substance, assault with intent to commit sexual offense, possession of a controlled substance for sale, and possession of an assault weapon. He also received a sentencing enhancement of being personally armed with firearm during health and safety code violation. He faces 40 years in state prison.
Cerissa Laura Riley, 31, of Brea, was also charged last week. She is charged with a sentencing enhancement of knowingly vicariously armed with firearm. She faces 30 years and eight months in state prison.
Both are out on $100,000 bail. Arraignment for both is scheduled for Oct. 25.
After announcing charges relating to two Jane Doe victims during a press conference Tuesday, OCDA Tony Rackauckas  said Friday that they received "well over" 50 calls on the case and established about a dozen credible leads on potential victims since Tuesday.
The defendants created a false sense of security and lowered the inhibitions of victims because they are "clean cut and good looking," Rackauckas explained in a press conference on Tuesday.
"We've all heard of a wolf dressed up in sheep's clothing, well a wolf can wear scrubs or doctor's clothing, or a wolf can be a beautiful woman," Rackauckas said.
They can be charming and easily garner trust, since Robicheaux is a doctor, someone who took an oath to do no harm, the OCDA noted.
"Ladies, please be careful," Rackauckas said on Friday. "You don't know what's behind what appears to be a perfect smile."
There are several videos on Robicheaux's phone that show women who appear to be highly intoxicated, beyond the ability to consent or resist, Rackauckas explained. They are "barely responsive" to the defendant's sexual advances, he added.
There are "terabytes" of digital evidence, Rackauckas noted on Friday.
"Based on this evidence, we believe that there might be many unidentified victims out there," Rackauckas said.
Some victims may blame themselves, or feel there is no crime to report because they drank or consumed drugs, he noted.
"But you need to hear this, your conscious decisions to party with these defendants, or with anybody, using alcohol or other intoxicating substances does not give them a pass to rape, assault, or have sex with you once you're past the point of consent," Rackauckas said. "To do so is a crime."
In a press release this week, OCDA detailed the allegations. The defendants are accused of drinking and supplying drugs to two Jane Does on separate occasions in 2016. After the victim was intoxicated or unconscious, they allegedly brought her back to Robicheaux's apartment.
With Jane Doe 1, according to OCDA, they then raped and orally copulated her while she was prevented from resisting due to intoxicating and controlled substances and they should have reasonably known of her condition.
The defendants are accused of bringing Jane Doe 2 to Robicheaux's apartment and sexually assaulting her with intent to commit rape. The victim screamed and a neighbor called police.
On Jan. 9, 2018, they are accused of possessing large quantities of illegal drugs which were recovered in his residence. Robicheaux is also accused of possessing two illegal, unregistered assault rifles, four other firearms, and several large capacity magazines.
Rackauckas named other possible locations, as the defendants may have traveled together to various festivals and locations since 2015 including Burning Man in Black Rock Desert, Nevada, Dirtybird Campout festival in Silverado, Splash House festival in Palm Springs, and landmarks near Page, Arizona.
At Friday's press conference, Rackauckas said they also now believe that the two didn't just meet potential victims at bars and restaurants, but Robicheaux may have also allegedly targeted victims through several dating apps, according to authorities.
The OCDA also announced on Friday that, in Robicheaux's case, they are examining crimes that happened as far back as two decades ago and expanding their search to several nearby states.
Robicheaux also appeared on the Bravo television show "Online Dating Rituals of the American Male."
Authorities urge anyone who believes they have been a victim, or have information related to the crime and about the defendants, to call Supervising Investigator Eric Wiseman at (714) 347-8794.