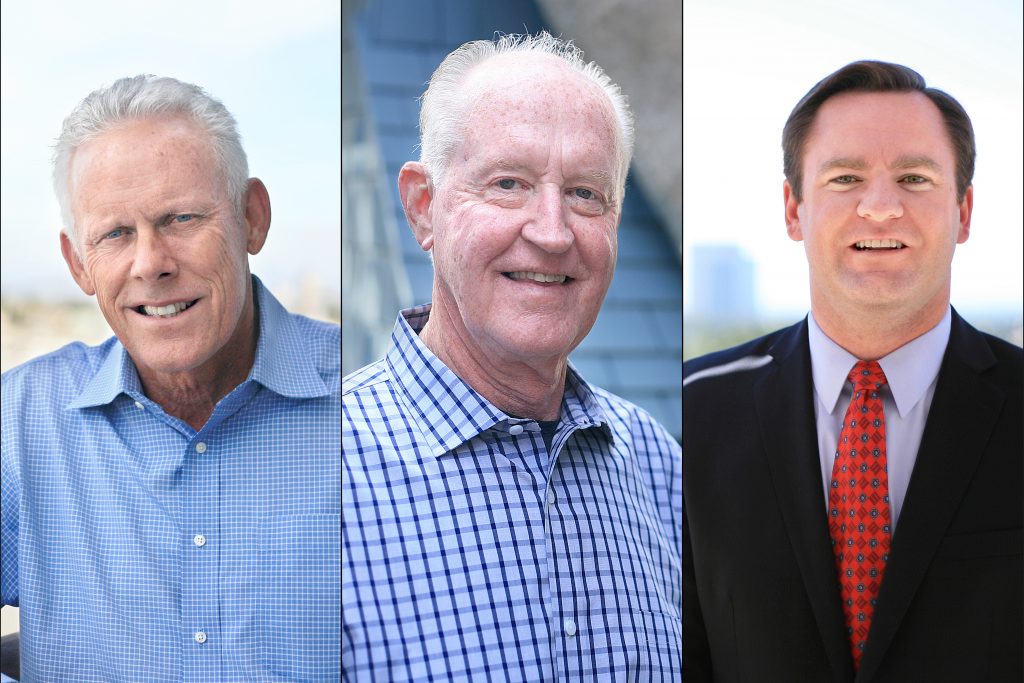 With all 63 precincts reporting, the early leaders in all three Newport Beach City Council races – Brad Avery, Jeff Herdman, and Will O'Neill –  finished the night still on top.
Each race had some interesting ups and downs during the night as more than  25,000 votes in each district race were counted.
Herdman held onto his lead in NB's closest council race in District 5 with 36.4 percent of the votes.
His lead has been a roller coaster tonight, starting at 37.6 percent at 8 p.m., which held through the 9:30 p.m. update, then went up to 38 percent, then back down to the 11 p.m. 37.5 percent figure, before another and final dip.
At the final 11:30 p.m. update, Lee Lowrey's percentage dropped again, finishing with an even 33 percent of the votes. His numbers continued to drop throughout the night starting with 34.9 percent earlier in the evening, 34.4 percent at 10:30 p.m., and 33.9 percent of the votes at 11 p.m.
Mike Glenn was trailing all night, although his share of the votes continued to increase with each update. He ended the night with 30.6 percent. Starting with 27.5 percent of the votes, he narrowed the difference with each update, with 27.6 percent at 10:30 p.m., and 28.5 percent at 11 p.m.
Herdman received a total of  9,471 votes, Lowrey gathered 8,590, and Glenn got 7,976.
In District 2, Avery finished on top with 58.4 percent of votes. Although his lead over Shelley Henderson decreased quite a bit since the first results started rolling in at 8 p.m.  
He had kicked off the night in front with 61.6 percent, and at 9:30 p.m. – when only 10 precincts were reporting – that figure dropped slightly to 61.5 percent. Avery then went down to 60.2 percent of the votes at 10:30 p.m., and that figure lowered again to 59.5 percent  at 11 p.m.
Avery collected 14,834 votes and Henderson with 10,551.
O'Neill maintained his lead throughout the night, with only slight increases and decreases with each update. He received 50.3 percent of the votes.
Phil Greer and Fred Ameri split the remaining votes 26.8 percent and 23 percent, respectively. Greer's share has consistently decreased during the past three hours, while Ameri's has increased, although both only slightly. Greer started the evening with 27.7 percent and Ameri had 22 percent at 8 p.m.  
O'Neill collected 13,077 votes, Greer received 6,965, and Ameri grabbed 5,980.
Newport Beach voters also overwhelmingly voted to approve Measure MM. After all 63 precincts reported, 81.2 percent of voters checked the "yes" box for the measure, that would require five votes from the City Council to propose taxes.