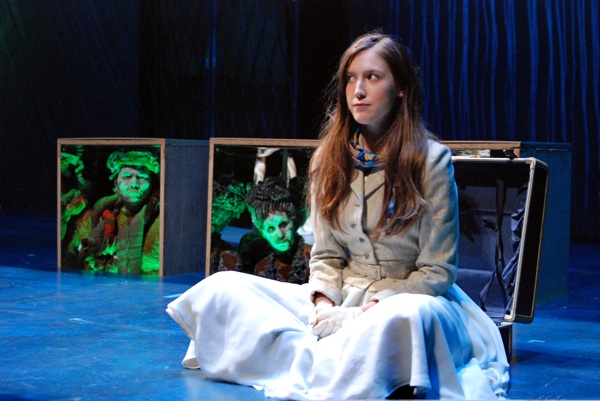 The classic myth of Orpheus and Eurydice is one of the world's great love stories, told through centuries and now filtered through the extraordinary brain of playwright Sarah Ruhl and on stage at South Coast Repertory.
In this lushly imaginative re-telling, Eurydice and her musician-lover, Orpheus, are a modern couple—playful, charming and rapturously happy.  But on their wedding day, Eurydice wanders off, enticed by a letter from her deceased father, lured by a mysterious stranger.
Then, a precipitous step, a tumble downward, and Eurydice falls into the Underworld, where she must re-learn human language to remember all she has left behind and, ultimately, to choose between two worlds.
A Pulitzer Prize finalist and MacArthur Fellowship winner, Ruhl has been lauded for her bold, non-linear style that abounds with mystery and surprise.  SCR audiences praised and pondered over "The Clean House," "Dead Man's Cell Phone" and "In the Next Room."
Now comes "Eurydice," her absorbing new play that has been called both devastating and devastatingly lovely—and funny, too.
Orpheus and Eurydice are portrayed by the young actors Alex Knox and Carmela Corbett.
SCR welcomes Knox back to the theatre where he took classes as a child, made his stage debut alongside Hal Landon Jr. in "The Things You Don't Know" and later played Peter Cratchit in "A Christmas Carol."
Since then, Alex graduated from UC Santa Barbara and Yale School of Drama and has appeared in productions at The Antaeus Company and Titled Field.
Corbett is a recent graduate of The Juilliard School.
Tim Cummings is the mysterious stranger who leads Eurydice on her Underworld journey to meet her father, played by Timothy Landfield.  Cummings is making his SCR debut.  He has performed at theatrs including Rogue Machine, Theatre Banshee, Boston Court, The Zephyr and Laguna Playhouse.  An SCR audience favorite, Cummings has been seen in six previous shows (most recently, "Noises Off"), not counting numerous seasons of "A Christmas Carol."  His many Broadway appearances include "Company" and "The Sound of Music."
The Chorus of Stones (yes, stones talk—and elevators rain—in this surreal world) are played by Patrick Kerr (another SCR favorite, who appeared in "A Midsummer Night's Dream" and "The Further Adventures of Hedda Gabler," among others), Michael Manuel (seen with Kerr in "Midsummer") and Bahni Turpin (seen with Kerr in "Hedda Gabler").
Guiding the production is Marc Masterson, in his first full season as SCR's artistic director.  Last spring, Marc directed another new play, "Elemeno Pea," which was a huge hit with critics and audiences alike.
"Eurydice" will run through Oct. 14. Tickets $20-$70. For details and tickets, visit scr.org or call 714-708-5555.