Newport Beach Police Department will be partnering with the Drug Enforcement Administration on April 29 to help make local medicine cabinets a little safer through National Prescription Drug Take-Back Day.
This event gives the public an opportunity to prevent pill abuse and theft by removing potentially-dangerous expired, unused and unwanted prescription drugs from their homes. Anyone with medications to dispose of can bring them to either of the designated locations for quick and easy drop-off.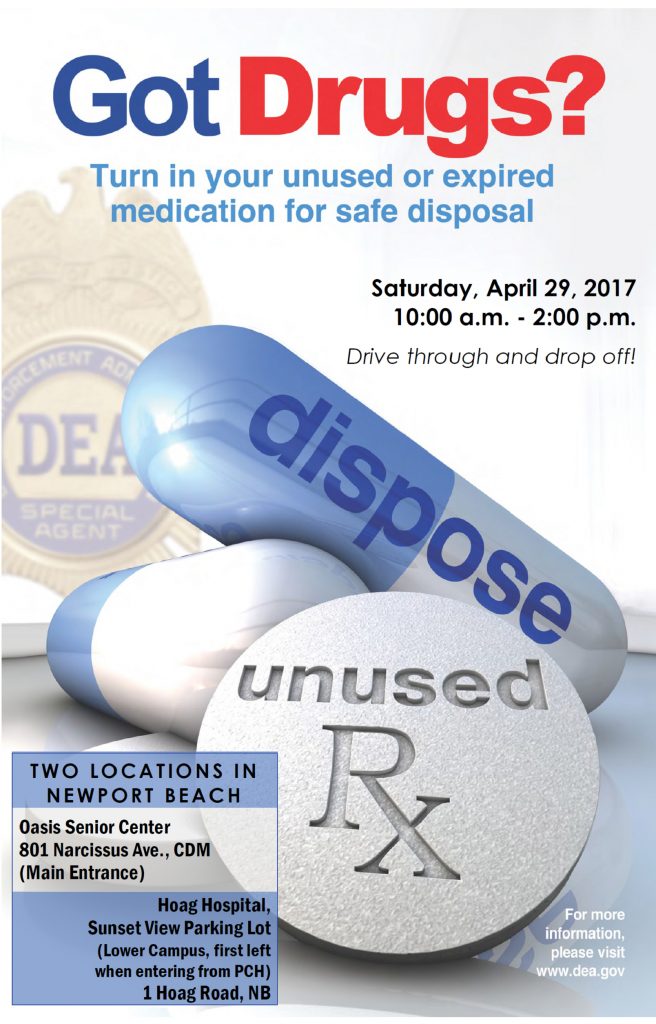 The service is free and anonymous; no questions asked.
Local authorities will be manning two locations, the Oasis Senior Center and Hoag Hospital's Sunset View Parking Lot, from 10 a.m. to 2 p.m.
"These are medicines that were languishing in home cabinets, highly susceptible to diversion, misuse, and abuse," NBPD officials wrote in an press release. "The traditional methods of disposing of unused medicines – like flushing them down the toilet or throwing them in the trash – pose potential safety and health hazards, but National Prescription Drug Take-Back Day is a safe and straightforward solution."
Last October, Newport Beach was one of nearly 5,200 sites throughout the country that participated in another Take-Back Day. During the fall event, the DEA and its partner agencies across the nation accepted more than  731,000 pounds of prescription drugs. From all 12 previous Take-Back events over the last seven years, authorities have collected approximately 7.1 million pounds total.
"Rates of prescription drug abuse in the U.S. are alarmingly high, as are the number of accidental poisonings and overdoses due to these drugs," the DEA website states.
Studies show that a majority of abused prescription drugs are obtained from family and friends, and the user's own home, according to the DEA.
"The National Prescription Drug Take Back Day aims to provide a safe, convenient, and responsible means of disposing of prescription drugs, while also educating the general public about the potential for abuse and medications," DEA officials state on the website.
For more information, visit dea.gov and deadiversion.usdoj.gov/drug_disposal/takeback