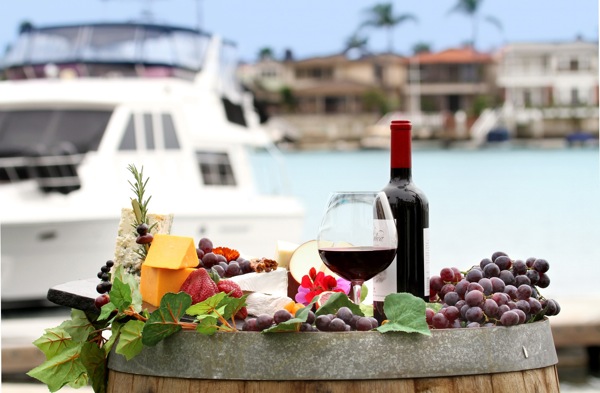 "Memorial Day is coming up next week – you know what that means, don't you?" I asked Catherine, my editorial assistant.
"It means I get a day off?" she replied hopefully
"Well, maybe on Monday, but I'm going to make you work on Saturday and Sunday," I said with a smile.
"Does it involve food and wine?"
"Of course. it's the 9th annual Newport Beach Wine Festival at Balboa Bay Club & Resort, which is basically a decadent and indulgent weekend of fine wines and wonderful gourmet cuisine, plus fun and educational seminars."
"Sounds great to me."
"I went last year, and the experience is almost indescribable. And even better – Chef Josef Lageder wants us to come over today and sample some of the dishes he'll be serving throughout the weekend."
Catherine and I arrived at Balboa Bay Club and were greeted by Chef Lageder and Food and Beverage Director Dieter Hissin. They led us to a small table overflowing with food.
"I thought I'd bring you a few of the items I'll be preparing for the wine festival," said Chef Lageder.
"This looks fabulous," exclaimed Catherine.
"I guarantee it tastes as good as it looks," I noted as Dieter poured some Duckhorn Sauvignon Blanc in our wine glasses.
This is Escargot, and I recommend you get some bread for dunking," said Chef Lageder. "I also brought you some Morbiere Cheese Brulee, with dried apricots, cranberries, and roasted pecan."
"I love this Morbiere – I could eat this all day," said Catherine after her first bite."
"Chef, while we eat, why don't you describe the wine festival to Catherine, since she's never been before," I suggested.
"We start on Friday night with a five-course wine dinner prepared by some guest chefs including Frederic Castan from St. Regis Monarch Beach, Pierre Albaladejo from Park Hyatt Aviara, and Rich Mead from Sage Restaurant."
"We'll be pouring one Old World wine and one New World wine with each course," added Dieter. "Master Sommeliers Run Mumford and Ira Harmon are selecting the wines to match each course."
"Sounds like an incredible dinner," I said. "And I noticed you've brought back your Saturday seminars. The Spanish Wines and Tapas one looks fun, but I was intrigued by the Cheese and Wine Pairing seminar. I've had some poor pairings in the past, and would love to know more about which wines go with which cheeses."
"There are so many different combinations you can have," agreed Dieter.  "I have a cheese expert coming, Starr Cornwall. I told her I needed to know what cheeses she would have, and she said I don't want to match wine to the cheese, I want you to tell me what wines you'll be pouring so I can match the cheese with the wines. So, that will be fun. We'll have three reds and three whites. And the cheeses will be ones that people can buy at a good cheese store."
"And then you have my favorite event on Saturday night: the Grand Tasting," I said happily.
"We'll have more than 60 wineries, mainly from California but also French, German, South American – basically all the continents that produce wine," explained Dieter.
"And we have food everywhere," added Chaf Lageder. "We'll have 35 to 40 different cheeses, seafood, lamb, escargot, caviar…"
"More food than you could eat in a week," I told Catherine. "I went last year, and was almost overwhelmed with the abundance of great food, and incredible wines. It's an amazing evening, something you don't get to experience very often."
"And on Sunday we have an authentic Argentinean Barbecue along with more wine and also craft beer," said Dieter. "They take full sides of beef, hang it over the fire, and the heat and smoke cooks it so it's roasted on the outside and tender on the inside. We'll also have Chef Josef's Paella, salads, cheeses, desserts, live music. We do that on the lawn next to the beach, so you have a great view with your barbecue."
"And then if that's not enough, you have a sunset event called Spirits and Sweets with cigars, cognacs, scotches, ports, cheeses, desserts," I noted. "That sounds like a great way to end a wonderful weekend of great food and wine."
Wine Festival events range from $35 to $195. For a complete list of Wine Festival activities, visit www.balboabayclub.com.