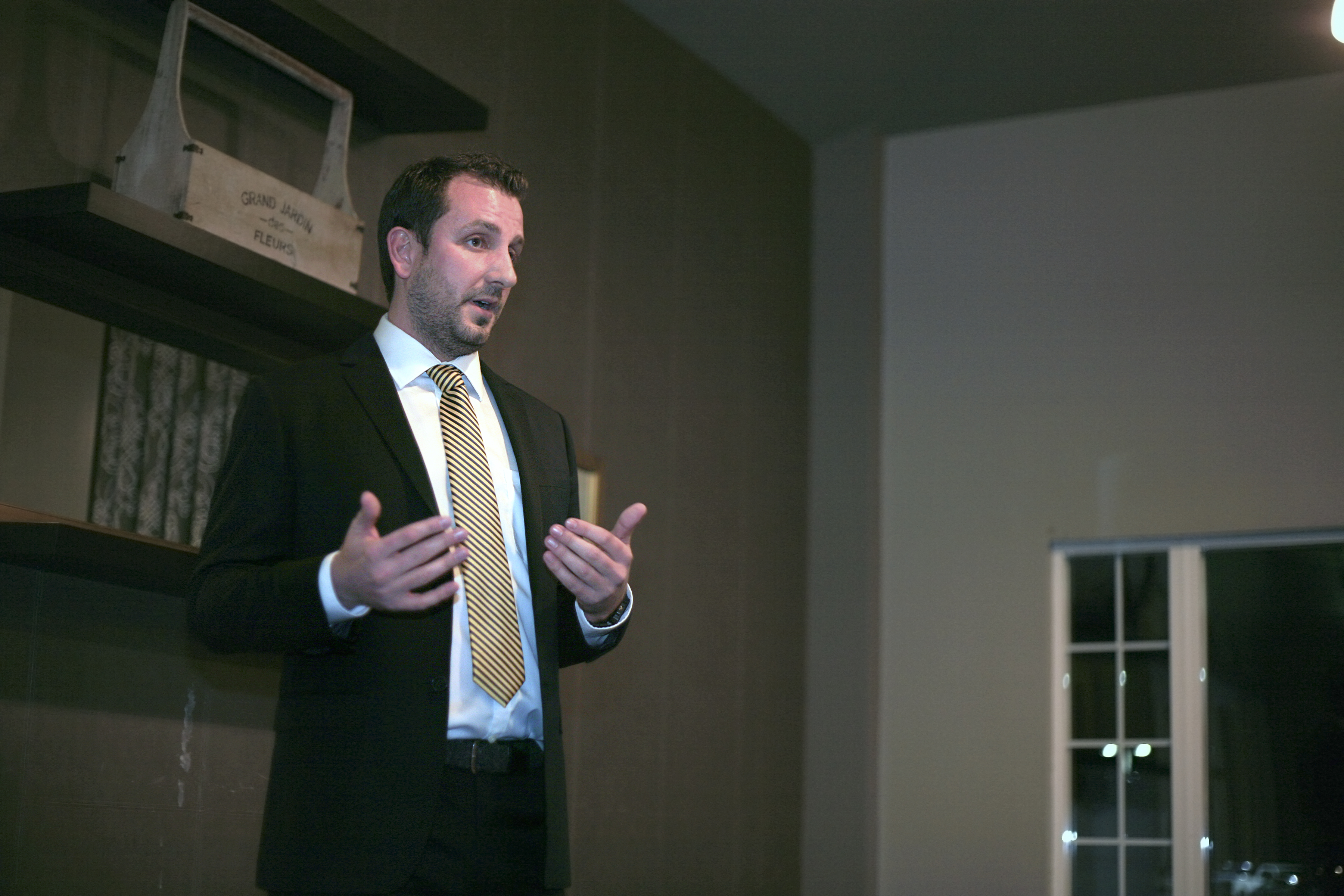 As talks about gun violence and control continue across the country, a local candidate for the 48th Congressional District, which covers Newport Beach, brings the discussion home.
Libertarian Brandon Reiser hosted a town hall Wednesday at Back Bay Bistro at Newport Dunes. The forum's focus was the second amendment and solutions to help ease gun violence.
Looking across the national landscape today, clearly better conversations need to take place about taking action to reduce gun violence while preserving the second amendment, he noted.
"Gun violence and (gun-related) homicides, they are going to exist for the duration of our lifetimes unfortunately," Reiser said. "There is no solution that is going to be perfect… We need to find small, incrementally better (solutions) that are going to improve society and then start to work from there."
It's a timely and contentious topic right now, noted Libertarian Party of Orange County Secretary George Reis.
"One of the things about Libertarians is we do not shy away from the controversial issues," Reis said.
Reiser also spoke about "breaking up" the old two-party system, which is part of the overall problem. There are a number of politicians that don't represent the people, Reiser said.
Reiser is challenging Republican incumbent Dana Rohrabacher, who has represented California's 48th congressional district for 13 terms.
"My goal… is to have a dialog with the people of the 48th Congressional District," Reiser said. "Have a respectful conversation about real issues that individuals care about rather than the issues… that the old two-political parties care about."
Newport Beach resident Rich Hodill liked the idea of looking outside the two-party box.
"I'm happy to see someone proposing a solution outside the two part system," Hodill commented after the town hall.
A key point from Reiser's town hall was his support of protecting a person's right to defend oneself and preventing the government from infringing upon that right. He also emphasized the importance of preventing individuals who pose a threat to themselves or others from obtaining a gun.
"The second amendment doesn't grant you the right to bear arms, the second amendment limits the government from infringing upon your rights," Reiser explained. "For me, it's about your right to defend yourself against other individuals, and it's about your right to defend yourself against the government."
Reiser also supported gun violence restraining orders, which allow the court to prohibit an individual who presents a threat from having a gun or ammunition or requires the individual to turn in any guns or ammunition.
"Gun violence restraining orders are a path we can take as a nation to begin to put people through due process," Reiser said. "I believe that is something that would reduce gun violence… and it would also uphold and preserve the second amendment."
There were a number of "very clear warning signs" with the recent Florida school shooter, as well as other shootings over the last few years, he commented.
"Individuals that pose an imminent danger to themselves or to others should not be allowed to posses a firearm," Reiser said.
People with mental health issues or addiction, for example, may fall into this category, he explained.
While looking at ways to prevent something like this from happening again in the future, Reiser also wants to review why current system failed.
Although acquiring information about a person without any transparency on how it's being used by the government does present a problem, but a well-structured background check system with clear red flags, like being on the "no fly list" for example, could work.
It might be a "hoop" that someone has to "jump through" in order to obtain a gun, he continued, but it's a good trade-off.
"We have to be willing to look at solutions, we have to be willing to compromise," Reiser said.
Reiser also suggested enabling local governments in deciding how they want to protect schools in their district.
There have been a lot of ideas recently about arming teachers or placing armed security guards on campus, he said, but it really depends on the school. A small, rural school has a vastly different dynamic than an urban, highly populated school, he noted.
There is no "one size fits all" solution, he said.
Another idea Reiser suggested at the town hall is a gun buyback program initiated by private citizens.
"This is a bit more conceptual," Reiser noted.
There is no reason to wait for that, he added.
Although there was some debate among the audience on the issue.
A privately organized buyback has a lot of logistical difficulties, local resident Hodill pointed out. There are too many variables, he noted.
"Why hasn't anybody done it?" he questioned.
Another audience member answered that most people think that law enforcement or the government is going to do it.
An individual can't just go out and buy a million dollars worth of other citizens' guns, Hodill noted. The practicality of a private buyback program is a bit unrealistic, he added.
"To do it below the radar would be almost impossible," he said, and "going public" with that type of program would result in "tremendous blowback."