"If you can strengthen one family, you can strengthen a nation." – Karen Olson, founder and president of Family Promise
You don't need to look far to find families needing strengthening and support; in fact, you may just need to look around the corner.
Unfortunately, families are the fastest growing segment of the homeless population. USA Today recently reported that 8 million children nationally (and 12 percent of all children in California) have been or will be affected by foreclosures. There are approximately 35,000 homeless family members in Orange County, including 27,000 homeless children. Statistics show that within a single year, 40 percent of homeless children switch schools at least once and are at risk of falling six months behind in their studies with each move.
Family Promise of Orange County (FPOC) is working to change that statistic. FPOC is a nonprofit, interfaith hospitality network of congregations that provides emergency shelter, hospitality, and services to homeless families. Family Promise is a national organization founded more than 20 years ago and presently has affiliates in 41 states. FPOC has already signed up 19 congregations in Orange County, along with numerous volunteers who are excited to help the families in the program.
"Locally, hundreds of families are falling victim to the home crisis, and families with children have acute concerns," explained Susan Allen, vice president of the board of trustees of FPOC, at last week's ribbon-cutting ceremony inaugurating the new Day Center.
"For many, this is the first time they need help, but they don't know where to turn. We are a community response to the need. We fill a really important niche; we don't have limits on the family composition, or the number of family members. We are able to serve the whole family, and support their return to self sufficiency quickly and with dignity."
"We are an interfaith group, we don't have a specific affiliation," Susan continued. "We focus on what unites people of faith, not what divides them. We think about how to serve the community. Everybody in the community can contribute something, be it time, talents, funding, or other abilities. And as one of many affiliates, we can leverage the national resources."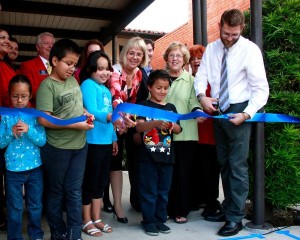 The Orange County affiliate opened in 2012 and since then has raised more than $200,000 from individuals, corporations and in-kind donations. So far, there are 13 host congregations and six support congregations that support up to five families at a time. One family recently graduated and FPOC quickly returned to full capacity.
The host churches take turns providing shelter to homeless families, and volunteers from the support churches help the hosts by serving meals, driving assistance, and providing companionship in the evenings. Three churches in Newport are involved so far.
Kay Brown, a Balboa resident and the coordinator of the program for Christ Church by the Sea United Methodist Church, enjoyed the experience and the connections made through her involvement as a host church member.
"It was a very rewarding experience that I'll always remember," Kay said. "It gave our church members an opportunity to do something new together to help others. Instead of raising money through an organized walk, we had a very hands-on experience with people we might never know. It was also a nice opportunity to meet and work together with people from Our Lady of Mount Carmel Catholic Church, the support church."
FPOC leverages existing facilities owned by houses of worship to provide temporary housing at significantly reduced costs compared with traditional shelters. During the day, church members drive the families to the Day Center, which serves as a home base for housing and employment services. At the Day Center, families can bathe, do laundry, and access social services, career counseling, and classes on parenting and budgeting. Families requesting assistance go through a screening process to ensure that they are a good match for FPOC services. Individuals with a criminal background or problems such as drug abuse are referred to other organizations better suited for their circumstances.
The recently renovated Day Center is located in the First United Methodist Church in Orange. The ribbon cutting was a joyous celebration, and an opportunity to hear from one father named Alejandro who was thrilled that he and his family found Family Promise.
"A couple months ago my wife and I and our three kids were in a really bad situation, we knocked on so many doors to find a place, but no doors opened," Alejandro said. "I called 211 and they gave me the number for Family Promise. I scheduled an appointment and from day one they treated us with respect and dignity. They showed us so much love. I am so thankful we ended up here."
For further information, go to familypromiseorangecounty.org. Cindy can be reached at [email protected].