Looking for last minute Mother's Day dining ideas? Several of Newport's most classic and classy restaurants are ready to welcome you and your mom.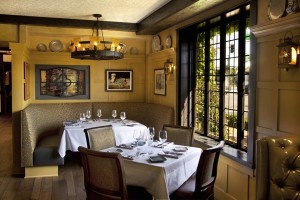 Five Crowns has been around for more than four decades but has remained a popular upscale dining hotspot. Mother's Day is no exception, and a glance at the menu tells you why.
Executive Chef Ryan O'Melveny Wilson is blending classic and contemporary dishes with starters that include Mary Alice's Pride Salad with Toasted Pistachios, Sheep's Milk Cheese, and Bacon; Spring Caesar Salad with English Peas, Shaved Carrots and Radishes; Roasted Artichoke and Parmigiano Soup with Oregon Black Truffle Oil; and Lobster Bisque with Sherry Foam, Long Pepper Tuile and Chive Oil.
Main dishes include Dungeness Crab Benedict with Champagne Hollandaise;  Five Crowns Eggs Benedict with Thinly Sliced Prime Rib; Chicken Confit and Asparagus Salad with Applewood Bacon; Seared Skuna Bay Salmon; and of course the restaurant's famed Prime Ribs of Beef in both the California and Five Crowns cuts served with traditional accompaniments.
For dessert, choose between Dark Chocolate Soufflé Cake with Bing Cherries, and a Strawberry and Rhubarb Crumble with Toasted Oats and Vanilla Ice Cream.
The Mother's Day menu includes a starter with each entrée, beginning with brunch at 10 a.m. and continuing throughout the day. Reservations are strongly recommended, and they can be made for seating until 7:30 p.m. by calling 949-760-0331, or online at thefivecrowns.com.
Balboa Bay Club & Resort could be considered a senior citizen—the upscale hotel has been around since 1948. However, few seniors age as well as the Balboa Bay Club, which still glows with upscale nautical charm.
Chef Josef Lageder has cooked up two different dining options for Mother's Day at Balboa Bay Club.
The First Cabin restaurant offers an a la carte brunch ($49 adults, $24.50 for children) with appetizers such as White Asparagus and Leek Soup, Endive Salad, and Duet of Chilled Prawns and Spring Greens.
Among the many entrees are Trio of Poached Egg Benedict, Cheese Blintz and Chicken Apple Sausage; Napoleon of Tasmanian Salmon "Gratin" filled with Maryland Crabmeat, Spring Asparagus, Spinach and Beurre Rouge; Seared Barramundi and Grilled Prawns on Risotto Cake with Lemon Butter; and in keeping with Chef Lageder's German heritage, Chicken Wiener Schnitzel Style with Cucumber Salad, Sweet Peas and Rice with Lingonberry Marmalade.
If your mom has a hearty appetite and enjoys variety, you can't go wrong with the Mother's Day Brunch in the Grand Ballroom.
Start with a salad (six to choose from), then stop by the cheese station to grab a wedge of Morbiere, Stilton, Humboldt Fog, Sonoma Chevre, Explorateur, Gruyère, St. Andre, or Brie. Then it's on to the seafood and sushi, and the antipasti. Don't miss the amazing smoked fish section with Smoked River Trout, Mackerel, Smoked Salmon, Ahi Tuna, and Gravlax.
And if that's not enough, keep going and sample classic brunch items such as Eggs Benedict, Ricotta Cheese Ravioli, and Mascarpone Cheese Blintzes with Warm Strawberry Compote. There's also a carving station. Finish your meal off with a trip to the waffle and ice cream station, the chocolate fountain, or the pastry bar.
Cost for the buffet is $ 75 for adults and $37.50 for children.
For Balboa Bay Club dining reservations, call 949-630-4145 or visit BalboaBayClub.com.
***
For many people, Cinco de Mayo means "drinko" de mayo, but at Newport Dunes, they hosted the annual Stinko de Mayo, a fundraiser for Rock the Autism.
What caught my attention was the Simi Winery food truck that served Sauvignon Blanc and Pinot Noir on tap, paired with small bites: Sonoma spring roll with rice, noodles, cabbage, mint, dill, tarragon, and chicken, served with sweet chili citrus sauce; and Tuscan meatballs made from a secret recipe handed down to Simi Chef Kolin from his grandmother. ,
Having a food-and-wine truck makes it easy for Simi to be a Sonoma County wine ambassador, but why Newport? Seems they made our seaside town their first stop on the way to Las Vegas and the annual Vegas Uncorked wine and food fest.
"Simi Winery is 136 years old, but we're still innovative," noted Tanya Beers, Associate Marketing Director for Simi Winery. "We encapsulate what Sonoma stands for. We love to share our rich history with others, and there's no better way than to make the winery mobile."
Given the current food truck craze, it's surprising that Simi is the first winery on wheels, but serving alcohol from a food truck does limit where and how it can be utilized. Still, this could be the start of something big.
In fact, why not get Newport Beach Winery to launch its own food-and-wine truck and become ambassadors for Newport Beach? And then maybe the Great Food and Wine Truck Race between Simi and Newport!
The possibilities are as endless as the varietals of wine they serve.   
For more information on Simi Winery, visit SimiWinery.com.