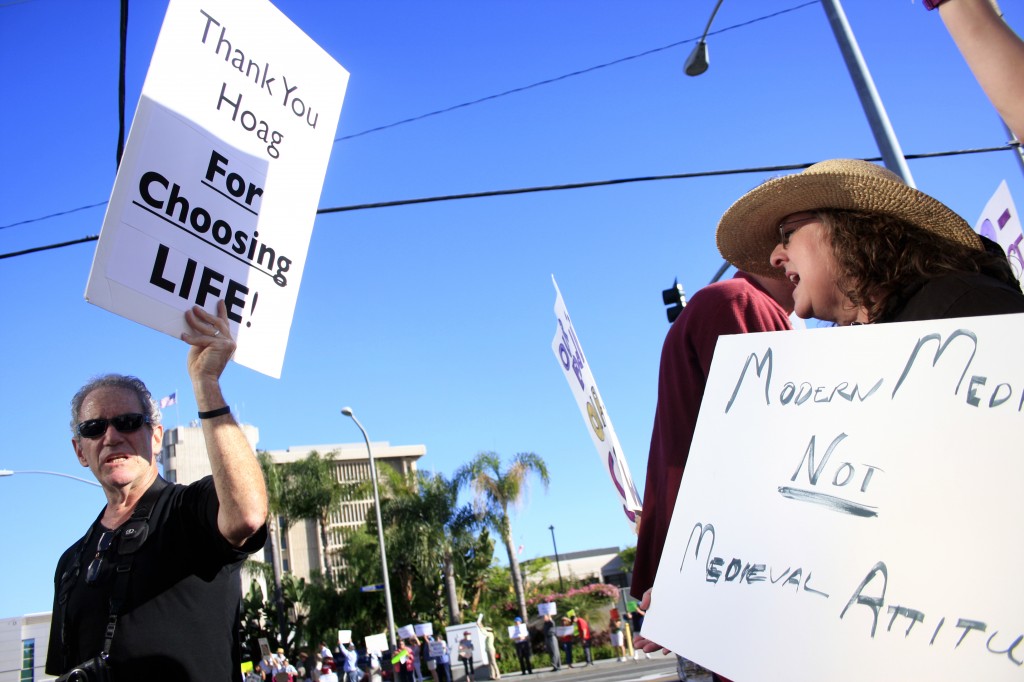 A few hundred people showed up Thursday afternoon outside Hoag, some in support and some in protest of the hospital's recent decision to ban elective abortions.
Several pro-choice and women's groups planned the demonstration in objection to Hoag's ban on offering elective abortions, a move that comes not long after joining forces with  St. Joseph Health System. Also on hand was a large number of pro-life counter-demonstrators in support of Hoag's decision.
The crowd gathered on the four corners of Hospital Road and Placentia Avenue.
Passionate supporters on both sides of the debate carried signs reading "Women's Healthcare at Risk," "Life Begins at Conception," "Who's Calling the Shots at Hoag? Hoag… or St. Joseph's?" "I Support Hoag's Right to Choose," "Shame on Hoag," and "Thank You Hoag," among many others.
Cars would drive by and honk as demonstrators chanted and cheered.
Hoag hospital officials were also standing near the demonstration answering questions.
There were a few minor altercations, but Newport Beach Police Department officers were on hand to handle any incidents.
— Photos by Sara Hall