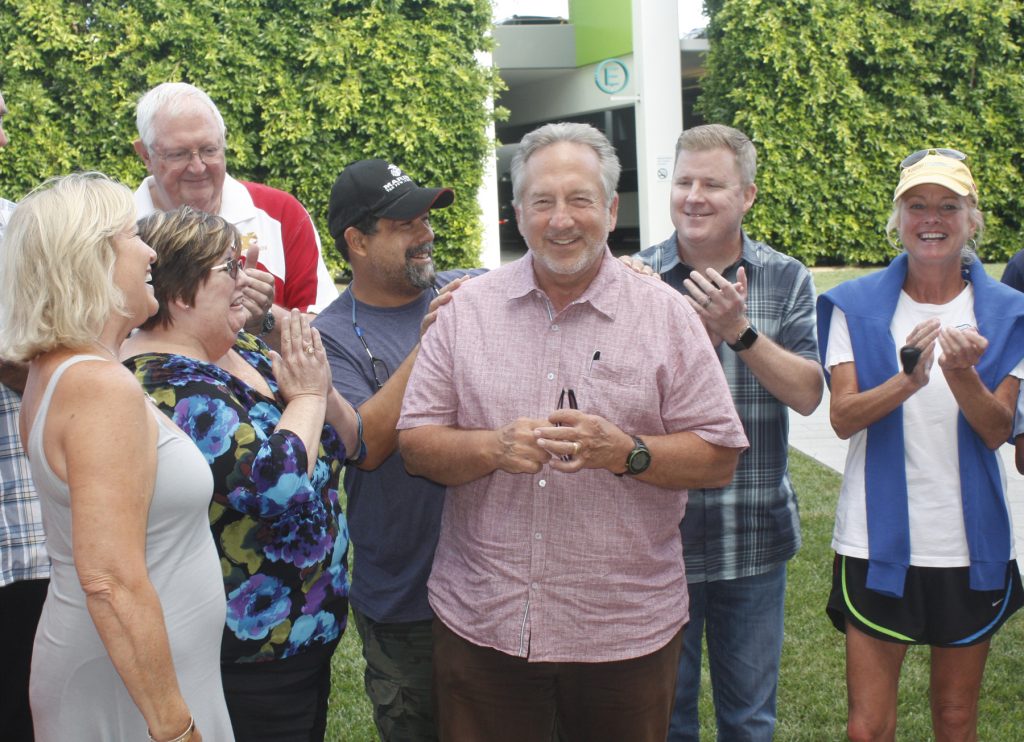 Homer Bludau was posing for a photo Monday with fellow advisory committee members from the Newport Beach 1st Battalion 1st Marines Foundation, including Newport Beach Chamber of Commerce President Steve Rosansky, when a handful of familiar faces suddenly strolled over to make their way into the photo.
Bludau looked around puzzled, until Rosansky announced "Congratulations Homer, you've been named Citizen of the Year for 2017."
The familiar faces were all past Citizens of the Year, who also congratulated Bludau, a former Newport Beach city manager from 1999 to 2009 who has remained active with a variety of volunteer roles in the city.
"He was the city manager while I was on the city council but he stayed in Newport after he retired and continued to be active in the community," Rosansky said. "Homer is a busy guy, and has been busier than ever since his retirement."
In addition to sitting on the board for the 1-1 Marines Foundation, he volunteers through his church at Our Lady Queen of Angels and is a member of the Chamber of Commerce Commodore's Club.
"He's a very deserving individual. He's a good guy to know," Rosansky added. 
When he retired in 2009, then Mayor Ed Selich said that Bludau was "an outstanding leader, a trusted executive and a valuable asset to this organization. He will be missed."
A press release announcing his retirement noted that Bludau's tenure in Newport Beach was marked by a host of accomplishments and milestones, including the negotiation of the John Wayne Airport Settlement Agreement, the annexation of Newport Coast and areas of Santa Ana Heights, the development of Bonita Canyon Sports Park, and the approval of a new City Hall and park.
Bludau will be feted at a Nov. 3 dinner at the Balboa Bay Resort.
He joins a long and impressive list of residents who have been received the Citizen of the Year Award, which was first handed out in 1949. Among the many notable names on the list are Joseph A. Beek (1955), William "Bill" Spurgeon (1958), Carroll Beek (1961), Judge Robert Gardner (1968), George Hoag (1974), William D. Lusk (1984), Art Gronsky (1992), Marian Bergeson (1998), Seymour Beek (2005), Evelyn Hart (2007), Ralph Rodheim (2010), Tom Johnson (2011), Jean Watt (2013), Jack and Nancy Skinner (2014), Paul Watkins (2015), and John and Elizabeth Stahr (2016).
For more information, visit newportbeach.com.